As much as I would like to live in denial, I am getting a little (ahem) older, and the big 40 is looming. I am trying to make more effort to look after my skin. I am starting to see a few signs of aging, here and there, a few fine lines that weren't there before, and my skin can look a bit tired.
I am pretty picky about what I put on my skin, I always worry when I read ingredients, and don't know what they are, and whilst I want my skin to look good, I don't like using harsh chemicals or things that might work but aren't really that good for my skin but I know I need to use something to give it that little bit of extra help it needs now. I know my skin can look tired when I am tired, so finding something to give it a much needed boost is also key for me.
So, when I was asked if I would like to try Liz Earle's new Superskin Face Serum, I was delighted. I know that their products are very well known, and liked by many, from celebrities, to your average mum looking for good skin care regimes, and I have used the very famous Cleanse & Polish before, so was looking forward to trying out something to help give my skin a boost and hopefully bring back a bit of it's bounce.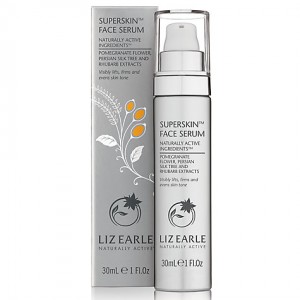 Liz Earle say:
Enriched with our most powerful naturally active ingredients, our luxurious and fast-absorbing Superskin™ Face Serum has been specially formulated to help slow the ticking, naturally*.
Add Superskin™ Face Serum to your morning regime to…
1. Even skin tone – with Persian silk tree extract to help fight the visible signs of fatigue, such as a dull complexion.
2. Lift and firm – with pomegranate flower extract to help boost collagen.
3. Plump and smooth – with rhubarb extract to help intensely hydrate skin.
*Contains naturally active ingredients
 I have to say, I haven't been disappointed. I am always a little wary when a skin care product claims to work wonders on skin, but this serum really does help.
It smells divine, and is light, and doesn't feel greasy when applied to skin. The instructions say to use two pumps of the serum, in the morning, to apply evenly over your face and to press it into your skin, to help it to absorb. It also says you can use it in the evening. I used it twice a day to get the maximum benefit for my skin.
I have definitely noticed my skin feels hydrated and a couple of people have commented that my skin looks good, despite the fact I have been under the weather with a dose of back to school lurgy in the form of a cold bug turned bronchitis, and I am pretty sure that the fine lines around my eyes are looking less noticeable.
My skin feels nice after I have applied it, and it sits well under make up when I use it. I think if you are like me, and looking for something extra in your skin care regime, and to help brighten and tone, then you will love this. I would definitely recommend it and will continue to use it as part of my daily skin maintenance. I used the serum on it's own, but it is recommended to use it with other products in the Liz Earle range to maximize the benefits of the serum.
*I am a member of the Mumsnet Bloggers Network Research Panel, a group of parent bloggers who have volunteered to review products, services, events and brands for Mumsnet. I have not paid for the product or to attend an event. I have editorial control and retain full editorial integrity*