I love roast chicken, it's one of my favourite ways to eat chicken, and my family all enjoy it. But I'm lazy, and hate washing roasting pans, and cleaning the oven after a roast has been cooked.
My answer is to cook a whole chicken in the slow cooker. You get tender, juicy chicken, but it's so much easier to clean up afterwards and if you want to, you can simply add the carcass back to the slow cooker and make chicken stock, as well, after you have finished with the meat.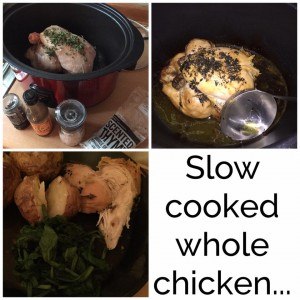 I use a medium size chicken (approx 1.5kg) which feeds all four of us then leaves enough meat for two more individual meals but you can adjust size and cooking time, accordingly.
You need:
chicken, whole
a finely chopped onion
fresh or dry herbs (I used fresh thyme here but you can use dried and whatever herbs you prefer flavour wise)
a whole lemon (I forgot to take a photo of the lemon)
salt, pepper, Worcester sauce (optional)
1 small glass of wine, white works better, but red is fine too.
Place the whole lemon inside the chicken cavity. Put the chopped onion into the pan of the slow cooker and place the chicken on top, pour over the wine, splash the Worcester sauce if you are using it, grind fresh salt and pepper over, and your herbs.
Set to cook on high and cover. Cook for 4 hours. After 4 hours you can baste the chicken by taking a ladle and pouring some of the juices in the pan over the top of the bird. Turn down to medium and cook for another 2-3 hours.
The meat will be tender and juicy and fall off the bones. You can use the juices in the pan for gravy or for stock.
This is such an easy way to cook a whole chicken I rarely actually roast them in the oven any more. You can also experiment with herbs, adding garlic, or spices if you want to add more flavour.
Doesn't really get much easier, and no roasting pan to wash up!