My teenager has very sensitive skin, and struggles with outbreaks of severe excema. She gets very sore patches on her legs, arms, trunk, and back. She's struggled with this for a long time, and we have pretty much got a good skincare routine going, and know that certain things in her diet, and some enviromonmental factors can make it worse. It can flare up and take a while to get under control again and it is upsetting and painful for her. I am always on alert, watching out for how her skin is doing.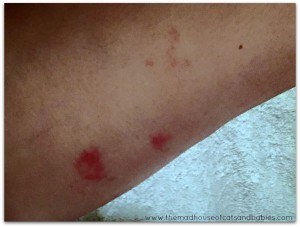 This is her current flare up. She has typical childhood Atopic Eczema. 
The products you wash your clothes with can have an impact on your skin, and if you have skin issues like eczema, finding a laundry product that doesn't irritate skin or make a skin condition worse, can be quite difficult. We have found that even those that claim to be suitable for sensitive skin can have perfumes or colours or other additives in them, and actually aren't as kind to skin as they say they are. We have tried a few, in our time.
We were asked to try out Surcare Sensitive Liquid detergent, to see if it helps get laundry clean, but more importantly, help to prevent irritation in skin that's sore and affected by eczema (and other dermatological conditions)
"Like other non-biological laundry detergents, Surcare products don't have enzymes which could irritate sensitive skin. However, unlike other non-bio's Surcare products go one step further in helping to reduce irritation as they are free from perfumes, dyes and acids – Surcare's Non- Biological Washing Detergents and Washing Up Liquid have been endorsed with the Allergy UK's Seal of Approval. – Providing washing with that 'just off the line' freshness, Surcare is kinder on sensitive skin but still tough on stains, even at 30 degrees. – Dermatologically tested and approved.
Surcare is a truly sensitive laundry and washing up liquid range that has been specifically developed with sensitive skin in mind. Surcare products don't contain unnecessary ingredients that could irritate skin but still provide your laundry with that 'just off the line' freshness. Surcare is soft on skin but tough on stains, even at 30 degrees. Like other non-bio detergents Surcare's Non-biological Super Concentrated Laundry Liquid doesn't contain enzymes. However, it is also free from dyes, acids, perfumes and any other unnecessary ingredients that could irritate skin. Dermatologically tested and approved, it has recently been awarded Allergy UK's Seal of Approval to show that it is suitable for allergy sufferers as it has been formulated to reduce exposure to allergens"
The teen is very active and takes part in a lot of sporting activities, which  means a lot of laundry for me, but also laundry that needs to come clean properly. She swims, plays netball, and does a ballet and dance class. Not only that, but I have her school uniform, underwear, and bedding to wash. That's a lot of laundry that comes into contact with her skin and some of it comes home very muddy or sweaty when she has been working hard in her activities.
So the challenge for Surcare from us was to see if it really does get clothes and laundry clean, but doesn't irritate skin. 
I have to say, and initially I was skeptical, that I have been very impressed, l, because we have tried lots of other brands that claim to get laundry clean, but that have proved to be too harsh on Emily's skin, so I am always wary of trying something new. Many other detergents that claim to be gentle on skin with issues, have in fact made her skin worse.
I washed her swimming gear and towels, her sports kit, her dance clothes and her normal every day laundry and bedding, plus her towels. They come out of a 30 degree wash smelling clean and looking clean. Some grass and mud stains on her netball kit – gone, and her swimming hear smelled fresh, sometimes it still smells a little of "swimming pool" despite a hot cycle wash. I followed the washing instructions on the bottle, and we are in a hard water area.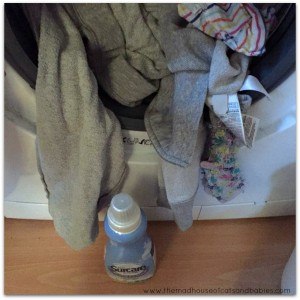 Most importantly, though, her skin hasn't been irritated and the current eczema flare up that she's battling has not been made worse, in fact, I would say having the Surcare has helped, because her skin seems to be coping better, whilst we are using it. I've been using Surcare for all her laundry, and feel confident that it's doing it's part in helping us deal with her eczema. I'm even impressed that her towels feel soft and comfortable. Value for money wise, Surcare is great. It works out slightly cheaper than the usual laundry detergent I use, and is just as effective.
So, it's reassuring for me to know that there is a laundry detergent that is kind to skin with dermatological issues, that is endorsed by Allergy UK, that is safe to use, and does a good job. I would certainly recommended it to anyone with skin issues that needs something gentle but effective for their laundry.
*we were sent some Surcare Detergent to try, but all opinions are my own*