If you have a daughter or girl in your life with lots of hair accessories then you need The Hair Helper in your life too…
In our house, we have uncountable numbers of hair accessories, between my daughter and I. We both have long hair, and this requires hair ties (plain ones for me) and her (she has LOTS of pretty ones, she's less boring than me) hair clips, hair bands, hairnets for dance class, and believe it or not, several hairbrushes. This is all very well, but every day, I found myself, ahem, usually yelling "where is the hairbrush?" or "what do you mean, you can't find your hair clips and hair bobbles? I bought a new pack of twenty last week, did the cat eat them again?" (yes, we have had that problem!) or "why can't you find a headband for you to wear to dance class?" and many other variations thereof. I am sure I am not the only parent to be found complaining about this.
But, no more…
Because we have The Hair Helper, in our life (actually it's in the bathroom)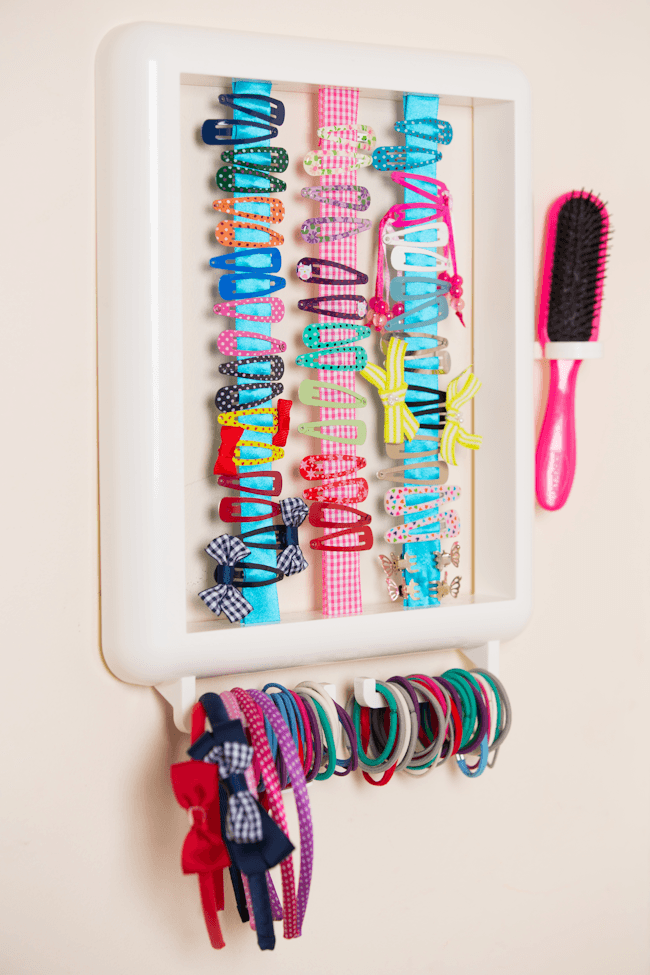 Now all of our clips, ties, bobbles, bands and bits are stored in one place, neat and tidy, and looking very pretty, where we can find them. Now there are no more excuses from my daughter, along the lines of "but I put the hair bobble down in the kitchen, and it's gone" or "I can't find any hair ties" or "where is my dance headband?". Getting hair done, in the mornings or when we are getting ready to go out can be a bit stressful, but having a solution that keeps everything where it should be when we need it really helps and actually, dare I say it, makes it a bit more fun.
The Hair Helper is a clever hair accessory organiser will make your life easier and it also makes the perfect gift for any little or (bigger) girl who has a lot of hair accessories and looks really pretty as part of bedroom decor too.
The Hair Helper creators say:
Hair Accessory Storage means:
Less time spent looking for missing hairbrushes, bobbles, clips etc
Easy access for your child to select their hair accessories for the day
Less clutter as everything is stored in one easy-to-use place
 

It's very easy to put together, as you can see from the video, and to customize because you have a choice of ribbon colours and the frame comes in white or pink (I would have chosen pink but I didn't get the final say because it's not mine!)  It can also be personalized, with name lettering, which adds to making it something really special and a bit more exclusive. 
It's sturdy, well made and practical, but also looks really nice.
You can use the cleverly placed holes in the box to work out where your hanging pins need to go. It's a minimal fuss to assemble and hang up.
We LOVE the Hair Helper. Why? Because it makes my life easier and makes getting hair done a much happier time, and her because it is really pretty, she has arranged all her many clips and hair bobbles on it, the way she likes them, so she can choose what she wants, and they are all neatly in one place, and she can find them and get them when she needs them. We have had to put it slightly out of reach of certain little brothers, who like to rearrange things and "borrow" hair bobbles to use for non-hair related purposes, but at least most of the time, things all stay where they are meant to.
 You can also find the Hair Helper on Facebook and Instgram.  
*we were very kindly given a Hair Helper to review, but all opinions are our own*