*This is a review post. I was kindly sent some hand cream to try*
I wash my hands a LOT. I work with small children, and that can be messy, (and sometimes downright disgusting, let's be honest) and as part of normal life, with cooking meals, keeping the house clean, and all the other things your hands do daily. My hands get very dry and as I now get a little older (ahem) I am starting to see signs of aging, too.
I have tried a number of hand creams and lotions over the years, especially when I was working as a nurse, and my hands were washed even more often, and there are a few I particularly like and will use as part of my daily routine. My husband and children will buy me the more expensive brand of hand care creams I like, for my birthday or mother's day, because they know I like it and won't usually splurge on myself.
I recently was asked to try out a hand cream, new to me.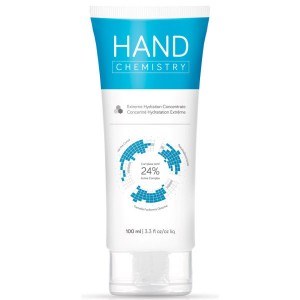 Hand Chemistry Extreme Hydration Concentrate For well hydrated hands
"Ultra-concentrated hydration complex contains five hydration active technologies from marine and plant sources that provide deep and lasting hydration to the skin, offering dramatic visible textural improvements.
Our 360 degree approach to extreme hydration consists of Pseudoalteromonas Complex, Tremella Fuciformis, HA Pre-Cursor, Protective Shield Matrix and Maize Propanediol.
The Pseudoalteromonas Complex has a high moisturising and regenerating effect, and has shown a huge visible difference to skin texture in a matter of days.
Tremella Fuciformis is extremely hydrating and helps to deliver below surface hydration, whilst our HA Pre-Cursor encourages the skin to create its own hydration for long term hydration benefits.
The Protective Shield Matrix forms an invisible glove on the surface to ensure the skin retains its own moisture and protects it from extreme coldness whilst the Maize Propanediol offers instant hydration."
The application advice says to use the cream. morning and evening,  for ten days.
I have to say, after almost a week of using the cream, I was very impressed, and definitely notice an improvement in texture and condition of my skin. It feels like quite a heavy cream, when you apply it, but my skin seems to absorb it, probably because my hands are quite dry, so it didn't feel greasy once it had absorbed. It seems like a really lovely intense treatment cream for dry hands that need a boost to get them into better condition.