When your family has sensitive skin, particularly your children, laundry can be a bit of a challenge. You want clothes and other things to come out of the washing machine clean and smelling fresh, but if you have children like mine, who do like to keep me on my toes with lots of "been in the garden making a den", "played football and rolled in a lot of mud", "painted but forgot to wear an overall", "forgot to use a napkin, my clothes did the job of wiping dinner off" washing, it can be hard to find the balance between detergents that do the job well, but that aren't going to cause problems for skin  issues like eczema.
Surcare have come up with a washing powder, that does the job.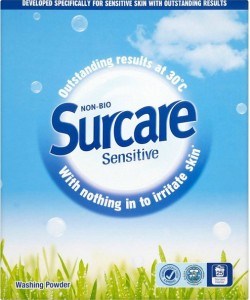 They say: "Surcare products don't contain unnecessary ingredients that could irritate skin but still provide your laundry with that 'just off the line' freshness. Surcare is soft on skin but tough on stains, even at 30 degrees. Like other non-bio washing powders, Surcare's Sensitive Non-bio Laundry Powder (10 washes) doesn't contain enzymes. However, it is also free from dyes, acids, perfumes and any other unnecessary ingredients that could irritate skin. With recyclable packaging and a formulation that is dermatologically tested and approved, Surcare's Sensitive Non-bio Powder promises an outstanding performance while not irritating skin. What's more, it has recently been awarded Allergy UK's Seal of Approval to show that it is suitable for allergy sufferers as it has been formulated to reduce exposure to allergens"
We have put it to the test, and I am happy to say that Surcare Sensitive Non Bio washing powder really does get laundry clean and fresh smelling but also gets out the stains and mess. It's gentle on clothes, and delicate laundry items, too.We washed a very silky but delicate throw, with Surcare after we had a slight spillage of juice during a movie night, and it came out beautifully clean, smelling nice, but just as soft as it was before it was washed.
 Because you can use Surcare at lower temperatures, you can wash delicate items that need cooler settings.
I also did some hand-washing with Surcare, something I generally avoid because I don't like exposing my hands to washing detergents, as I normally end up with very dry, sore hands (I hate wearing rubber gloves) but I did a few hand washes of some jumpers and other items with Surcare and not only did it get things clean, but my hands were not raw and irritated afterwards.
But the main thing about Surcare is that as promised, it doesn't irritate skin, and I can rely on it when washing my families laundry, knowing that it won't cause eczema flare ups or sensitive skin reactions.
Clean laundry, with detergent that kind to skin? Works for this mum…
*We were sent some Surcare products to try. All images are our own, or used with permission*