*I was sent a sample of cream to try, but my opinions are my own*
Everybody has scars on their skin, from accidents/cuts, from surgery, or illnesses (like chickenpox) or even from acne. Science of Skin have come up with a solution to help ease, soothe and help to heal them. 
I pretty much have scars from all of the above. Some are fresher than others. I had some minor knee surgery last year on my knee, leaving me with some small scars around my knee area, and I also have some older acne scars and marks on my face, near my hairline. Neither of these scar areas are massively unsightly but they personally bother me, so when I was asked if I'd like to try some skin care cream that might help them, I was keen. I haven't really ever tried any kind of cream or treatment on either area, but thought it would be worth trying.
Science of Skin says that it can help. It has come up with Solution for Scars something that combines the most effective ingredients from science and nature to help reduce the appearance of scars, reduce discomfort, soothe irritable scars and lessen redness. Our powerful formula contains a naturally active Green Tea extract that is scientifically proven to shrink abnormal scars. Paraben and fragrance free. Perfect for:
Surgical scars
Chicken Pox
Stretch marks
Sporting scars
Post laser surgery scars
Accidental & traumatic scars
Bumps & grazes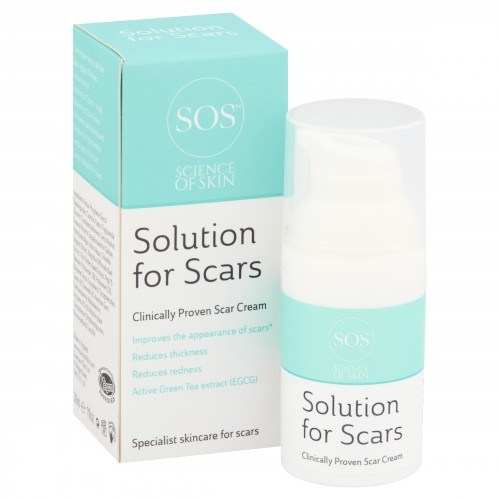 It's a cool, light, non greasy cream, that's unscented and pleasant to use. I applied it as instructed (massaging into the area, for one minute, 2-3 times per day) to the surgical scars on my knees and also the acne scars on my face (hairline). It absorbed easily and didn't irritate my skin.
 Over a month, I definitely noticed an improvement in the texture and appearance of the scars on my knee. They feel smoother and softer, and slightly less red. This is a vast improvement on before, and means I am less conscious of them. I think with continued usage, they should be much less visible.
The acne scars on my face are less red, and less red. This makes me happy. I used the cream before I apply my make up and at bedtime. It bothers me that I do have marks on my face (thank you hormones!) so I'm hoping with regular use of the Solution for Scars, that they'll fade even more and I'll be less aware of them too. Facial scarring can really impact confidence, finding a cream that can help them less obvious over time is great.
This cream is also safe and gentle to use on children, so is perfect for things like chickenpox scarring, or scars from those injuries that kids seem to acquire.
I'd definitely recommend it and plan to keep using it. It will be a feature in my skin care kit from now on.