So, when I told LSH that we were going on a gallivant up to London for the evening, recently, I think he thought he was being taken on a date night. What he didn't know was that he was actually going to be cooking me dinner, and be taught how to make meals more interesting and salads more fun. He's sharing about how he got on and why he enjoyed the evening. Oh, and the meal he cooked was pretty good too. It was fun and informative evening, learning about how you can use pickles to spice up meals, add flavor and texture and generally make meals and salads that bit more interesting, with not too much effort.
The kitchen is a place where I would like to spend more time. Maybe not a common statement among many adults but in amidst a frenetic London life I find cooking quite therapeutic and creative. Cooking appeals to me on many levels from the sensory perspective the smells are appetizing and handling food is very tactile (although granted not all raw food is appealing….). The engineer in me likes following a formula to get the result that you want, get the right ingredients, combine them using a specific process and throw in a bit of hot (or cold) and voila you have created something that is entirely different from the basic ingredients (and is hopefully nourishing as well as tasty if you have done it right) 😉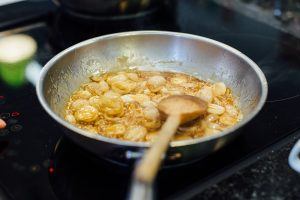 I was lucky enough to be invited to a cooking event recently where we learnt how to use some unusual ingredients to get some good results. It was my first time cooking in a public forum and it was a good crowd with the men asked to do most of the cooking so a great opportunity to learn some new recipes and techniques. I am a huge fan of pickles and all things spicy but wasn't aware that you could use pickles to replace main ingredients in dishes to give them some extra flavour and texture. In my mind I had pickles confined to ploughman's lunches or cheese sandwiches but I have clearly had far too narrow a view of how pickles can be used.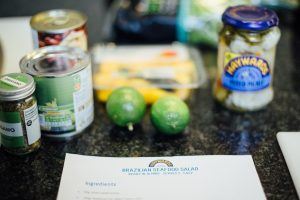 Much to my surprise I discovered that you can produce a remarkably tasty after Christmas curry using piccalilli or use caramelised pickled onions to form the base of a goat's cheese tart. To be honest I don't think I've ever actually caremalised anything before so it was interesting to learn the technique and to see that timing had to be precise not to over heat the sugar and turn it into toffee. I'm probably stating the obvious but timing was a key theme and it was useful to get a refresher on some key timings like browning meat, cooking a cheese tart and making a meat curry. Historically I've been somewhat of a purist when it comes to steak but putting together a steak rub added some valuable flavour. Cheese and pickled beetroot was another surprise and made a tasted bruschetta topping with a few mins under the grill. You can also liven up boring salads with the simple addition of some sliced beetroot, making it colourful and tasty. The possibilities are endless.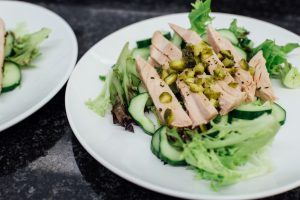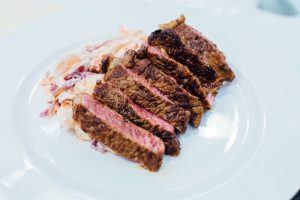 Seeing that you can use pickles in these ways has made me keen to look for other ways to introduce pickles into recipes where I wouldn't have previously considered them. Something as simple as chopping up gherkins, adding a little oil and lemon juice gives an excellent garnish for seared tuna. I must admit that practicality and convenience rank pretty high on my list as a busy parent and being able to just open a jar pickles to liven up a dish really appeals to me. I'm definitely seeing pickles in a new light and will be on the lookout for different types and new ways to use them. Here's to the rise of the pickle!
Photography credit – Kaye of fordtography.co.uk.