Have you been thinking of getting an Australian labradoodle? You probably know by now that an Australian labradoodle makes a good family dog because it is kid-friendly and hypoallergenic. This hybrid dog is highly compatible with allergy sufferers. It is friendly, smart, and the bonus part is that it's a non-shed dog, making it one of the most loved hybrid dogs today. But there is more to it that you might want to know, especially if you are considering to adopt one. This includes the process of getting an Australian labradoodle, why it is more costly than other Labradoodles, and how it differs from the rest.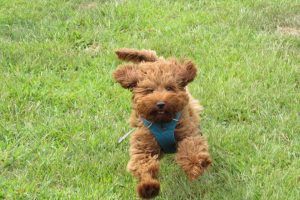 Breeding a high-quality Australian labradoodle takes time

. It takes several weeks to complete the adoption process for Australian Labradoodles. You have to wait at least two months to get your puppy. As soon as you applied for adoption, you will have to shoulder the fees needed to do the breeding program, which will be tackled in the latter part of this post. You will eventually be notified with the birth of the litter. The good thing is that many breeders like the

Good Day Doodles

in North Carolina give an update on a weekly basis so have the idea what's going on before you can finally take home the puppy.

Australian Labradoodles require training and socialization

. This hybrid dog longs for constant company and attention. On a more positive note, Australian Labradoodles got the friendliness and adaptability of both the Labrador and the poodle. They are the best choice for young families with children because these dogs do not show aggressive behavior and they simply love to be around humans. Besides these qualities, there are more reasons to love an Australian labradoodle. As much as they can be as affectionate like the poodle, they can also be as intelligent as the Labrador retriever. It was originally developed to be a guide dog for a blind. They crave mental stimulation so it matters to teach him tricks or incorporate fetch games into your training.

Australian Labradoodles have more than just Labrador and poodle lines in their pedigree.

Australian labradoodle have six parent breeds. Aside from the Labrador and poodle they also have bloodlines from English Cocker Spaniel, American Cocker Spaniel, the Soft-Coated Wheaten Terriers and Irish Water Spaniel.

A typical breeding program involves multiple stages.

It usually begins with health testing recommended by Australian Labradoodle Association. A veterinary ophthalmologist will perform a set of examinations, including cardiac testing, CBC, and thyroid tests. After the health testing, a breeding program is followed by neurological stimulation to check if the pup has a strong heartbeat, adrenal glands, and great resistance to disease.

An Australian labradoodle can be four times more expensive than any other Labradoodles

. It's because of the rarity of their bloodlines. A genuine Australian labradoodle is different from other Labradoodles in many ways. Compared to early generation Labradoodles, the Australian labradoodle is calmer and better-balanced.
If you're sure about welcoming an Australian labradoodle into your life, it helps to know the nitty gritty details of adopting one. Have a checklist of the dog's needs and make sure that you are ready physically, financially, and emotionally for the needs of a new dog.
*This is a collaborative post*