I don't know about you, but when I was growing up, and we had chips, as part of a family meal, my nana or my mum used to roll out the rather scary looking deep fat fryer thing. If you are as old as me (yup, I went there) you will remember this contraption…? It was called "the chip pan" and to us it was awesome, but also feared.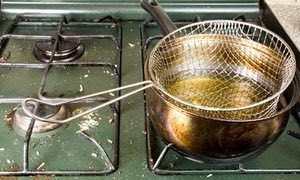 Who had one of these in their house growing up?
It was revered because it produced wonderful, golden, crispy chips, but we were also terrified of it, because it could go up in flames, and it was basically a fire hazard waiting to go off. Hot oil and flames are not a good mix, even if they do make fantastic chips. From a very early age, we knew how to grab a wet tea towel and what to do with it, if we thought the chip pan was going to go up in flames (those were the days when health & safety wasn't a thing, I really am showing my age in this post, aren't I? Chip pan fires were a thing to be feared) and we all felt rather tense until the chip pan was cooled and put away, til the next time…
So, despite my love of freshly fried, golden chips, I have never had a chip pan in my house, and I dont deep fry things. I am somewhat of a klutz when it comes to flames and fire, so there is no way I would trust myself to make chips this way. I also have to confess that I REALLY don't like oven chips much. We do eat them, and the kids like them, but they just aren't the same as the chips from my childhood.
Enter ActiFry from Tefal.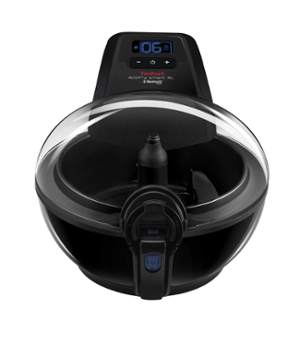 This rather space age looking gadget with it's very clever technology, helps you to cook a whole range of foods, in a healthier (and safer, if you are making chips) way.
This is what they have to say:
Healthy Frying | Smart Cooking
SMART GUARANTEE OF TASTY MEALS
200 recipes developed by chefs, and more to come
Dozens of smart cooking modes for best results
THE EASIEST SMART COOKING EXPERIENCE
Automatic transfer of cooking parameters from your application to your ActiFry
Step by step cooking instructions.
Live monitoring of the cooking process on the app.
Control of the cooking process from a distance.
NUTRITION COACHING WITH BALANCED RECIPES
Fry with little or no added oil
Nutrition coaching programme with proven successful results.
Recipes approved by nutritionists
It's revolutionary, if you want to make healthy meals, fast, but you still want to enjoy foods that are generally considered a bit less healthy for you (have I mentioned you can make chips with it, I think I have?) and it's incredibly easy to use, especially when you pair it with the app on your smart phone. The husband, who is a huge geek, was very impressed with the Bluetooth technology and ability to use recipes and the app with his phone.
So, of course, chips is the first recipe I tried (yes, I am a tad obsessed with chips, you are right!) and it was so simple and easy. You prepare them as normal, wash, peel, chop and dry your potatoes, then you pop them in the actifry and add the amount of oil required using the special spoon that comes with it, pop the timer on, and voila… crispy, golden chips like my nana used to m make…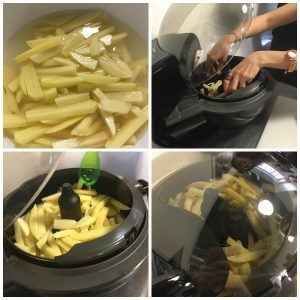 But, of course, ActiFry doesn't just make good chips, that contain less fat and calories that traditional chips. You can make all sorts of things, using it's technology to produce healthy, tasty food, quickly and easily.
We have already used it to make steak (yes, you can cook a steak) and also a rather delicious sticky salmon recipe.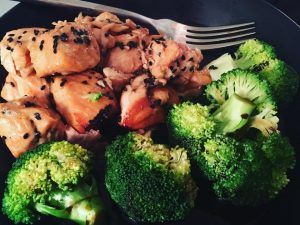 Not chips, but utterly delicious, and prep and cooking time took less than 20 minutes. Perfect for busy families.
If you are watching your weight, or are on a weight loss plan, you can use Actifry to help you, because it uses so much less oil in it's cooking process, so you can make delicious meals, with far less calories and fat. It's not called #slimmerssecret for nothing.
It's also very easy to clean, and if you use the app, on your smart phone or tablet, there are over 200 recipes you can try, and also you can experiment with your own recipes and meals.
It's definitely worth investing in, if healthy, quick and easy meals are what want to make, and having never used one before, I can now say, I am happily a convert and whilst I certainly plan to use it to make Delicious meals for us, I will also be making proper chips, and won't have to worry about burning the house down in the process…
*This is a collaborative post, and we were very kindly given a product to try, but my opinions are my own, images are my own or used with permission*