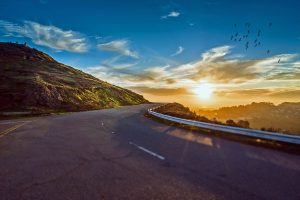 Everyone should take a road trip at least once in his or her lifetime. There are some amazing routes across North America and beyond. Follow Route 66 from Illinois to California or track the Pacific Coast Highway to Monterey. All you need is a well-stocked RV and a sense of adventure. If you are the spontaneous type, here are some great reasons why it is worth having a bag packed, just in case.
There's a Storm Brewing
A bad storm brewing is no joke. Severe weather patterns cause extensive damage, knock out the power, and bury you under snow, rain or hail for a day or two. It's not much fun living in the eye of a storm, even if you have a shed full of Generac home generators supplying backup electricity.
The good news is that you don't need to suffer. Pack a bag and head out to sunnier climes. Just make sure you don't accidentally drive into the path of a twister.
You Woke Up in a Funk
Nothing lifts a cranky mood more than taking a road trip somewhere scenic. You won't feel miserable for long once the open road is ahead and you are free to travel anywhere you like. However, don't forget to call in sick before you head out or you might not have a job to come back to.
Be Someone Else for the Day
Are you sick of being yourself? If life sucks but you would rather not enter witness protection just yet, head out on a spontaneous road trip and become a new person for a few days. Leave Betty and Al behind in the kitchen and take Angelina and Brad on a journey. Make up a backstory and when you strike up a conversation in a gas station, you can have fun road testing your new personas.
Check out the Nation's Wackiest Attractions
The US is full of weird and wacky tourist attractions. Check out the mummified human arm in the Connecticut Museum of Art and History, the Toilet Seat Art Museum in Texas, or Leila's Hair Museum in Missouri. What fun! There are hundreds of these amazing roadside attractions. Some are better than others are, but all of them give you a good reason to check the hidden corners of the USA. If that isn't a good excuse to take an educational road trip, I don't know what is.
You Need a New Perspective on Life
Is life dragging you down? Do you have some serious problems going on and you can't see the wood for the trees? Often, the best way to get some perspective on a troubling situation is to take some time out. A road trip is just the ticket. Leave your problems behind for a few days and give yourself some space to think things through. You might not find any answers on the open road, but it should provide some much-needed respite.
A spontaneous road trip is great fun, but do tell people you are leaving and make sure your pets and kids are taken care of if you don't take them along for the ride.
*this is a collaborative post*