NFL Logo Clothing for Babies is Cute and Comfy
Who doesn't like supporting their favorite NFL team? Part of the fun of football season is being able to show your team spirit, and for many fans, this team spirit means making sure that even the littlest members of the family are able to get in on the fun. You'll find cute NFL clothing that is designed just for babies and toddlers. A company, such as Baby Fans, can provide a wonderful selection of NFL items that will look adorable on your baby. Of course, NFL logo clothing also makes an excellent gift idea.
Sleepers and Pajamas
Babies always need plenty of comfortable pajamas and sleepers to keep them warm when they're sleeping, but football fans don't have to settle for the same old colors and prints that are so common in baby sleepwear. A cozy fleece sleeper will definitely keep baby warm and cozy, even on those chilly nights, but you can also give them comfortable sleepwear while showing your NFL team spirit. Let your little one show their (your) NFL team support with a cozy sleeper. Of course, there's also team logo pajamas that offer comfort as well as a show of support for the game of football, regardless of your team preference.
Football Beanies for Babies
Another cute addition to your baby's ensemble is an adorable crochet football beanie. Those chilly evenings watching football require something warm for your baby's head and a football beanie is the perfect solution. Of course, when you're looking for cute hats and clothes for little ones, comfort is extremely important. A soft crochet beanie will keep baby's head warm while wrapping it in soft comfort, an excellent way to keep baby comfortable while showing NFL spirit.
NFL Team Onesies for Babies
Anyone who has ever had a baby knows that onesies are one of those staple items that every baby needs. They are easy to get on and off your little one, they take up almost no room at all in a diaper bag, and they can be worn alone or under clothing for an added layer of warmth. The versatility of the onesie has made it a must-have item on just about every parent's list of baby essentials. Fortunately, if you're an NFL fan, you can outfit your baby in a comfy onesie, while still displaying your love for the game of football.
Casual Outfits for Play
Of course, every child needs quality play clothes and with NFL shirts, pants and other clothing, you'll be able to give your child great looking clothes for play while displaying your favorite NFL team logo.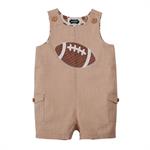 When you love the game of football, choosing baby clothes that show your favorite team logo or a variety of NFL teams can be a great way to keep your love of the game alive.
*this is a collaborative post*