Spring is officially here and with that comes the excitement of getting outdoors. It's especially important when you have young children to enjoy some fresh air, and the garden is the ideal space to enjoy it. No matter the age of your children, the garden can open up many possibilities to spend quality time as a family. Whether that is simply enjoying a picnic lunch, a family BBQ and get together, or just sitting outside enjoying a cup of tea in the early morning breeze before the hectic day begins. However you choose to spend your time outside, here are some of the top tips to help you get more use out of your outdoor area.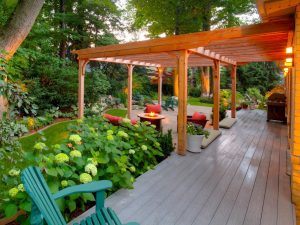 Source
Give the garden a tidy up
During the winter you may find that leaves have fallen off the tree's, branches are discarded everywhere, and perhaps you have some toys or garden bits left outside that have been subject to the colder weather. It's now time to clear it all away and give your outdoor area a good tidy up. This enables you to know what you have to work with, and perhaps what may need your attention. Such as the flower beds or the lawned area.
Spend some time on the lawn and flower beds
Now that you know what you have to handle, it's time to put those green fingers to the test and get on with the general chores of garden maintenance. Your lawn may not have been touched for several months, so it's time to pull out the lawn mower and get it cut down. At this time, it might be worth applying some lawn seed to help it grow and look it's best. The flower beds may also need some attention as pesky weeds could have made it into your soil. The can be lethal if you don't handle them quickly as they can kill off the more delicate plants and flowers that you may have.
What do you want to get out of your garden
Sometimes you may be limited with space, or just have your own particular ideas on how you want to use your garden. When it comes to making improvements or getting it ready for the warmer months ahead, it's a good idea to think about how you want to use your outdoor space. Will you be dining outside? Then maybe you may have to think about investing in some new garden furniture for your patio or decking areas. Perhaps you want a decent space for your children to play? Then making sure the lawned area is cut is ideal or even considering installing artificial grass, so it's easier to manage and maintain. There are plenty of ways you can adapt your outdoor space to suit your needs.
Consider storage space in your garden
It can be so easy for a garden to appear cluttered once more, even if you have spent time tidying things away or getting your outdoor space organised. So it might be worth considering some outdoor storage to help you keep on top of things. A place for any garden toys or tools to be stored neatly. Garden sheds or even outdoor storage boxes can come in handy.
I hope these tips help you make more use out of your garden.
*this is a collaborative post*