*this is a collaborative post with Cetraben*
Cetraben, which makes skin emollient treatments and skincare solutions for families struggling with eczema and other issues, is working in partnership with The British Skin Foundation, to provide a service called Starting From Scratch, which aims to deliver tailored and manageable expert advice straight to your inbox to help improve your skincare regime and nurture confidence in caring for your skin. We are big fans of their lotions and creams and are excited to share about a new project they have started.
It's no secret that we have struggled with skin issues in our house. I have psoriasis and Emily has dealt with eczema as well as very dry and sensitive skin since she was a baby. We have spent a lot of time and energy into figuring out what treatments and skin care regimes work for us, and we know that it can be very stressful and worrying when you have a child or a family member with skin issues that can affect many areas of their life. For us, it took a lot of mananging and working out what caused flare ups and how to deal with them when they happened and getting into a good skin care routine to prevent issues as well as treat them when they happened.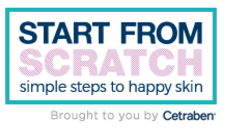 An innovative new online initiative offering people with dry skin conditions access to expert authored advice has launched today.
The 'Start from Scratch' programme enables people to sign up for free, to receive holistic, expert led advice about managing their problematic skin.  Developed via a partnership between emollient brand Cetraben and the British Skin Foundation, the programme aims to help inspire and empower people with eczema, psoriasis and other dry skin conditions to make positive changes that will help improve the condition of their skin, as well as how they feel about it. 
 Each recipient will get an email once a week for six weeks, with each email providing health and lifestyle advice to help manage their skin. The topics include; 'achieving better sleep', 'breaking the itch, scratch, itch cycle' and 'getting the most from your emollient'. 
 Each email includes four actions that are realistic and easy to implement.  The recipient can select one or more to put in place straightaway.  Each email explains the 'why' as well as 'what' to do to encourage uptake.  
 The expert panel that helped create the advisory content includes: Dr Brian Malcolm, a GP that specialises in dermatology, Julie Van Onselen, Dermatology Clinical Advisor and Educator and Dr Anna Baker, a Health Psychologist and Cognitive Behavioural Therapist.  The advisory emails were reviewed and approved by a panel of dermatology experts commissioned by the British Skin Foundation.  In addition, the advice emails were tried and tested by a small panel of people with problematic skin.
It's simple and free to sign up to, and you get weekly mails arriving in your inbox with advice and information tailored to you. We signed up, because whilst we have been doing this dealing with eczema and psoriasis thing for a long time, I am always keen for new advice and input and I know that skin care researchers are always working on new treatments and ideas so it's great to be on the receiving end of these mails to give me top tips and expert input, and also to fill me in on things that are new or that I might not have tried. The mails are useful and very informative and easy to read and we have found them very helpful.
You can sign up with Cetraben at Start From Scratch and start getting advice and information send straight to you. Why not sign up today, and see if they can give you the support you need to work out what's best for the skincare issues you or a family member may be struggling with. It's certainly been helpful for us.