I love where I live, we have so much to offer, locally, from beautiful spots to visit, with scenic views, to nice places to eat out and enjoy time with friends. We are also lucky to have a fab shopping centre close to us, near where I work and this summer holiday they have some great activities for adults and kids, to take part in and have fun and it's garden themed, which is perfect when you need something to do, and the British summer weather is simply not cooperating!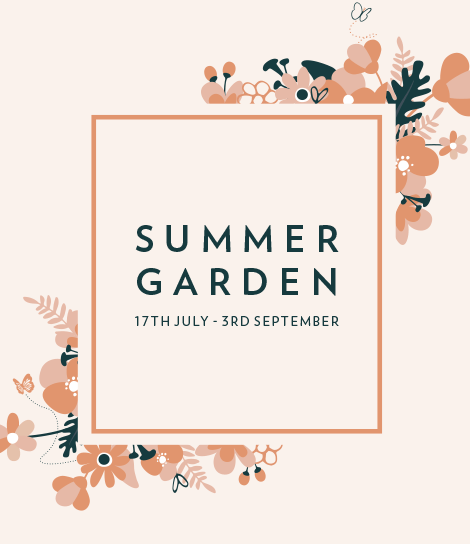 Summer is Blooming at The Bentall Centre
This summer The Bentall Centre will be transformed into an eye-catching Summer Garden! From 17th July – 2nd September shoppers can enjoy spending their time in the Summer Garden and floral draped tipi on the Lower Ground Floor. There will be the perfect picture opportunity in front of their flower cart and Kikki.K's gigantic pencil display on the Ground Floor.
The Summer Garden will provide a beautiful, tranquil space for families to take a break from shopping and allow them to participate in creative activities provided by the centre. There will be interactive games, workshops, styling sessions and beautiful displays from the centre's latest summer collections and lots of other entertainment!
Throughout the summer The Bentall Centre will be hosting a number of free activities in the Summer Garden including activities for all ages. Here are just some of the activities you can look forward to:
Take a moment for yourself on Tuesday 25th July with the fabulous Annie Clark from Mind Body Bowl who will be running yoga sessions throughout the day. Annie will be guiding shoppers through the yoga programme, from yoga newbies to seasoned professionals all are welcome! (Free booking link here)
On Tuesday 1st August Join the renowned
Columbia Creative, the floral design
specialists who have worked with the likes of
Harrods and Vogue, for their famous bouquet making workshops. (Free booking link here)
Embroidery is a huge trend for this season. Gone are plain jeans and jackets, it's cool to upcycle and give your look a new lease of life. Join The Bentall Centre in the Summer Garden on Tuesday 8th August for an embroidery for beginner's class that will have you learning all the new techniques. (Free booking link here)
Want to know what to wear to that all important event or are stuck to know how to build up a wardrobe of key pieces you will love season after season? On Tuesday 15st August Stylist Victoria Genevieve will be on hand to talk you through how to avoid a wardrobe crisis and look great no matter what event you have. (Free booking link here)
Ever wondered how to master the art of calligraphy perfect for those summer event invitations? Fear no more there will be a Calligraphy basics workshop in the Summer Garden on Tuesday 22nd August for those wishing to master the art of letter writing. (Free booking link here)
The fun isn't just for the adults though!
Every Saturday there will be free activities for little ones to enjoy. On Saturday 22nd July Let little ones feed the birds (and the bees!) this summer with a workshop to decorate bird houses, and make bird feeders and seed bombs to plant in the garden, attracting a host of mini beasts.
On Saturday 29th July Make sure kids have got all the summer essentials to hand, with a shopping bag, purse, wallet and pencil case decorating workshop. Kids can have fun with fabric pen and paints, gems and embellishments.
Children can enjoy a storytelling session on Saturday 5th August, with a short version of James and the Giant Peach, followed by interactive games such as musical stick insects and a centre bug hunt. There will also be a craft workshop where children make their own creatures from the story to take home.
Children can make book marks, decorate note books, personalise story book covers, get creative in short story writing workshops or even decorate a book keepsake box on Saturday 12th August.
On Saturday 19th August children are encouraged to bring their teddies in for the day as they settle on blankets for stories from Tiddlywink Talulah. There will be a banquet fit for a little king and they can spot bears through our imaginary binoculars and following a bread crumb trail to see where it leads.
Children can decorate their own recycled plant pot on Saturday 26th August whilst choosing from a range of vegetable seeds to plant such as green beans and pepper seeds, then be given take home care guides.
Children can get into character making wooden spoon or hand puppets on Saturday 2nd September. With portable puppet theatres children can get creative as they don the puppet stage with their own imagination and role play some fairy tales.
Can you spot the Bentall Centre fairies? Follow their trail around the centre and you may even find some tiny residents.
There will also be a number of Bentall Centre retailers joining in the fun with the likes of Kikki.K, Tortilla, Fun Learning, Whittards, T2, Bentalls and many more providing activity throughout July and August.
So if you are local, come and join in the fun.
*this is a collaborative piece*