I don't know about you, but I hate dirty carpets. We have quite light, high maintenance carpets (bad choice, they were pre the children) and they stain and mark easily, and let's face it, kids make mess and stains and spills happen. We also have pets, and our house is often busy with people visiting, so our poor carpets take a lot of strain. Just last week, I had to try not to cry when dinner was accidentally spilled all over the carpet, leaving a huge stain.
I have tried a few carpet cleaning products in my time, and some of them have worked fairly well, but others have been less than successful.
So when Bissell sent me some of their stain remover spray to try, I will admit to being pretty skeptical, because I feel like I have been there and done that on the carpet stain removal merry go round…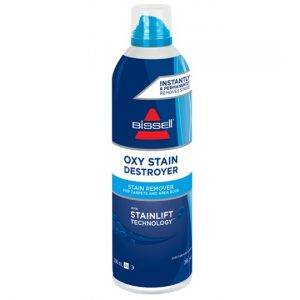 Thankfully they realise that a mum's sanity is frail, particlarly in the sschool holidays so they didn't ask me to test it out on my own carpet first, but sent us some fun things to make mess with and try it out. The small boy was delighted when I said he could squirt paint and mascara all over the place….
What they say it does…
"This aerosol carpet spot and stain remover instantly and permanently removes tough set-in stains like tomato sauce, salad dressing, dirty motor oil, vegetable oil, red wine, make-up, food grease, blood, pet stains, coffee, mud, dirt, cola, tea, grass make-up & fruit juice. The Revolutionary dual chamber system is great for both oil and dye-based stains such as red wine, cola, fruit juice, coffee, gravy, lipstick, ink and motor oil. Its oxy stain destroyer formula works to mobilize, lift, and penetrate the stain at the source to remove some of the toughest stains in 30 seconds** and the formula dives deep into the surface to penetrate and lift stains away while the oxy stain destroyer continues to work until the stain is gone."
We made a mess with red wine (ok, so I wanted to drink that, but I resisted) various brighly coloured paints, and some mascara. All of which are notoriously tough to get off carpets.
I have to say, I was VERY impressed. Follow the instructions for use, and apply the spray as directed and literally watch stains start to disapear. The red wine stain went, almost as if by magic and the other stains too a real beating too and even the paint lifted off. It does say some stains need a second application, but that's to be expected for certain types of liquids and solids, and I could see the mascara coming off. The stuff REALLY does work. You may need to blot and gently remove some materials, but for a lot of the stains you just watch as they vanish. I even tried it on that dinner stain, a plate full of spagetti bolognaise, that left it's mark on our carpet and one application and it was GONE. I cried, tears of joy this time. I even tried it on some old foundation stains on my bedroom carpet and it worked. Basically I spent a morning going round the house zapping stains. The things that make us mums happy are very weird, aren't they?
It is slightly more expensive than your average carpet stain removal spray, but because a little goes a long way, and it really does work, so it's most certainly worth investing in, for emergencies and to have to hand to get rid of those evil stains you think won't ever go.
So, if like me, carpet stains are the bane of your life, then I suggest you get your hands on some of this spray. It really does what it says on the tin. Now I am off to find more stains, to clean, and get excited about. My children think it's hilarious and my husband thinks I have entirely lost the plot but my carpet will be stain free…
(they have lots of other carpet care and cleaning products, too, well worth checking out, to help keep carpets and other areas in your home clean and looking good)
*we were kindly sent some products to try. No real carpets were harmed in the making of these videos and I may have tasted the red wine ;)*