The summer holidays are LONG, the weather can be totally uncooperative, and sometimes, like many other parents, I find myself questioning my sanity and wondering how I will keep my kids busy and happy for the duration of their break. 
Fortunately both my children LOVE reading, so that's an easy out for me, encouraging them to curl up with a book, or to read with or to me. This makes me happy, to see and to know they are doing something that is good for them and will hopefully last them a lifetime. You don't need much to be able to read, mostly a book you enjoy and a spot to sit and read it in, I find! 
Finding good books can be a bit challenging, but when I happened upon Bookabees, a book subscription and delivery service just for kids, I knew we were onto a good thing! 

Not only do you get parcels delivered specially for the kids, but they get books, too, which makes it even better. 
How it works:
Bookabees is a subscription book club for children.
"Each month they are sent exciting new books from top children's authors, either selected by you or hand chosen by us, in a personalised package.
You can either keep them for 50% RRP of the book or return them with no added cost to the subscription.
By The Bookabees or you! The Bookabees know the best books for each child's age, stage and interests, helped along by the information you give us, and authors, teachers, parents, grandparents, actors, illustrators and government lobbyists.
If you prefer you can have complete control and choose the books yourself online.
Initially The Bookabees handpick books based on the information you share with us – age, gender, the books your child has loved. But this can be refined along the way if you choose to rate and review books, and move them around your 'queue'. The more you do this, the more personalised the books we choose will be.
We all know how quickly children develop, and some books fast become too young for their developmental stage. But with Bookabees, the hassle-free once a month delivery ensures that your child always has interesting new reading material. On top of this Bookabees deliveries include fun personalized extras – these might be stickers, paper aeroplanes, bookmarks and messages from the Bookabees themselves – these vary every month."
It's such a fabulous concept and works really well, and really is great value for money when you think about the cost of buying one book, and you can work out a montlhy subscription that suits your budget and your child's reading needs and ability. My tweenager reads at least one book a week so this is perfect for her, to keep up with her reading and find new books but also so we don't have to worry about storing them, as they can be returned when she is finished with them. It's easy to sign up and use, and their delivery is speedy and the books come beautifully packaged.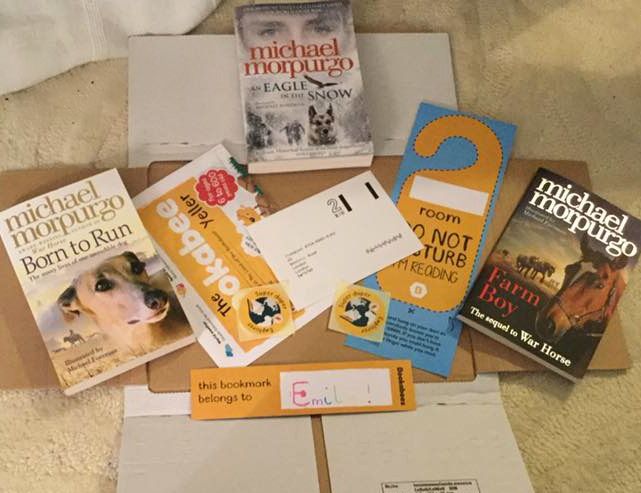 I have to apologise for the quality of this photo. It was taken by the children as I was on bedrest post knee surgery, and they haven't quite perfected their photo skills and my carpet hadn't been hoovered. However, the fact the books arrived the week I was recovering so gave the tweenager something to keep her busy outweighs all of this! This blog is all about keeping things real and honest parenting! 😉
Emily says:
"I love getting books in the post and I have really enjoyed reading the books they chose for me, some are different from what I myself would normally choose, but I think this is a good thing. I love that they arrive just in time for me to finish what I am reading and that I can get new books every month"
Mum says:
This is a fab concept and it works really well, and I am really impressed with the choices of books sent, and the books available to choose from. You can set up the account easily and control what books you want, depending on your preference and your child's needs/reading level/likes. Much excitement when a box of books arrive! This is a great idea as a gift for a child that loves reading or simply to make getting your hands on good books for your kids much easier, if like us, getting to the library doesn't happen as often as you would like. It's convenient to use and when you are finished with the books you can either purchase them for half the price they would retail in the shops or you can pop them back in the box and send them back, it's all set up for you to do that, and easily return them. You can also feedback to your account so you preferences are updated if you really liked a particular book or if you didn't (because that does happen, although the tweenager loved the selection she was sent!)
We are so thrilled with Bookabees and the concept and we are looking forward to seeing what will be arriving next month to read. It's well worth looking into, and investing in. Books delivered to your door monthly to keep your kids busy and reading? That can't be a bad thing, can it? 
*we were very kindly sent some books to try this service but all opinions are our own*