This is a partnership post with Balmonds sharing about their gentle shampoo range that we have found works for us as a family
I am horribly fussy about the products I use on my hair, and over the years, have found things that work and things that don't. I struggle with some issues with my skin and scalp including having a very dry, flaky scalp and also mild psoriasis, so some products don't work.
I am also quite concerned with what we as a family put on our skins, in our hair, and what is contained within the products we use. Sometimes it can be a bit overwhelming reading labels, particularly when you do have sensitive skin or issues that can be worsened by certain common chemicals.
So, when the lovely team at Balmonds sent me some shampoo, to try, I was excited, because I have hear good things about their ranges, and they have a new set of hair care products especially for those with skin issues, like mine. I want something gentle, and kind, that won't irritate my sensitive scalp and that will help ease some of the issues I suffer with, and if possible contain natural, soothing ingredients. It's a big ask but they seem to have put a lot into making their shampoo and conditioner fit this bill.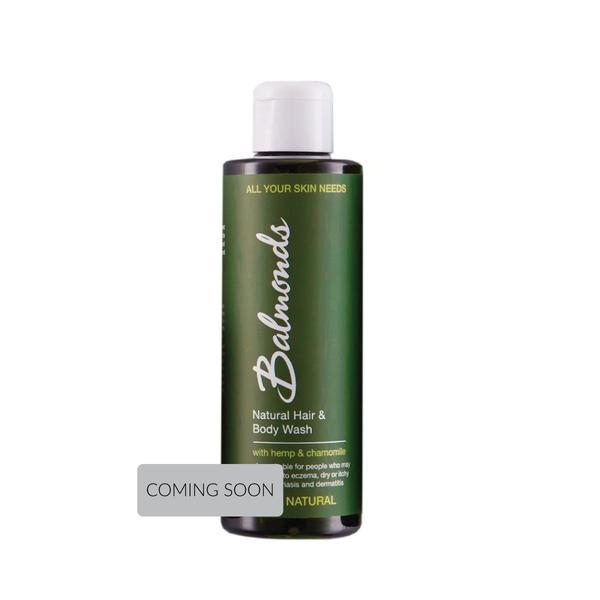 Revolutionary Purity in Hair Care
No Parabens. No Perfumes. No Petrochemicals. No SLS. No SLES.
Balmonds Natural Shampoo and Conditioner are so kind to skin that they are also suitable for those prone to allergies, eczema, itchy scalp or seborrheic dermatitis. This is an effective and complete hair care solution that is free from harsh detergents, polluting additives, synthetic preservatives and potentially-irritating petrochemicals and is instead packed full of gloriously nourishing natural ingredients, including organic cold-pressed oils, herbal tinctures and essential oils.
One of the most difficult tasks for those with sensitive or dry skin is finding hair care products that do not sting, itch or irritate. Most shampoos are full of perfumes, preservatives and other synthetic additives that can cause reactions and make looking after your hair a real nightmare! Balmonds have a mild, pure, fragrance-free cleanser that works really well to keep hair clean, glossy and in fabulous condition. Made with ingredients of natural origin and packed full of wonderful, organic botanicals to nourish the hair and scalp, this fantastically natural shampoo is a truly skin-kind solution to the problem of finding gentle but effective hair care! 
I have to say, I have been VERY IMPRESSED. A lot of companies make claims about their products, but this shampoo and conditioner really are gentle on skin, and after using them for three weeks, I saw an improvement in the condition of my scalp, with less flakes and itchiness and unlike a lot of other brands it didn't make my psoriasis worse. They smell amazing, and my hair feels soft and clean but not stripped and dry.
I love the fact that they don't use ingredients that are commonly found in shampoos like sodium lauryl sulfate, parabens or sulfates. I have been convinced for a while that these things aren't great for our skin, so it's good to find a brand that makes sure their ranges don't contain them. I used them on my children's hair too, which shows how much I liked them, because I am generally very particular about what they use, even more so than for myself. (they also do a baby skincare range, too, which looks excellent)
The shampoo doesn't foam like you would expect a shampoo to, but it does get your hair clean,  You can really tell they have used quality and natural ingredients.
I will happily keep using both the shampoo and will be looking at some of their other ranges too, because when I find I brand I like that works on my skin or hair, and for my family, I will stick to it. If like me, you prefer to use natural products with no added nasty ingredients that actually do their job, then I would recommend you try these. They are worth investing in.