*This post does contain affiliate links that may earn me revenue if you click and make a purchase*
Slow-cooked chili is a firm family favourite meal. I love autumn, for many reasons, including the colours as the season changes, and the excuse to pull out warmer, fluffier clothes, and also because it means I can pull out my slow cooker which has been gathering a bit of dust over the summer, and start making warming and comforting meals again.
The slow cooker saves my sanity on busy working days, and it also makes it easier for me to pop something fairly substantial on, that cooks all day, and means we have a healthy, and warming meal come dinner time. I tend to make a lot of stews and casseroles, because they are simple to prepare and economical for family meals, and any extra I make can be frozen for spare meals or for lunches in the week.
I am a firm believer in balance but also making sure that our bodies, particularly those of my growing (and permanently hungry, it seems, anyone else have this problem??) children get all the nutrients they need. So meat plays a role in my meal planning, grocery shopping, and cooking as it's what my family prefers.
Did you know that?
Red meat provides a range of important nutrients that are often low in toddlers and children – including iron, zinc, and B vitamins, selenium and potassium.
Red meat has been in the spotlight recently, and experts fear that the nutritional benefits have been overshadowed by misleading negative views. To cut through the confusion, the Meat Advisory Panel, an independent group of health and nutrition experts, is partnering with BritMums to promote red meat in the diets of children.
Dr Emma Derbyshire, a public health nutritionist and mother, says: "Including a small portion of red meat in the diet a few times a week after weaning can help to bridge nutrient gaps and so help to maintain good health through childhood and beyond."
One of my favourite things to make when the weather gets colder is chili. The husband and children love it, and I don't make it too hot spice wise (the husband adds extra chili and pepper sauce to his) so it's a family meal the whole family can enjoy and it freezes and reheats well too. We typically serve it with baked potatoes, corn tortillas or rice, and it's filling and delicious if I say so myself. This is a gluten-free meal base, which is also handy, as a family with food allergies and intolerance.
This recipe feeds 4-6 people but can be doubled if you want to make it for more or to freeze extra. It can also be cooked in a casserole dish in the oven or on the stovetop.
You need:
500g of lean beef mince.
Two tins of chopped tomatoes
1 tin of kidney beans (drain them and rinse them)
2 red peppers, chopped
1 onion chopped (I like mine chopped in chunks, it gives it more texture, also when I am in a hurry, it's quicker)
1 clove of garlic chopped
1 tsp of mild ground chili powder (you can use a hotter one if you prefer)
1/2 tsp of ground paprika
1/2 tsp of freshly ground black pepper. The tomatoes are salty so I don't add salt.
1 glass of red wine (no, not for you to drink, although feel free to pour yourself a glass too)
Brown the mince, and add the onion and garlic.
Add the chili powder and paprika and stir it through. Add the wine, and let it simmer for a minute, then add the chopped tomatoes. Bring to a low boil if on the stove or set it on your slow cooker to low and let it simmer away for two hours. You may need to stir it and depending on your cooker, add a little water or stock (whatever you prefer) to make sure it doesn't dry out)
After about two hours, add the kidney beans and peppers and cook for another two hours on low. Again stir if needed (I find it doesn't usually)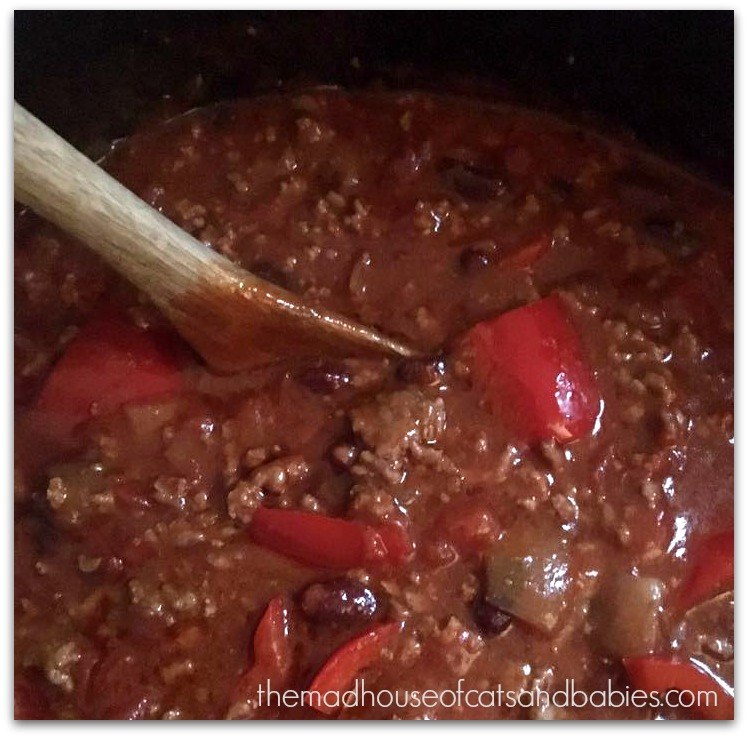 Smells and looks good, a perfectly hearty meal for a family dinner!
Serve with rice, tortillas or baked potatoes and we enjoy ours with slices of avocado, and grated cheese, or sour cream, as well as some salad. The husband tends to crack open a jar of jalapeno chili to give his extra oomph and heat. The kids LOVE this, and usually from about 4pm, when it's cooking away, is "when is dinner going to be ready?" or "can we eat it yet?" and it's a great meal to get them eating meat but also full of flavor and taste. I find I have to make sure any extra I want to put aside has to be done as I serve it, otherwise there is none left once second helpings have been demanded and served.
It's an economical meal, too, and works within our family food weekly budget. Slow-cooked chili is always a win.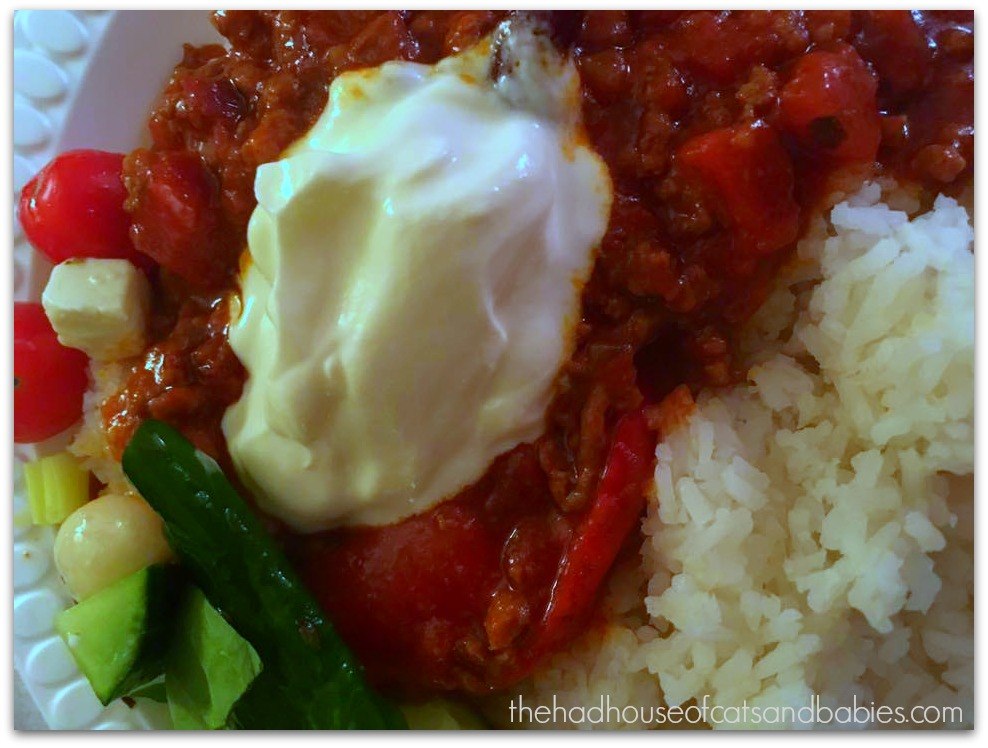 You could also try our casserole that goes well with couscous if you are looking for another easy family meal too.