I don't know about you, but I don't find the summer break condusive to eating that healthily or resist all the lovely food and drink that tends to come my way, with summer parties, weddings, picnics and all. Also, this summer for me has been particulary challenging because I haven't been able to exercise at all, whilst recobring from my knee surgery, so I have found that a little bit of unwanted weight has crept back on, and whilst winter is always seen as a time to just ignore that extra few pounds and hide behind comfy winter clothes, I want to get back to eating more heathily and shift that extra weight and get back into better eating habits.
I tend to meal plan and eat sensible portions, limit my carbohydrate consumption, add lots of fresh vegetables, salads and healthy snacks and restrict processed sugar, but I like to kick start my weight loss with a week or two of low calorie meal replacment plans, this helps me to get motivated, start my weight loss and get myself into a frame of mind to continue.
The diet plans and meal replacements from SML are something I find incredibly helpful and because their plans have worked for me before I am using their products to get myself back on track and hopefully loose some weight. I find the system of a VLC diet easy to follow and to stick to, and it helps with the intial phase of weight loss, for me. If done properly and as instructed it can be a safe way to loose weight. Of course, as with any diet or major lifestyle change, it's advisable to seek medical advice from a qualified practioner, beofre you start a meal plan diet like this.

Very Low Calorie Diets (VLCD's) have been available to slimmers for over 30 years. Used both in the NHS & the private health sector, they are an effective, sustainable way to lose weight quickly and safely.
What is a VLCD?
A VLCD involves participants consuming maximum of 1000 calories per day. They also contact the recommended daily requirements for vitamins, minerals, micro-nutrients and proteins. VLCD's offer rapid weight loss to the slimmer due to the low amount of calories consumed and because of a process called ketosis that is achieved when the body consumes a reduced amount of carbohydrate. Due to these factors, it is not unusual for slimmers on a VLCD to lose on average 1 stone per month (sometimes more depending on initial body size).
With the SMLDiet & our products, we have formulated our meal replacements so they can be used as a TFR (Total Food Replacement) so you can use them on their own or with food as part of our weight loss plans. Our slimmers find our weight loss plans easy to follow as they take unhealthy food taken out of the equation. This means they can concentrate on their weight loss & reaching their ideal weight.
I find the system is easy to use and the shakes are far better than any other's I have tried (in fact, even when I am not in diet/loose weight mode, I always have some on hand for quick breakfast drinks on the go, because they taste so good and fill me up and are balanced with minerals and vitamins added. The meals themselves are easy to make up and tasty, and I add in a meal replacement bar for my sweet treat and snack. For my evening meal I keep it simple with protein and vegetables or simple salads with no dressings or extra bits. I find the first day or two challenging as I adjust to lower calories and less food, and I have to be really strict and make sure I am drinking enough water and not running around too much, but by day 3 I feel good and it's easy to carry on. All the meals are balanced and contain what you need, so whilst it does feel a bit challenging, if you are following the plan, you should loose weight and feel good at the end of your week. They also offer full support and input on their site and social media and are very helpful if you need any advice or information.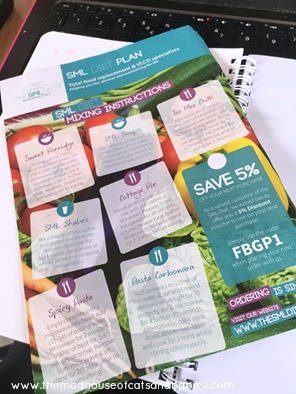 I am looking forward to loosing that bit of weight I have gained over the rather indulgent summer break, and getting back on track, and I am delighted to say that SML Diet and I have a giveaway to share with our readers. This is a great opportunity to try their products and see how they will work for you.
All set and ready to go, with all the bits I need to keep on track with the plan.
We have two weeks worth of their products, worth £67.98 (which is 56 packs) to giveaway to one lucky reader. All you need to do is tell us in the comment section here what helps you kick start a diet and why would you like to win this SML giveaway and then follow the rest of the instructions via the Rafflecopter link.
Good luck!
Terms & Conditions:
No cash prize alternative. Prize is as stated and cannot be exchanged.
Winner will be contacted via e mail and has 14 days to respond or a new winner will be chosen.
Spam entries will be disqualified.
All entries must meet the requirements to qaulify.
Winner will be chosen at random via Rafflecopter
Ends Tues 17th October 2017.