This easy greek style lamb casserole is loosely based on a Greek dish that I enjoyed during my time in Greece a couple of years ago. I have put the recipe together, in my own fashion. We love having people over for meals, and I enjoy cooking and feeding people, and hosting people in my home. I have been in a bit of a cooking rut lately, but we have had some guests due to come for lunch, and I decided to pull out an old favourite of mine, that's super easy, but tastes amazing, full of flavour and usually goes down well when I make it. I am what my husband calls a "spontaneous cook" in that I will take a piece of meat or some vegetables and just go with what I feel comes into my head recipe wise.
It is a lamb based dish, lamb is a popular meat in Greece, and is very versatile meat to cook with. Did you know that:
Lamb is naturally rich in protein
Lamb provides four essential vitamins that help reduce tiredness and fatigue
Lamb provides seven vitamins and minerals that support good health and well-being
Lamb is also easy to cook with, and generally doesn't need a lot of help to taste good. Paired with flavours like rosemary, red wine, and garlic and you usually have something that tastes delicious. This recipe feeds 6 people and costs about £10. Things like gravy granules, and Worcester sauce are pantry staples. Wine is optional, I prefer to cook with it, but it can be left out if you prefer. I serve this dish with couscous which has to be the easiest side dish to make, and can be dressed up or down depending on how you want to pair it with your main course. I serve this along side roasted vine tomatoes and crumble a bit of feta over the top, so you get the comfort of the lamb casserole, the filling and delicious couscous but also a hint of Greece with the tomatoes and feta. The casserole takes about 3 hours, but can cook away gently whilst you get on with other things. It also tastes even better if cooked a day before and then cooled and kept in the fridge then rewarmed when you want to eat it.
For the casserole you will need:
500g of cubed lamb. I tend to buy a shoulder piece of lamb and then cut it up myself. I find this works better, I get the size of meat pieces I like and it's a good way to get value for your meat. 
One red onion diced 
One large glass of red wine (optional)
1.5 litres of meat stock (I either buy my own, or sometimes if I am in domestic goddess mode, I have it in the freezer, but you can also use stock cubes and make it up, whatever works for you)
3 cloves of garlic crushed
A bunch of fresh rosemary, roughly chopped.
Worcester sauce, one table spoonful
Olive oil.
I use a heavy casserole dish for this and cook it on the stove top. You could also slow cook this. 
I gently sweat the onion and garlic in the olive oil, then add the lamb cubes to lightly brown all over. I add half oI the fresh rosemary, then add the Worcester sauce and wine, and let it simmer for about 5 minutes. I then add half the meat stock and bring it to a gentle boil, then turn it down to a low simmer, cover it and let it cook away for three hours, on a very low heat. I stir it every half an hour or so, and add more meat stock if needed. You do need to have enough sauce to soak up into the couscous so don't let this dry out or thicken too much. The last half hour, I take the lid off and let it continue to cook, add more stock and I add the rest of the rosemary.
For the couscous and tomatoes you need:
200g of feta
On the vine cherry tomatoes
Olive oil
Salt
500g of couscous
900ml of vegetable stock (use what you have, fresh is fine, a stock cube works too)
A red onion, diced finely
Lemon juice
Boil and make up your veg stock, and put your couscous into a bowl and pour the stock over. Leave the couscous to absorb the stock for about 10 minutes. Meanwhile, take your tomatoes and put them on a baking tray, sprinkle a little olive oil and a tiny bit of salt over them, and put them in a preheated oven at 180 degrees. They will take about 10 minutes to roast and soften. Keep them on the vine, they look impressive and stay in shape better. Whilst they are cooking, add the diced onion, a little olive oil, and a squeeze of lemon juice to the couscous and fluff it up with a fork. Don't use a spoon and go lightly, so you don't make it mushy (as my tween likes to say)
The tomatoes should be ready, so take your couscous, put a generous serving on a plate and then ladle some of the casserole over. Slide the tomatoes on their vines onto the plate and crumble a little feta over the top.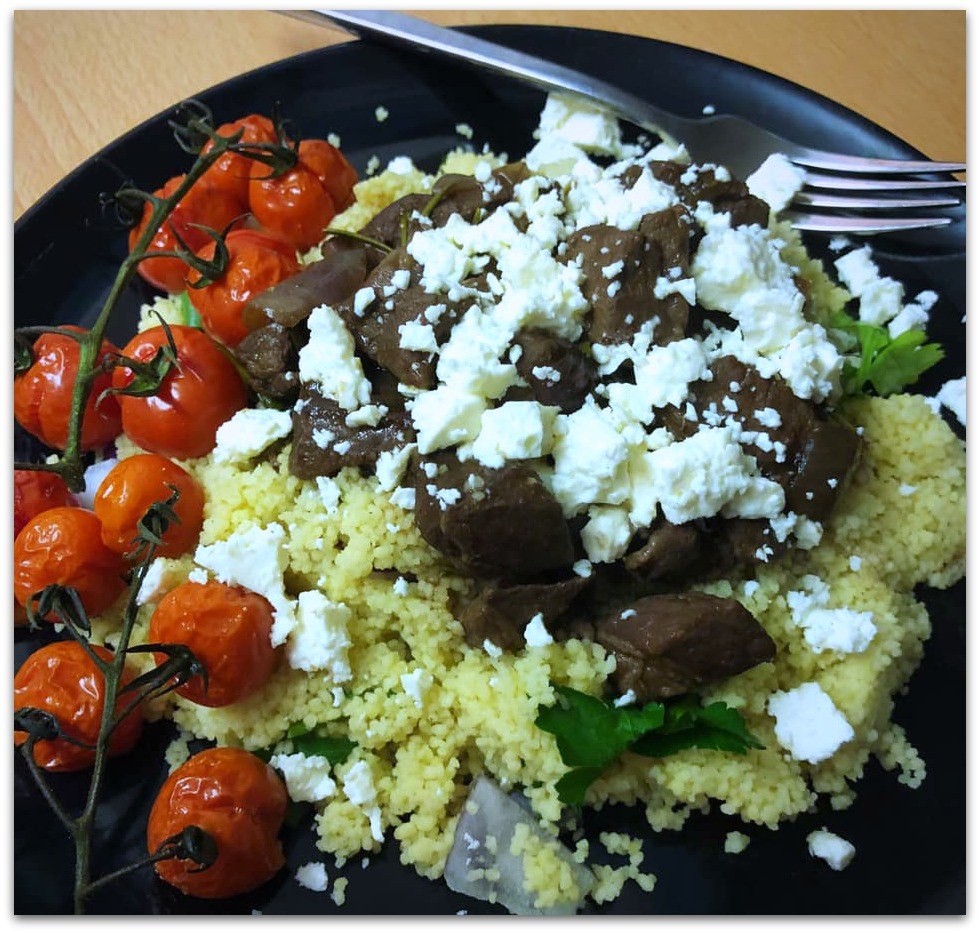 You will get asked for second helpings and my kids and any guests I serve this to say it's delicious. It takes a little prep but not much effort and it's a great all year round meal.
(The casserole also works with pasta, jacket potatoes or rice too)
You can find more recipe ideas and inspiration here and if you wanted to try our easy sausage casserole recipe, that's here too…