Britain is in the grip of a crimewave. Pilferers are breaking into houses and stealing everything from cash to underwear – and it's costing the UK a staggering £305 million. You might even have a thief in your home right now… but who? Well, look no further than Fido or Fluffy.
I am so relieved to know that we aren't alone, because we have a cat burglar in our house. He may look cute but he's a total scoundrel, and a proper feline thief. Food is his main target, but he has managed to take decorations of the Christmas tree before, he steals underwear (we have found it in the garden) and he likes to make off with and chew people's glasses as well…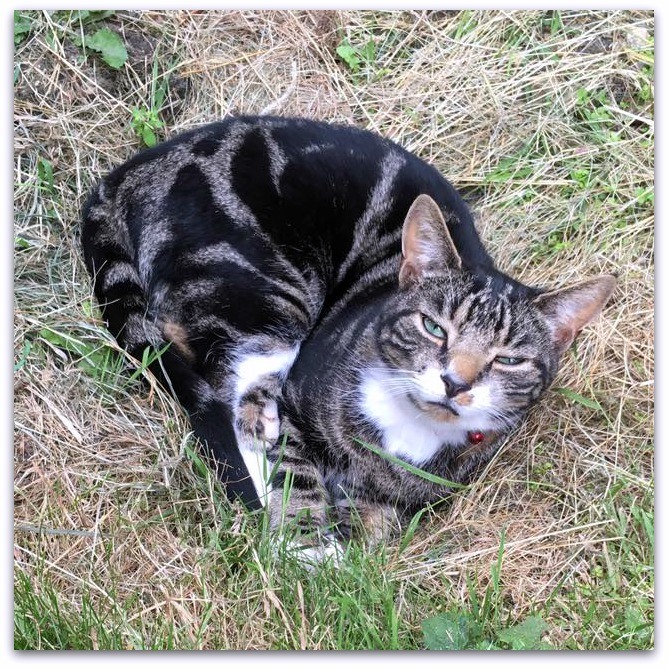 Wasn't me guv, I swear. I know nothing about your missing lunch, or the socks you put out to dry that you now can't find, I am just having a snooze here…
This little video we caught on camera, says otherwise though…

Caught in the act…
Did you know that research shows Britain is awash with pet-ty criminals, costing the nation £305million…
If you're one of the 12 million British households who own a pet, you could be the next victim. Britain's furry friends have turned into furry fiends as over half of UK pet owners (52 per cent) admit to harbouring a pet criminal. But the real number of furry and feathered felons could be even higher, as a further 15 per cent say they suspect their beloved animal is thieving but they can't prove it.
Surprising new data from ADT, the UK's leading security brand, reveals owners lose £49.34 on average to their light pawed pets, but shockingly, one in 16 (six per cent) owners has been burgled to the tune of over £150. That's a lot of kibble.
The research also reveals that 'cat burglars' is a misnomer as birds are the true scourge of the nation, with a whopping 59 per cent found guilty of filching (perhaps this should be renamed 'finch-ing'?).
Pooches are also prolific with 58 per cent caught with their paw in the proverbial cookie jar, compared to only 47 per cent of cats.
However, reptiles have the most extravagant tastes, with the items they steal coming to a whopping £209 over their lifetimes.
Top items taken by pets include food (71 per cent), money (seven per cent) and even underwear (21 per cent):
Which could be why one in ten owners (ten per cent) just don't know how to make the thieving stop.
So to combat this wave of pet pilfering, the security experts at ADT have teamed up with Instagram superdog Pumba the Chow Chow (@thingsonpumba) to create a new role on the product innovation team – the UK's first 'Pet Detective'.
Pumba and ADT are looking for the UK's most prolific cat, dog, budgie or bunny burglar, to help ADT understand how pilfering pets manage to evade capture, and identify weak spots in Britain's homes by setting a thief to catch a thief!
The role is a year's consultancy. The exclusive position will be reimbursed with a new ADT Smart Home system which will be installed by ADT, a year's free monitoring and a generous welcome bonus of £500 of vouchers for Monster Pet Supplies.
If you have a pet pilferer at home, apply on their behalf on the ADT Facebook page. The application process is simple – owners simply need to upload an image of their pet in action and detail their suitability for the role using the following criteria that Pumba has set out for the applicants:
Track record of being light-pawed
Highly intelligent – comes up with ingenious ways to pilfer possessions
Intrepid explorer – capable of venturing far and wide to find every nook and cranny
Experienced at evading capture
Full bag of swag
So if your beloved pet may actually be a criminal in disguise, why not enter them? Jasper doesn't know it, yet but we are entering him. Lets see if we can put an end to our pets pilfering ways, spoil their thieving fun and save our possessions from those pesky paws…
*this is a collaborative post*