This is a tough topic, to write about. Having your home broken into, and precious belongings rifled through, destroyed or taken, is a horrible thing to happen, for anyone, and we as adults have to process and deal with that, but so do our children. It can be incredibly traumatic for them, to go through and to try and understand.
I personally remember as a child, that our house was broken into, but I wasn't there at the time, being away at school. My parents chose not to tell me, when it happened, because I think they correctly knew that I would have been utterly traumatized by the thought that someone had been in my home and taken things, and I only found out years later. In a way, I was lucky not to have full knowledge of that, and I haven't had to deal with the awful repercussions that it may have had on me, but I am aware that it can happen to anyone, and in fact we have had several spates of break ins in our street, over the past few years, and it does make me think that it could happen to us and how I would explain and comfort my own children if it did.
There is very little out there in the way of materials to support children who have experienced a burglary or home break in, so the lovely book "Who's been in our tree?" by Diana Batchelor is perfect for sharing with your children if you and they have had the experience and are struggling to process what has happened and cope.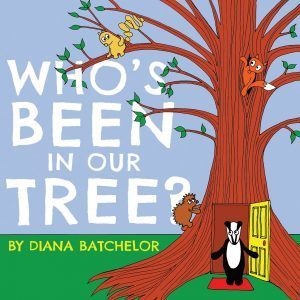 It's a gentle book that helps children to understand and process how they feel about what has happened to their homes.
"Fox, Badger, Hedgehog and Squirrel discover that someone has burgled their tree, and some
strange things are starting to happen. Badger can't sleep, Hedgehog is shouting at everyone,
Squirrel is jumpy and Fox won't go anywhere on his own. While the birds are off looking for
the burglars, Fox has an idea and each one of them makes a plan…"
It is based on real children's reactions and draws on a range of expertise in the field. The author and illustrator is a professional support worker for young victims. The "plans" made by the animals in the book are evidence-based responses to trauma, created with the guidance of Dr Fiona Snyder, a child clinical psychologist. Through Victim Support, the book has been tested with children in one-to-one settings and in the classroom. It has also been adapted and approved by a group of over 20 specialist professional support workers for young victims.
It's illustrated so children can absorb the pictures and relate, and is age appropriate.
It's actually one of the only books written in English, on this topic, for children, so it's a vital resource, both for parents, children and those who work with children, in schools and childcare, if a child has been through the experience of being burgled or having their house broken into.
It's such an emotive and difficult topic to deal with, and one that everyone hopes they will never have to explain to their children, but sadly, it does happen, and having a tool like this, that you can use, to help your children process things and talk about it, and express their emotions, understand why other people may be acting differently, and what has happened and how to reassure and support them, is something I would highly recommend.
You can pick up a copy of the book here