If you read my blog, you will know that sleep has been somewhat lacking, round here for a LONG time, and we have had a long journey to where we are today, and right now, we are all getting some sleep, and good sleep.
However, lack of sleep and being a busy working mum, managing life, and all the juggling it entails, means this mum is TIRED, despite now slowly catching up on missed sleep and I am always on the look out for things that will help me to keep going, boost my energy and help me to survive life better. I drink a lot of coffee but I also like to help my body with other things too. Lack of sleep can really hit hard, and affect us in all sorts of ways. I find my concentration levels get really low, my memory suffers and I find it hard to get through the day without wanting to take a nap (don't we all feel like that sometimes, especially busy mums who are getting up in the night with little ones?)
Benenox have come up with an over night tonic, to help.
A combination of honey, Sustamine® and Vitamin B6 that boosts your stored energy levels to aid good quality sleep. So you feel fully recharged and ready to take on the day.
It's not complicated. You take the measured dose of the tonic before bed, and it works to help make you feel as I would describe it "more human" the next day.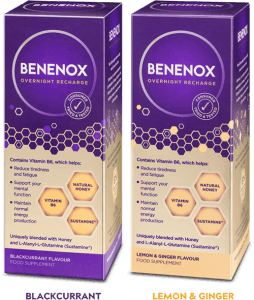 It comes in two flavours which are both delicious and easy to swallow, and you take the recommended dose about 15 minutes before bed, and let it do it's work overnight. You can take dissolve it in warm water, if you prefer or just take the concentrated dose.
I have to say, I was impressed. I have been using both flavours, and can say that I do feel more energetic, and a bit less wiped out. As I get more sleep and help my body recharge, I am starting to feel a bit better. Beneox is not a sleeping tablet or aid, so it doesn't make you drowsy or work the way a tablet or sleeping aid would, so you don't have to worry about the side effects of something like that. It's gentle and not addictive (although it does taste nice) and it's a useful tool as part of your bedtime regime to help you get the most benefit from a night's sleep and face your day feeling good and able to manage what life throws at you!
I am definitely feeling the difference, and it's now part of my bedtime routine, and I have even persuaded the husband to start taking it too. Us tired and busy parents need all the help we can get, after all!
*I was very kindly sent some product to try, but my opinions are my own*