So, Christmas is over, January is half way through, and we have Valentines Day looming.
I say that, because we in the Mad House of Cats & Babies aren't really that romantic, and last year we pretty much forgot about it, and didn't even get cards for each other.
The husband is the mushy and romantic type, I tend to be less mushy and more practical, so over the years we have come to a compromise, but to be honest we don't make a huge fuss about the day. I have a theory that if you have to wait for one day in the year to share your love with the special person in your life, then you need to be working on your relationship a bit more. Told you I was boring and practical! 😉
This year we are trying to make a bit of effort, in that we will get each other a little gift, and we will have a date night at home. We try to have a date night or some time out together at least once a month anyway, so we will just jazz it up a bit.
Gift wise, we do both do practical and I will be getting him a geeky thing he has been asking for, for a while, and I suspect he will be getting me a new case for my phone, because he worries I keep dropping it and will smash it. We will get some chocolates for each other too!
Talking of chocolates?
We are big fans of Hotel Chocolat and they have a fabulous Valentines Day range out now, to pick something to suit anyone's taste. With gifts that fit into all budgets, and perfect if you are treating someone you love.
We have a little treat for our readers too with a giveaway of two Valentines Day Goody bags (RRP £18 each) for two lucky winners.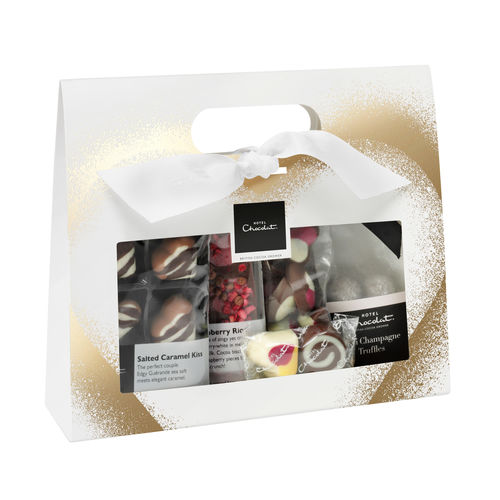 Set the mood this February 14th with hedonistic Champagne Truffles, half a dozen sophisticated Salted Caramel hearts, the extravagant Raspberry Riot Slab, mellow solid milk chocolate hearts, a deeply satisfying Dizzy Praline and Vanilla heart Duo. All wrapped up in ribbon it's ready to give…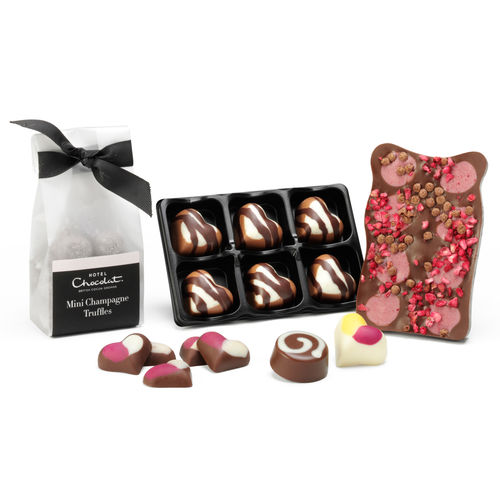 To enter, simply tell us if you are mushy and romantic, like the husband, or practical and pragmatic like me, then click on the rafflecopter link and follow the instructions…
Two winners will be chosen by Rafflecopter to win one goody bab each, which will be posted in time to reach you for the 14th Feb.
So, share, are you romantic or practical? We would love to know!!
Terms & Conditions
Giveaway ends 10th February 2018
No cash prize alternative
UK entrants only
Over 18 entrants only
No spam entries, these will be deleted and the user disqualified
Winners will be contacted via e-mail, and have 28 days to claim prize
*this is a collaborative post*
*THIS GIVEAWAY IS NOW CLOSED. THE WINNERS ARE J.Thompson and Antonia Hawker. THANK YOU TO ALL THE ENTRANTS!*