*In the interests of personal disclosure, my tween has agreed to let me write this piece, and she is happy for me to be sharing this information. I would never discuss personal topics concerning her without her consent. She is happy to share and we have agreed what we can and can't share. She also took all the photographs for this article and will contribute her own words as well*
We are starting to hit the parenting stage with our tween where we face that she is growing up and hitting puberty. The way I parent her as a mother, dealing with body changes, and everything she faces as she grows up are different from the way I was parented. The female influences in my teenage life were much more conservative and to be frank we didn't talk about periods, sex, or body changes much. I had a book (anyone my age remember Have You Started Yet? Yup, I am showing my age, aren't I?) So I spent a lot of my early teen years and into young adulthood figuring most of what was happening to my body, on my own, with some info from my peers.
I am determined that my own daughter won't have to deal with the body and emotional changes she will be facing alone, and that I will support her and be open and honest about periods, sex and all the other things that are coming her way. We have always operated on the basis that we are honest with our kids about what our bodies do, and she has known about periods and why they happen for a while, and we have slowly and gently explained sex and relationships as she has asked questions or situations have arrived where she would need to know. We don't lie, we don't use silly names for body parts, and we keep things basic and we involve her in looking for answers if needed. (I have an excellent book about body changes into puberty and adulthood that we have read together, and she is allowed to ask to look at whenever she wants, and we have used the internet to research things when I have felt we needed more information) We operate on an open door policy in that I want her to always come to me for help and advice no matter what she is facing and that I will be there for her to help and support her. It's a tough job being a mum to a tween growing into a teen but I am hoping I can rise to the challenge.
So, we are facing periods and body changes. She is growing up (and whilst I would love to live in denial that she is still my cute little toddler who's only worry in life is what dressing up outfit she wants to wear today, I can't, sadly) and we are freely talking about periods and what will happen.
I don't think periods are "FUN", but we can make an effort to help make them as easy as possible.
Betty Box is something we plan to use to make the transition a little easier.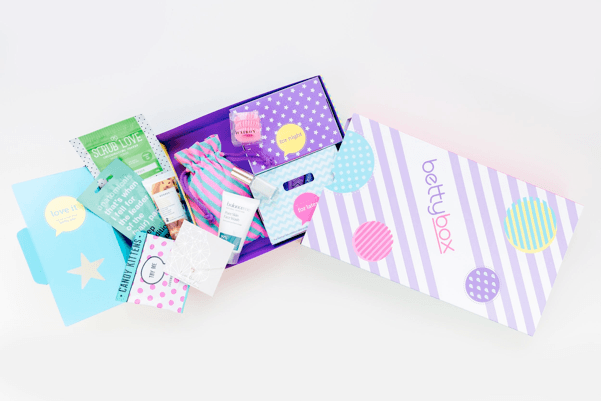 Starting puberty is often overwhelming, but it doesn't need to be. bettybox is the UK's first monthly period subscription service designed specifically to make that time of the month more comfortable and less scary for teens, brought to you by betty – a lead educator in teen periods.
The colourful box contains everything you need for a positive experience – including the period essentials tailored to meet every girl's sanitary and wellbeing needs and treats to make every girl feel better during their time of the month. Packed into funky pouches and boxes, bettybox and its contents wouldn't look out of place in any teenager's bedroom. The pouches are even separated into handy 'now', 'nighttime' and 'later' boxes so they have what they need, when they need it.
What's more, each bettybox contains lovely surprises and premium treats to look forward to each month. Products include teenage-friendly cosmetics, bath and body items as well as cool keyrings, sweets and chocolate from popular brands such as Candy Kittens and MUA Cosmetics.
You can choose your preference of tampons or towels, or both, as well as absorbency and size, and select a date for delivery. It's as simple as that.
With a mission to bust taboos and encourage honest, open dialogue around periods – think of betty as a big sister, full of advice. From the betty online platform, easy-to-navigate website and social channels, to information within each bettybox, betty offers a hub of advice, useful facts and tips to ensure teens equipped with the 'knowledge' and 'know-how' around periods.
Mums and dads can also feel assured that each bettybox is jam-packed full of information and guidance taking the what, why and when out of periods, preparing young girls for the transition into adulthood and making it a more positive experience. The hormones, the cramps, the spots? It's all normal and natural.
The boxes are amazing and fun. We opened it together, and I will admit to very wistfully wishing I had had access to something like this when I was my daughter's age.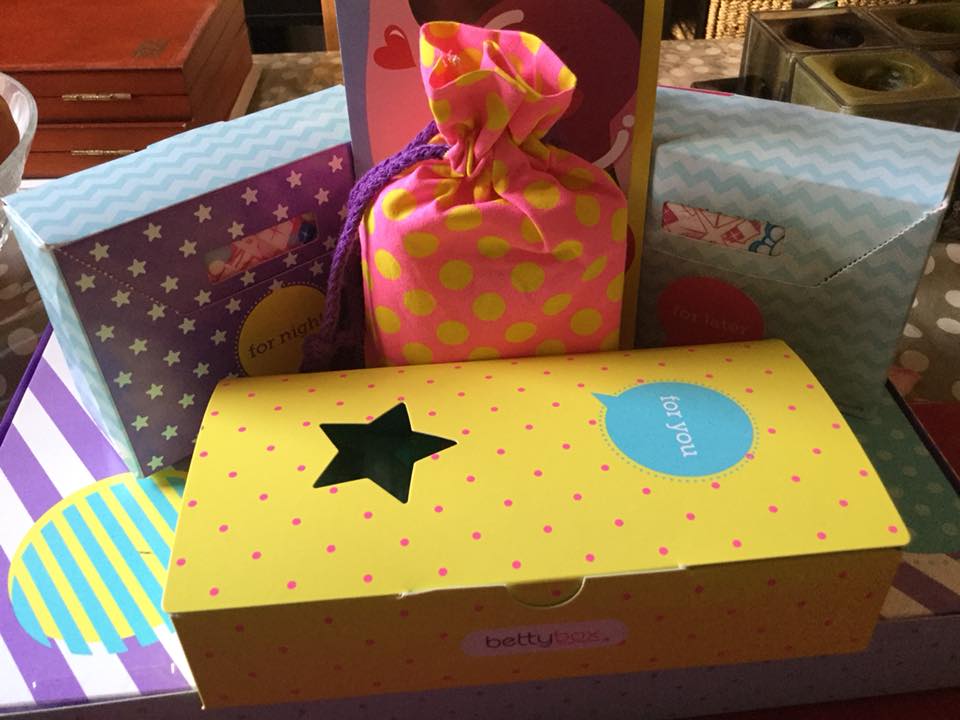 The contents are well thought out, and really appeal to someone facing starting her periods or already dealing with them. It's a mix of serious and fun. Emily was delighted and I can really see how these would be super helpful.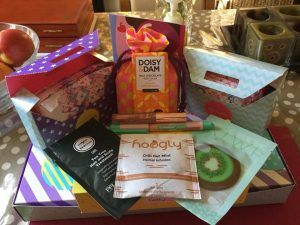 A little bit of everything you might need from pads (and you can choose what type and what size, or tampons if you prefer) to some treats and nice things to help. Also some useful info to read.
You can subscribe to their monthly boxes, for a delivery of treats and useful items for that time of the month, or a once off box, depending on their needs. Budget wise, it works out, and they really do put some thoughtful items into the box to help cheer up and encourage a girl going through her period.
Periods and body changes can be really challenging and Betty have a great website full of chat and info all in language that appeals to tweens and teens, to help them understand what's happening with their bodies and also some fun things to read. It also has a really useful section for parents, too, which is handy, because even though I am a nurse and a woman, there are things I like to make sure I am doing right too, parenting this girl tween of mine…
Emily says:
I like the Betty box because it gives a girl everything she needs to get ready for her period. It also gives her a chance to get used to them and understand how they work before she gets her period. I also like it because it doesn't just have pads and liners in it, it also has little treats to keep you going like a pen, some chocolate, some lip gloss etc.
My favourite thing from the box is the peppermint tea bag as that is a really soothing and warm drink for your stomach when you get your period.
I would definitely recommend this Betty box to someone else as it is important to make sure all girls have the supplies, (no matter what country you live in) understand it and don't feel scared when they get their period. I think it would be great if all girls had access to something like this, and my mum says she will make sure I get a box every month when I need it, which makes me happy.
How to order your box?
Step one: Visit www.betty.me and select 'subscribe'
Step two: Choose your favourite femcare product from a host of trusted brands
Step three: Select the absorbency you require, because we want it to be just right for you
Step four: Choose a delivery date to coincide with your cycle
Step five: Put it to the back of your mind and enjoy the surprise each month
All bettybox packaging is FSC accredited.
Monthly subscriptions cost £12.99 including P&P and are available from www.betty.me.
So, mum and daughter approved (and if you are a mum of a tween you will know how rare it is for mum and tween to approve of the same thing) and we would definitely say it's worth looking into getting a Betty Box for your tween/teen too…
*this is a collaborative post , we were kindly sent an item to review, but all opinions are our own*