We love reading, and we like to find new books for the chidlren to read, and enjoy and we like to explore a wide range of books for our family on all sorts of topics. If you are looking for a really lovely book, for little ones to read, or to read with them, about kindness and being caring, then we may have one that's just up your street.
James and The Birthday Balloon by Nicola J Rowley.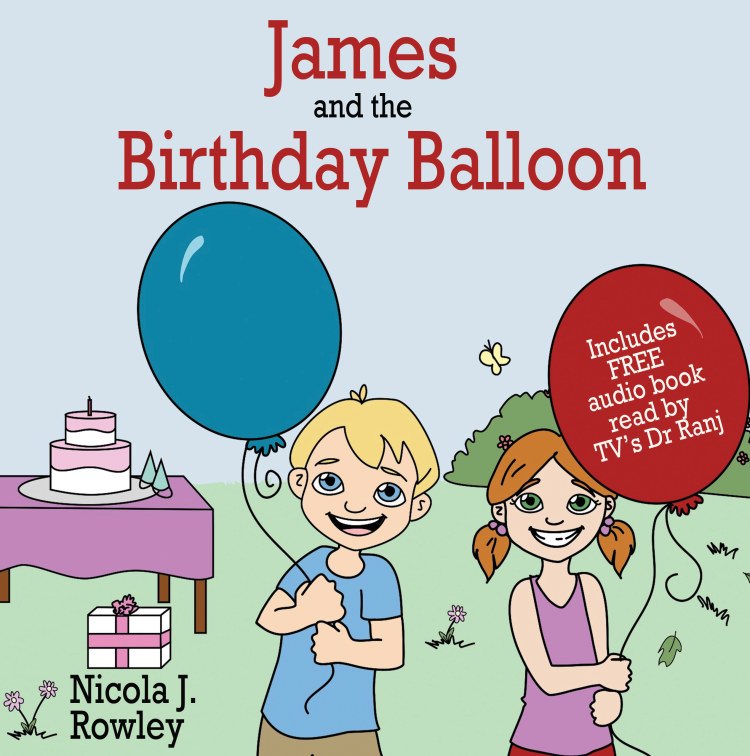 This is a lovely, simply written story about a little boy, James, who just wants to make his best friend happy, and how he goes about that, when she has an accident and needs to go to hospital, and is perfect for reading with your little ones, to help bring up the subject of being kind to others and caring for others. I read it with my son and it's a perfect book to share with them to help them talk about being kind and about other people's feelings. It's easy to read, and can be read by a child, of reading age, or to a child by an adult. There is also a free audio version of the book read by TV's Dr Ranj (who we all know and love, and we thoroughly enjoyed the audio version too) It's long enough to keep attention and focus but not too long that a small reader will get bored.
This would be a good book to have in a class or nursery library, for children to read as well as for use at home to help children grow and understand feelings and friendship. The illustrations are colourful and bright and eye catching. It's a lovely, heartwarming, caring book, that aims to bring happiness and it's worth having a copy to read with your little ones. It would make a good gift too.
We think you will love this book and we are delighted to have three copies to giveaway to our readers. You will win a copy signed by the author herself, to keep to share with your children.
To enter, simply comment sharing something kind you remember that someone did for you when you were little, that you remember had an impact then click on the link to complete your entry.
a Rafflecopter giveaway

Terms & Conditions
Three winners will be chosen via Rafflecopter and notified via e mail. Winners have 28 days to respond or a new winner will be chosen.
Ends 19/04/18
No cash prize alternative.
Each winner will win one signed copy of the book.
UK entrants and over 18 entrants only
All entry requirements must be completed and spam entries will be deleted.
This giveaway is not affiliated or sponsored by any social media site it is shared on and has no affiliation with any sites.
*we were kindly sent a book to review and share about. All opinions are our own*