If you follow us on social media, you may have noticed that we have shared about our current home project, which has involved moving all of our bedrooms around, and turning our bedroom into a room for the boy, turning the small box room into a special space for the tweenager, and then making her old room a nice space for the adults in the house. It's a lot of work and we are slowly working on it, over a few weeks, and we are making progress. We are all in the rooms we are supposed to be in, but now the great redecorate project begins.
We don't particularly want to have to repaint all the walls in each room and we want to give each room a nice feel and them to suit it's occupants but the idea of having to plan, prep and paint a lot of space is one we can't face right now.
So how do you make a room look nice, and give it character without pulling out the dust sheets, paint pots and brushes?
Wall murals are a great idea, and something that can be used when you don't want to entirely redecorate a whole space, but you want to liven it up, or refresh a room, or make a space look good with less hassle than painting.
The beauty of a mural is that you can totally customize what you choose to suit your room, home, office space or wherever you are decorating, and make it fit with the theme. You can choose so many different options and go with something striking and eye catching, or something subtle. You could even create a mural from your own image, to really make it unique.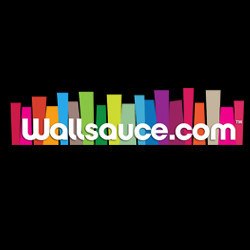 So we are currently perusing through the wide range of options over at WallSauce, and trying to decide what we want. In our new bedroom we have a large blank wall, that we don't want to paint, but we would like to make look interesting, and feel like a relaxing and lovely space. Because our room will also have my work space within it, I get to choose, and I am aiming for something that will make the room look lovely but also suit my tastes.
In in the boy's room we are aiming for something different and a bit more adventurous and are hoping to create a superhero theme, with one wall as the focus, and then the rest of the room will compliment that.
Installing a mural is much easier than it looks, and although there is a little bit of prep, measuring and planning, to choose the perfect mural for your room, or space, and you ideally do need two people to hang the mural, it's a lot less work than painting a room or hanging wall paper and it's worth the effort. You choose exactly what you want, and customize it to your needs and the dimensions of the space you are decorating, and you can easily make a room look stylish and beautiful, or fun and interesting, with much less effort than having to either paint it yourself or call out a decorator. You can opt for a design and material that can be pasted to a wall, with minimal fuss, or self adhesive, which is less permanent and easy to install.
For us, creating new rooms and all the work that entails has been somewhat time consuming and a little stressful, at least some of the decorating and cosmetic work of making our new spaces look nice and ready to be enjoyed has been taken care of, and and no paint pots needed to be opened.