*I was very kindly sent some Spatone Liquid Iron to try*
Vitamins and iron? Something you think about or put to the back of your mind? Most people don't think about how much iron they need as part of their daily requirements to help keep their bodies functioning well.
The last few months for me, have made me very aware of how my body works, and what it needs to be fully functioning and keeping me going. I am a busy working mother, with a child who doesn't sleep that well, I am recovering from major knee surgery last year and just starting to get back into exercising again, I have recently given up eating meat and I am also trying to get pregnant. That's a lot of needs for one body.
I recently found out that not only do I need to be taking a good source of folic acid and a few other essential minerals and vitamins to help with getting pregnant, but that I am also anemic.
I don't know about you, but the tablets you get prescribed from the doctor or that you can buy over the counter, are pretty disgusting, and can, ahem, make you a little constipated. It is possible to top up your sources with good eating and nutrition, but my doctor is keen for me to make sure I am supplementing myself too.
Most people don't realize that iron is an essential mineral we all need to help our bodies work.
It is an essential mineral and is vital for many complex processes and functions in the body. Iron contributes to:
• Normal formation of red blood cells and haemoglobin
• Normal oxygen transport in the body
• Normal energy-yielding metabolism (helping our body's release energy from food)
• Normal function of the immune system
• Normal cognitive function
• The reduction of tiredness and fatigue
Even people with healthy diets can potentially have low levels of iron and for some, making sure you are getting enough is really vital. Children and pregnant women particularly need to make sure they are getting sufficient iron.
So that's where Spatone comes in, for me.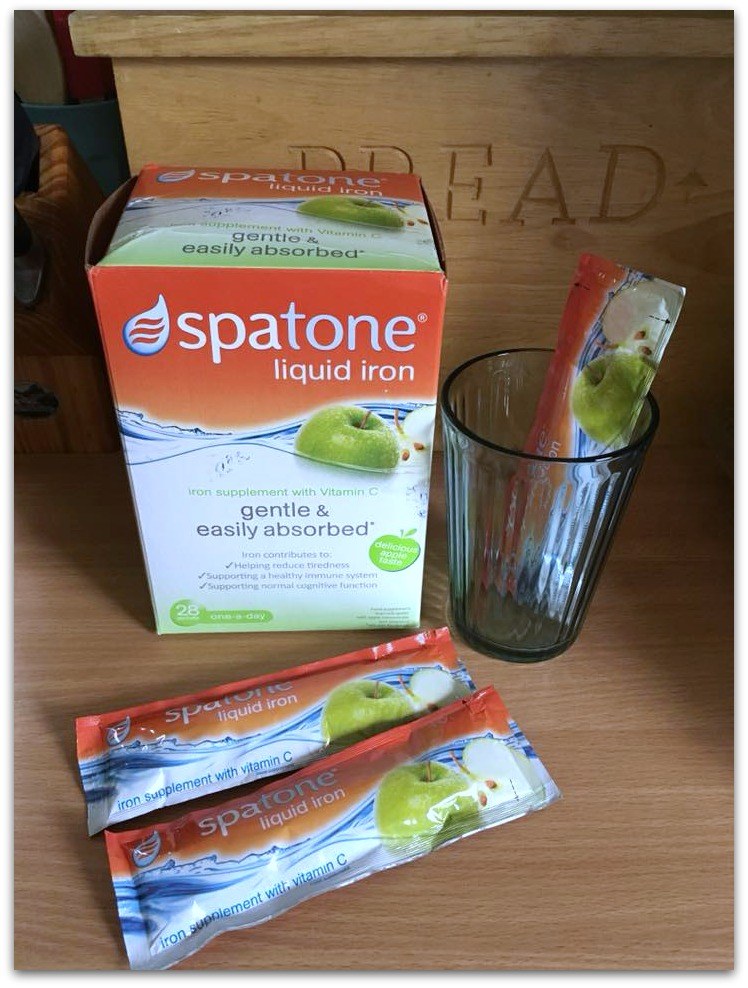 Spatone is a liquid iron supplement that comes in handy sachets that can be easily incorporated into your daily routine.
Spatone® Liquid Iron is iron-rich water from Trefriw Wells Spa, located in the beautiful Snowdonia National Park North Wales. For 200 years, millions worldwide have used this naturally sourced liquid iron supplement to support healthy lifestyles, but that's not actually where the story begins. In fact, people have been benefiting from this liquid properties for 2 millennia beginning with its discovery by sulphur mining Roman legions around 100-250 AD
One or two sachets a day can provide the extra iron you need and you can either add the  liquid to fruit juice (iron is best absorbed alongside a source of vitamin C) or you can try their apple flavoured sachets which can be taken straight up.
This works really well for me, and it's as simple as opening a sachet, drinking it or adding it to my morning fruit juice or even my fruit smoothie, and I'm good to go! It doesn't taste awful, it's easily absorbed and convenient.
Spatone is so easy to take, that it's simple to make part of your routine, and it's available to buy in good pharmacies and supermarkets and many health professionals now recommend it. It's reassuring to know that I'm helping my body to function better and get what it needs so easily.