Stomach bugs, flu, chest infections and heavy colds are horrible and can take a while to recover from. Eating when you feel ill can the last thing you want to do, but sometimes soup can fill the gap.
When I am ill, and receiving, I often crave soup but I find the stuff you can buy isn't quite what I need. So I will make myself a big batch of home made soup.
We call the kind of soup I make for when we've been "get better soup" and whilst it isn't really magic, it is full of goodness and is easy to eat.
To be honest, you can add any veggies you like to your soup and whatever you like but this is what works for us… this is a vegetarian based soup but you can adapt it to your tastes if needed.
You will need:
500mls of vegetable stock.
3 carrrots roughly chopped
Half a white cabbage chopped into small pieces
2 white onions
3 cloves of garlic finely chopped
Worsecter sauce
Salt
Pepper
150g of red lentils
Olive oil
200g of chicken meat cooked or Quorn chicken or vegetarian substitute that you want.
A large saucepan or soup pan
Heat the oil, approximately one table spoon full, in the bottom of the pan, medium heat.
Add the onions and garlic and stir and let them soften. Don't let them brown. This takes about 3 minutes.
Add the cabbage and Worcester sauce and stir. Let the cabbage soften down, this takes about 10 minutes, again it doesn't need to brown just soften.
Add the carrots and stir again.
Add your vegetable stock. And bring to the boil. Add enough boiling water to make sure the vegetables are covered and let it simmer for about 30 minutes.
Add your lentils and more water and stir. You may also want to add salt and pepper to taste.
You can then add some cooked chicken meat if you want, because I'm not eating meat, I added some Quorn "chicken" and let it heat through.
Cook for a further 30-40 minutes until the lentils are tender.
Serve up and enjoy. It's really simple, but tasty and gentle on that poor recovering stomach bug tummy…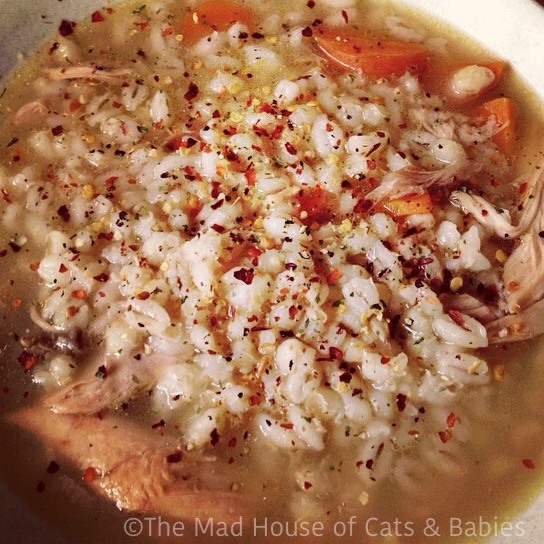 It's gluten and dairy free too. We also love this variatiom of the lentil soup my Nana used to make too.