*We were kindly sent items to review for this post. All opinions are our own*
We are a cycling family and the kids and husband love getting out and about on their bikes. Sadly I am not allowed to cycle at the moment due to my knee recovery, but I hope to be able to join them again soon.
The husband has been cycling for many years, so he is pretty good at making sure that the bikes we own are well maintained and kitted out with everything needed to be safe and enjoy cycling.
So, it takes a lot to impress him, cycle gadget wise.
We were recently asked to try out some rather nifty looking bike lights, from Cycl which we fitted to the tweenager's bike. She will be cycling to school and back in September so we are keen to get her bike kitted out so she is as safe as possible, particularly in the winter months.
"Every year, there are approximately 19,000 accidents involving bicycles on the UK's roads, with 75% of them occurring at junctions and major turns. CYCL aims to reduce this figure by helping to improve cyclists' visibility in these dangerous areas and scenarios. When using WingLights as a supporting visual aid, you increase the likelihood of being seen by drivers and other cyclists. This ultimately lowers the chances of potential collisions and also helps to increase your confidence when riding."
With WingLights Fixed, the LED indicators are attached straight onto the mounters. This means that you only need to screw them into your handlebars and you're good to go. The mounters are compatible with handlebars with an inner diameter from 14.7mm to 23mm.
They are really easy to fit and these WingLights Pop screw easily into the handle bars so there's very little fuss or faff to get them onto your bike. I don't generally do the bike fixing or maintenance in our house, I tend to leave that to the husband, and his expertise, but these were simple enough that I could fit them to the tween's bike.
The beauty of these lights is there is no fiddling to activate them, when you are riding and you just tap them to press them to light up or turn off. This make it easy for the rider to use their lights when needed. They are a really good brightness level too, which makes them useful for dark winter nights on a bike.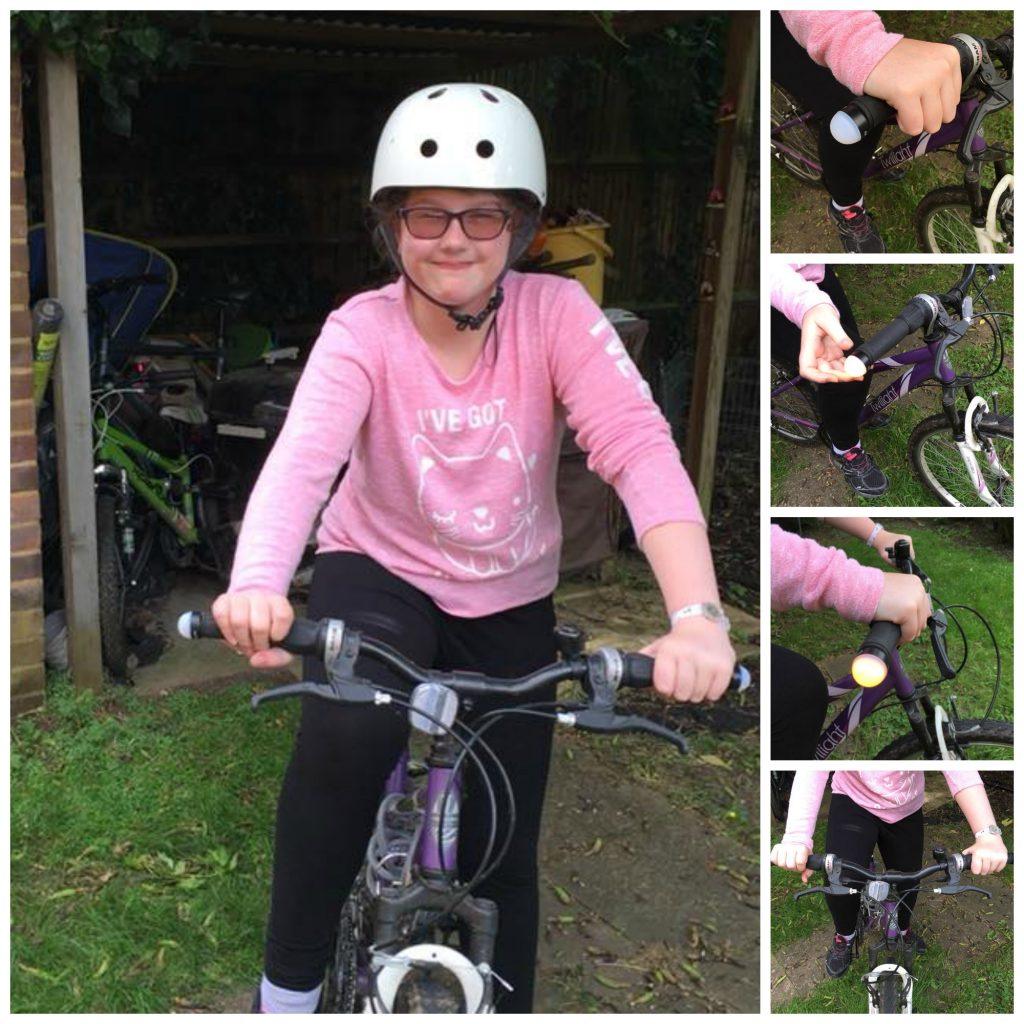 So a few minutes work, to fit the lights and she is good to go.
So easy and you can see how easily she can use them, to when she is on her bike.
These are a very simple but clever bike light set, effective and helping to make cycling safer. These have featured on Dragons Den and have proved very successful, and are a really innovative product, the husband was not only impressed that I managed to fit them, with no help from him, but also with how well they work.
We would definitely recommended them if you are looking for simple to fit, but effective bike lights for the front of your bike (you will need to check your bike is compatible)
I am all for things that make cycling safer. These bike lights from Cycl definitely do that.