*This is a review post, we have been asked to share our thoughts on this product, but all opinions are our own, and images are used with permission*
You would have to be living under a rock, or at least not in our house, to not know that there is some football going on, at the moment, the World Cup, in fact, is playing in Russia this month. My small son is a little football mad, so we have watched A LOT of matches, and he's keeping tabs on teams and who is winning, and has a list of his favourite footballers and teams. He is supporting England, and we are waiting with baited breath to see how they do…
When we are not watching football, we are finding other things to do that are football related to keep the boy busy and happy and because he loves crafts, colouring in and creating things, finding things for him to do, related to football has been a helpful distraction between matches…
Mrs Mactivity is a great site with lots of fun activities, and educational resources for teachers and parents who are looking for things to add to their stash of things to do with kids. It's a great site, with plenty of choices depending on what you are looking for. There are two levels to the site, one area which is free with plenty of activities and ideas to access and then a paid membership which is well worth investing in.
There is currently a fabulous selection of football and World Cup related activities available and we have had great fun browsing and choosing, downloading and printing, and it's made the small boy very happy to have access to some fun football resources to keep him amused and occupied.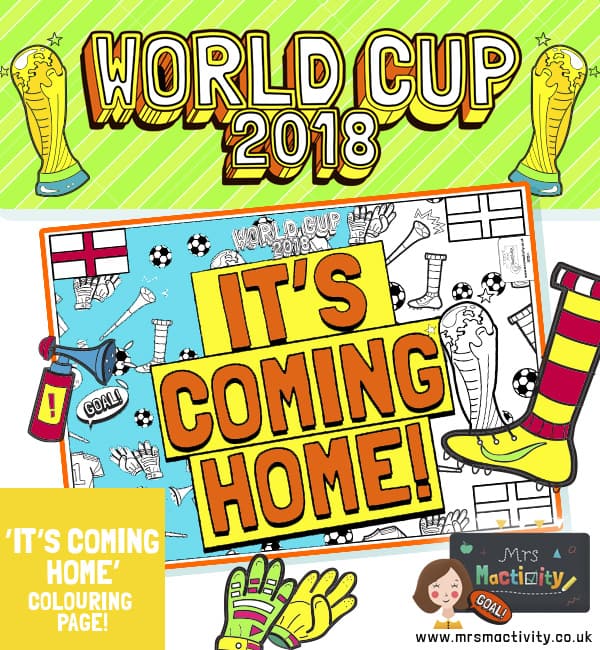 From wordsearches, to puzzles
to great colouring in and creative activities, there are are lot of fun things to find, download and print that would keep any football fan happy whilst they wait for their teams next match,
So if you have a football mad kid, then you might want to look at what is on their site, to get them creating and busy, and making the most of this World Cup Month, and also have a look at all their other activities and resources…
My boy totally approves… it's not hard to tell is it?