*We were kindly sent some products to try, but all opinions within this post are our own*
We are a family that deals with food allergies. My small son has a dairy allergy that he hasn't and probably won't outgrow, and the husband also has the same issue, whilst struggle with gluten intolerance. It can make eating, meal planning and enjoying food trickier but over nearly twenty years of being with the husband, and being the mum of an allergy kid for eight years, I have learned a thing or two and found some fabulous brands and products that really work for them and us. I try to keep things simple and feed us all gluten and dairy free (cows milk being the issue, we can manage goat and sheep products in small amounts) because it means I am not cooking multiple meals and I don't feel like I am running some sort of cafe but when it comes to working with gluten and dairy free products, keeping everyone happy taste and quality wise it can take some work.
One thing we do enjoy as a family is sweet treats, and cakes and yummy goodies are a firm favourite around here. When I first started feeding the husband, when we got married (ok, that sounds weird, but I am the main cook and grocery shopper so technically I do feed him, you get what I mean!) there was a limited and pretty dire selection of allergy friendly goods available, and it was often hit and miss. Thankfully that has improved dramatically, over the years as people have come to realise, quite sensibly that people that suffer with food allergies do actually want to enjoy their food and be treated like they have taste buds and not fobbed off with flavorless cardboard substitutes. Unfortunately whilst there are some really good brands out there, it can be a bit hit and miss still, to find cakes, biscuits and treats that are made to be safe for those with allergies but still taste good. It can be hard to bake something when you have to take eggs, or butter, or flour, or soya out of a product.
However, there is a lot of hope and we recently tried some utterly delicious cakes from gingerNut Goodies which made us very happy (well, there was some squabbling over the sharing of said cakes, but let's not go there) and when we love something we like to share about it.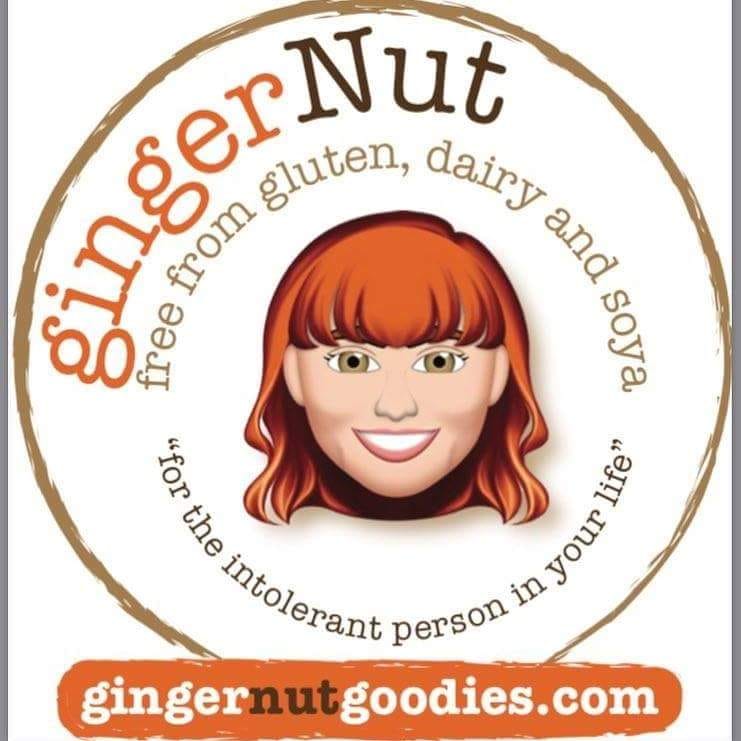 Steph from gingerNut Goodies says
"Here at gingerNut we are proud to represent the overlooked and treat deprived Intolerant Community. The gingerNut range was sparked by the Ginger-Nut herself, Steph, after she developed Gluten and Dairy intolerances early in her career as a chef. Seeing a MAJOR gap in the market for good quality, tasteful alternatives, Steph has been creating and amending recipes ever since!"
You can buy their goodies in various locations, but even better, you can order online. We thoroughly enjoyed their Afternoon Tea box, which contained a selection of gluten and diary free cakes. Victoria Sponge, Millionaire's Shortbread, chocolate brownie and a granola style bar. It was a perfect treat and my allergy boys LOVED all of them. My non allergy tween who is very picky about her treats and has tolerated a lot over the years learning to try new things that are allergy friendly and is my main taste tester (if she says something is good, then it really must be) declared them all DELICIOUS which means they really are winners.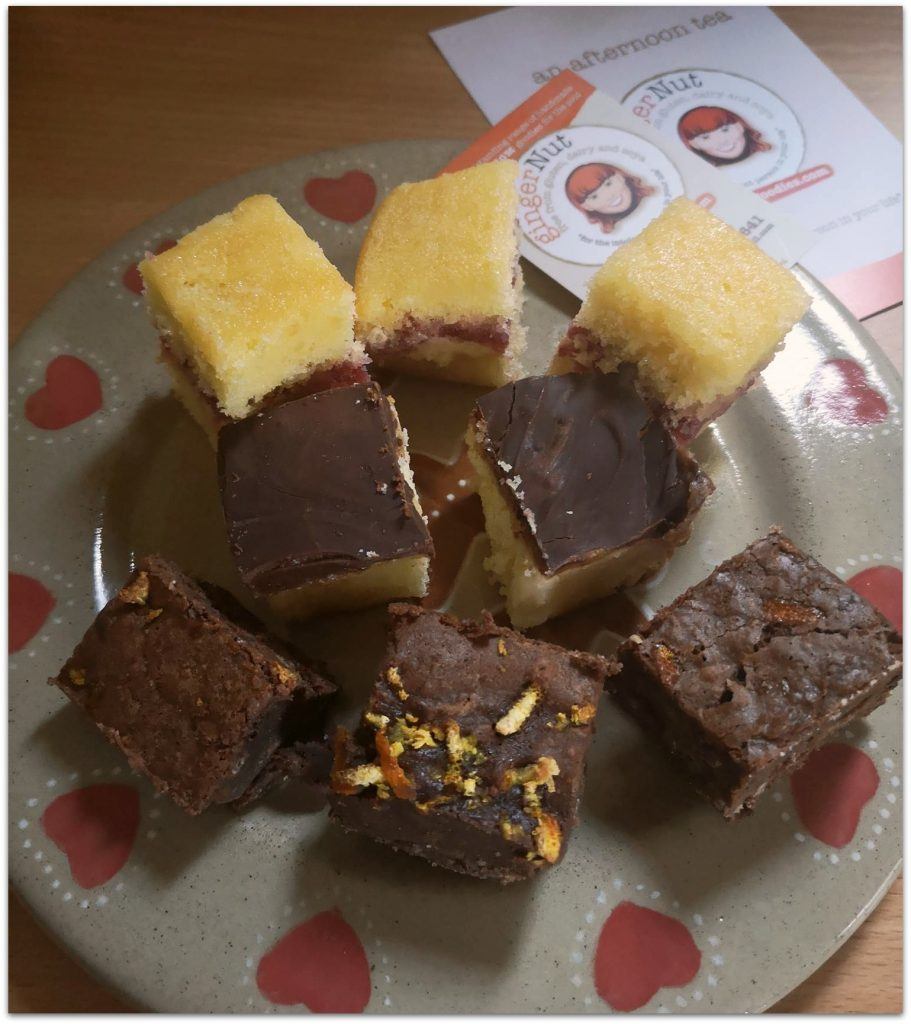 The cakes are freshly made and arrive beautifully and carefully packaged ready for you to eat. You can't really go wrong, other than wondering what to do when you have eaten them all, and you realise there are none left.
These cakes are made with love and care, and it's so nice to find a brand that has put a lot of effort into making allergy friendly treats. We would definitely recommend them. If you have a food allergy, or know someone who does, it's worth giving them a try.