*this is a review post, we were kindly sent some great camping items to review, but all opinions are our own*
Camping is something that a lot of families do. It can be a reasonably budget-friendly way to go on holiday and to spend time together, and it can be a lot of fun. It can be a way to enjoy adventures and being outdoors and it's a good way to encourage children to enjoy nature and learn some basic camping skills.
I have to confess, we haven't been camping as a family yet, but the husband is very keen that we get out there and try the camping life, so we are slowly starting to work out the logistics of how, where, and what you need. I am not a fan of camping, personally, but they are, so we are kitting them out so they can enjoy their time, comfortably and safely.
There is A LOT of camping kit you could buy, and depending on your preferences, and what type of camping, where and how long for, you may want to have an extensive kit or you may prefer to keep it simple and travel and live light.
There are a couple of basics you need for camping though of course, and those are something to protect you and give you shelter, and something to sleep in or on, ie sleeping bags. Those for us are the "big things" and I think once you have got those covered you are pretty much able to then plan the rest of what you need easily.
It can be a bit overwhelming if you have never bought a tent before, and for me, it has been a while since I camped (ahem, when I was at university, so quite a long time!) and when things have changed, become a lot lighter and easier to manage and carry since then.
The husband and tween are going to a festival in the summer, and they will be camping, so we have been getting them kitted out and set and practicing for that, and they have camped out in our garden, to make sure they are comfortable and cosy, before they set off. The first thing you need to have when you start to get your camping kit together is of course your tent and there are a wide choice of options.
Some basics to think about before you buy your tent are:
Size, how many people are sleeping in it.
Set up, do you want something simple to pack up and pack down for a short camping trip or something more extensive for more than a few days that is going to be home from home?
Weight and portability, are you walking and carrying the tent or is it going in a car to your camping site.
Weather, and camping situations. It's always good to do a bit of research on this, be very clear on what you want or need and also ask people who go camping often, for their recommendations.
You can choose from a range of tents from Millets or Blacks and our tent is just the right size for what we need and setting it up, seemed to go smoothly. We didn't want something too complicated to put up, but we wanted something sturdy and comfortable. Globo Surf also have some excellent options available to consider.
You can see that with a little help, we managed to get the tent up easily and there were no arguments or disagreements about what went where, which is always a good sign.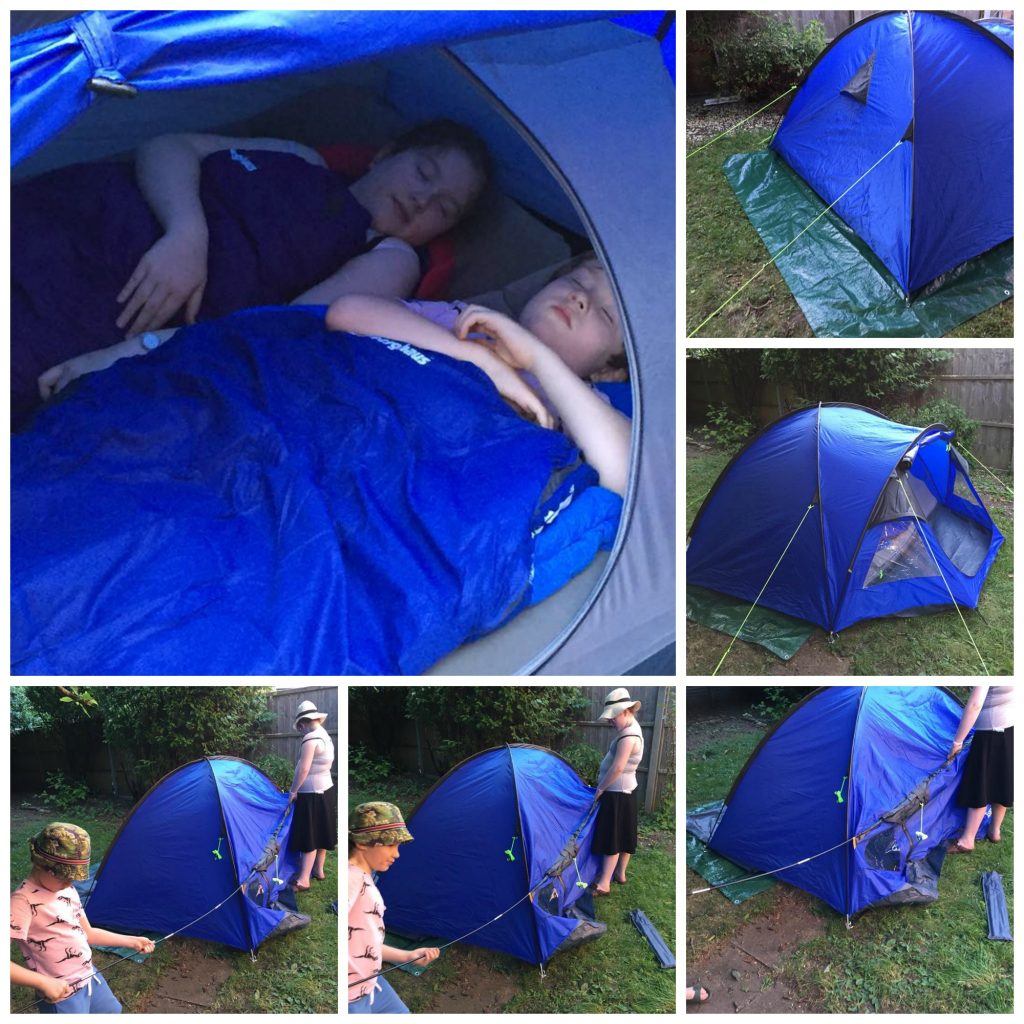 Putting a tent up is easy, and my children demonstrate it's comfort and cosines. Butter wouldn't melt!!
The other thing to consider is how easy is to take your tent down, because the last thing you want is a tent that takes hours to take down, and pack away. The husband was very happy that he and the tween could dissemble our tent fairly easily.
Next on your list are sleeping bags, and these are important.
You don't want just any old sleeping bag. Like with choosing a tent, you need to factor in a few things before you purchase them. You need to know what size and weight you want and factor in where you will be camping and the weather and possible temperatures you will be sleeping in. You don't want to choose one that isn't right for the climate you are camping in, and be either too hot or too cold, that won't make your camping experience much fun. There are a lot of brands out there but we have some Berghaus sleeping bags to help making sleeping in the tent warm and cosy.
Because we are mainly camping in the UK, and it can be variable weather wise, for us a sleeping bag that is warm and provides for reasonable changes in temperature was the main thing.
So how did my intrepid campers get on sleeping in the tent?
Both tween and husband said the tent was cosy and comfortable and the Berghaus sleeping bags kept them warm and cosy you can get these sleeping bags from both Blacks and Millets
This bodes well for their 5 day camping adventure later in the summer!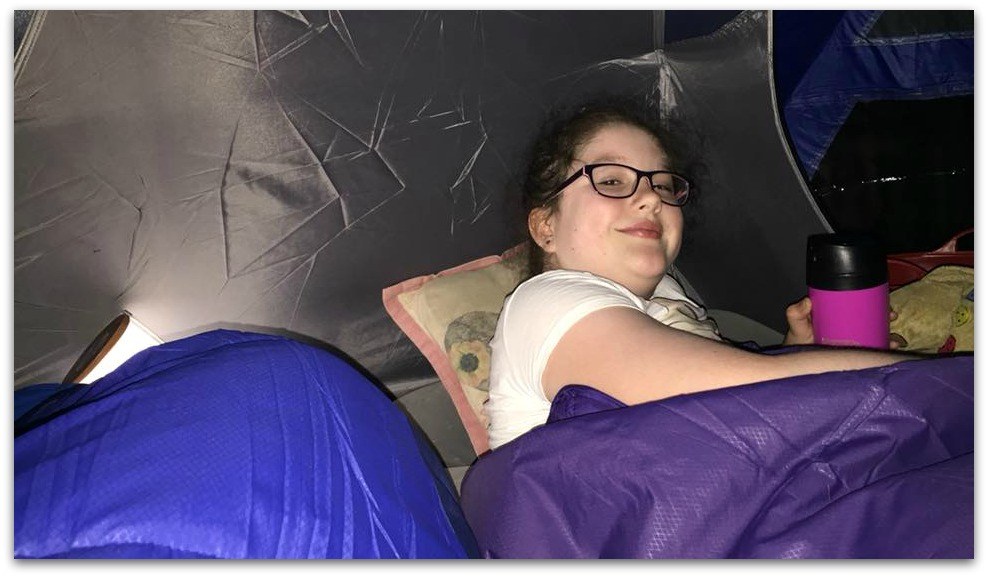 Apparently the only complaint was that "Daddy snores". Sadly even the best tent and sleeping bag can't do anything about that, I guess I will packing ear plugs in their camping bag too… 😉