*This is a collaborative post*
As a mum, one of my parenting goals is that when my kids leave home, they will be able to manage things like the basics of caring for themeslevs and their homes, and that they will be able to cook for themselves. I have a son and a daughter, and I am intent on making sure both of them can look after themesleves and feed themselves well, and perhaps go on to cook for their own families, eventually too.
I am often surprised that many young people and adults can't seem to cook, so for me, making sure my kids have the basics of cooking under their belts, is important.
I also want my kids to enjoy food, and to try new things. All kids go through fussy phases, my tween is currently on a fruit and vegetable strike that takes me back to the toddler days when she would eat a certain food one week then the next week behave like I was trying to kill her for offering it to her at mealtimes (can anyone relate?) and to be honest I do feel that we get stuck in a boring food rut, every now and then.
So when Youngs asked me to try out a recipe, and get my kids in the kitchen to help me, I thought this sounded like a great idea. My kids are big fans of fish and chips and I always think it's a great supper option for the family, using their Chip Shop fish range, which is tasty, but also easy on the grocery budget too.
Young's Seafood did some research and found that…
FUSSY KIDS KEEP PARENTS IN A RECIPE RUT
Half of parents only cook six or fewer of the same dishes from scratch; two thirds have no more than eight recipes in their repertoire
Fear of picky eater kids going hungry prevents parents experimenting in the kitchen
Young's Seafood forms panel of mini chefs and food critics – The Youngsters – to create healthy Chip Shop meals by kids, for kids, making happy meal times and guaranteeing clean plates all round
New research reveals almost half – 46 per cent – of parents are limited to just six or fewer dishes that they can cook from scratch, because they are worried picky eater children won't finish their food.
The report, commissioned by Young's Seafood, found that this figure rises to two thirds – 65 per cent – of parents with no more than eight recipes in their repertoire.
Almost a quarter – 23 per cent – of parents rely on the same, simple four or fewer meals when feeding their offspring. And even then, they often stick to staples like scrambled eggs, cheese on toast and sandwiches.
Fear of fussy children not eating was cited by a third of parents as the reason they dare not experiment in the kitchen, ahead of the cost of lots of new ingredients (31 per cent) and time it takes to prepare a new dish (26 per cent).
The poll of 1,500 parents with children aged four to 15, found that their fear is far from misplaced.
Six in ten – 57 percent – children regularly leave food on their plates. And a third even fail to clear their plate when their favourite meal has been cooked for them.
Nearly two thirds of parents – 63 per cent – feel their children are nervous of new tastes and textures. Whilst almost half – 47 per cent – think they are put off by the look of new food and 30 per cent by the smell. Three in ten – 29 per cent – say their children simply choose not to try anything new.
To help parents get their children cleaning their dinner plates, Young's Seafood has formed a panel of mini chefs and food critics – The Youngsters – to create Chip Shop meals by kids, for kids, making happy meal times and guaranteeing clean plates all round. Every recipe has been designed to be quick and easy for families to make, using common store cupboard ingredients found in everyone's kitchen.
Mixing it up and making a meal that isn't just "fish and chips" sounded like a fun challenge. Getting the kids to try something new, and also help me cook it, to inspire them to eat what they had made, was a challenge I was ready to accept.
Both my kids do like helping me with cooking and baking, but getting them to try an alternative to the usual fish and chips may have seemed a little tougher.
The tween embraced the job, and declared that she was going to cook us a full meal, and we decided to try out this recipe, which is fish, but instead of chips you have roasted root veggies. So not only was she offering to cook but she was offering to eat vegetable. I was not going to say no. You can find the recipes here. We opted for the fish with roasted veggies and crushed peas, although it was hard to choose as they all look delicious.
So how did she get on?
We picked up the vegetables, and actually had most of the ingredients needed in the cupboard at home, too. These recipes are great because you aren't having to go out and by all sorts of stuff you may not use again, but things that can make a meal more fun and that you will eat again. The meals are all easy and kid friendly too, which helps them to cook without too much fun fussing over them!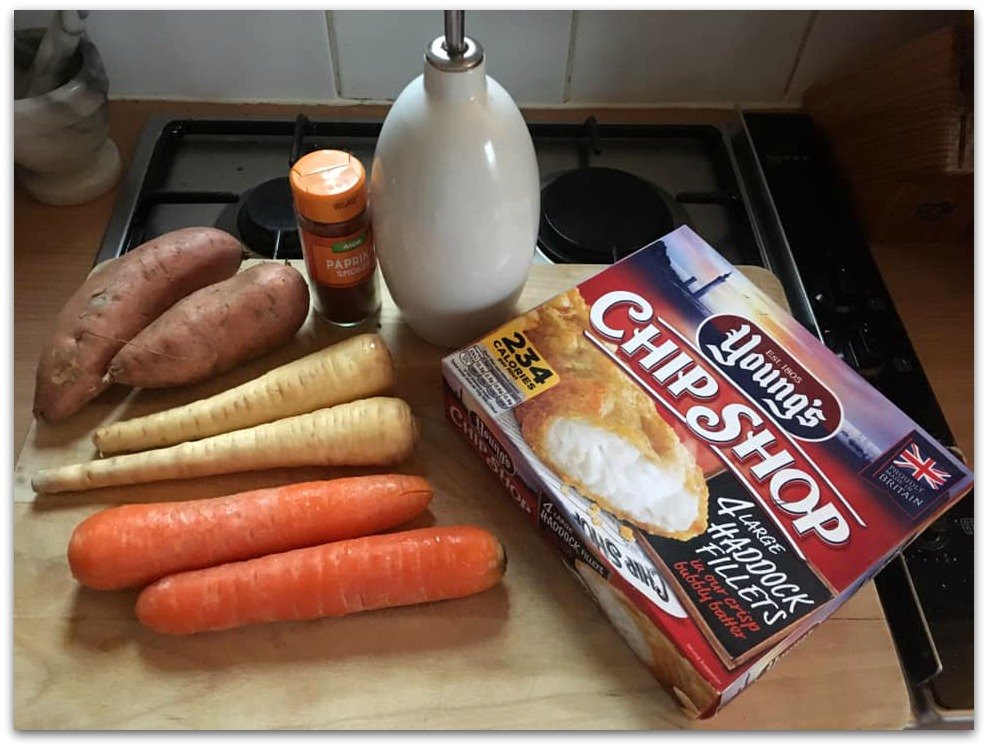 Vegetables ready to be prepped.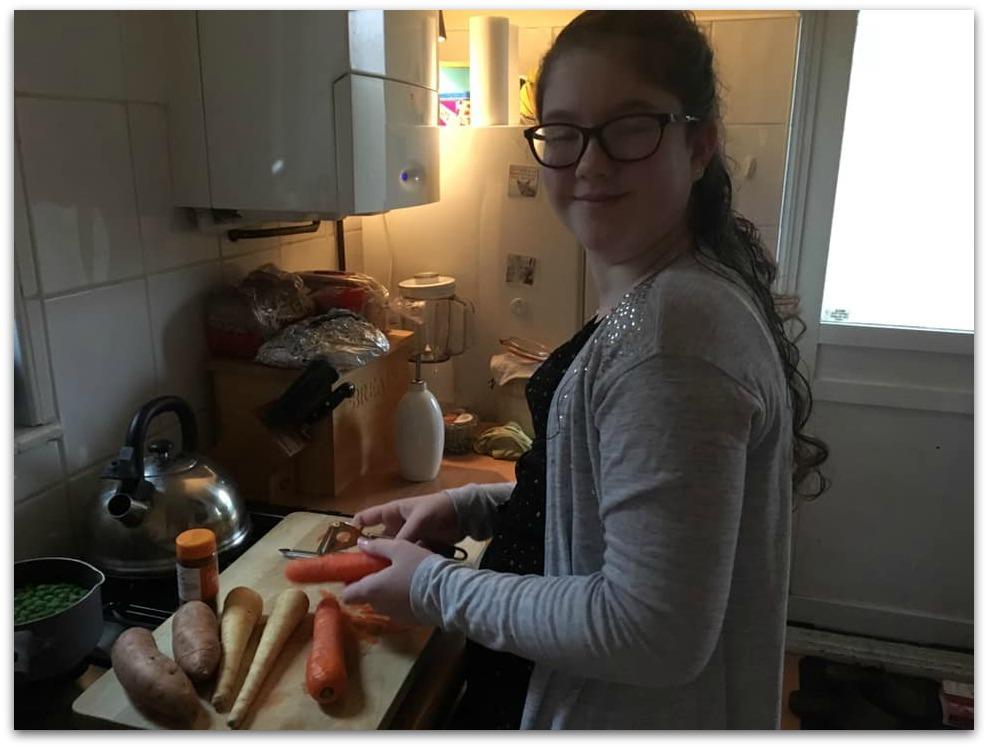 Let's get chopping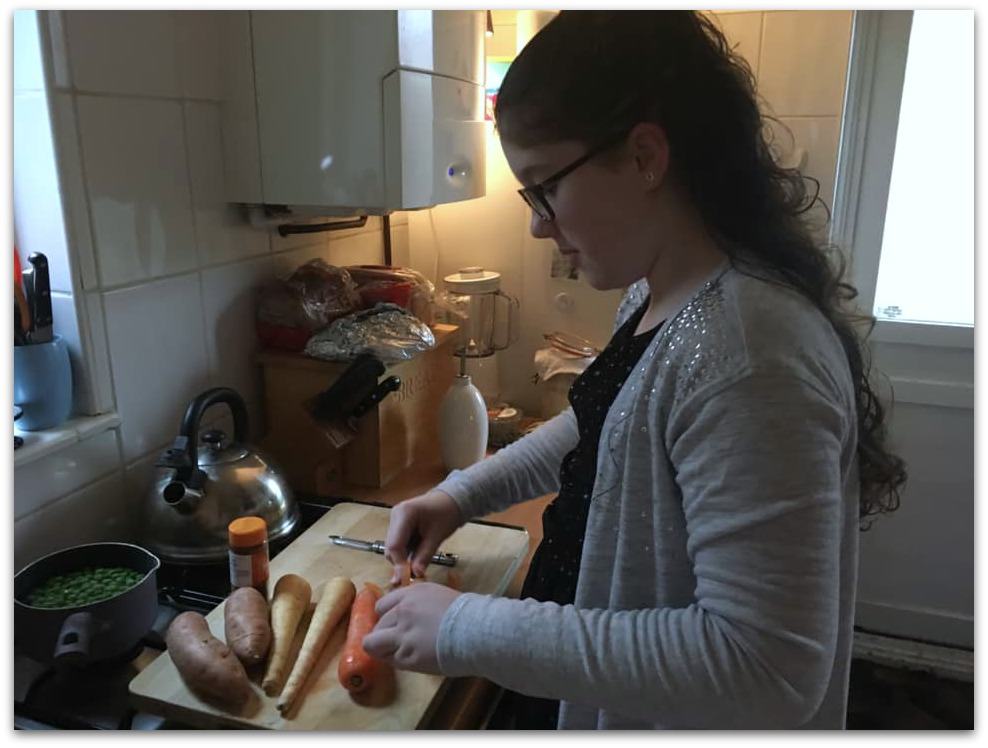 Smoked paprika and olive oil, salt and pepper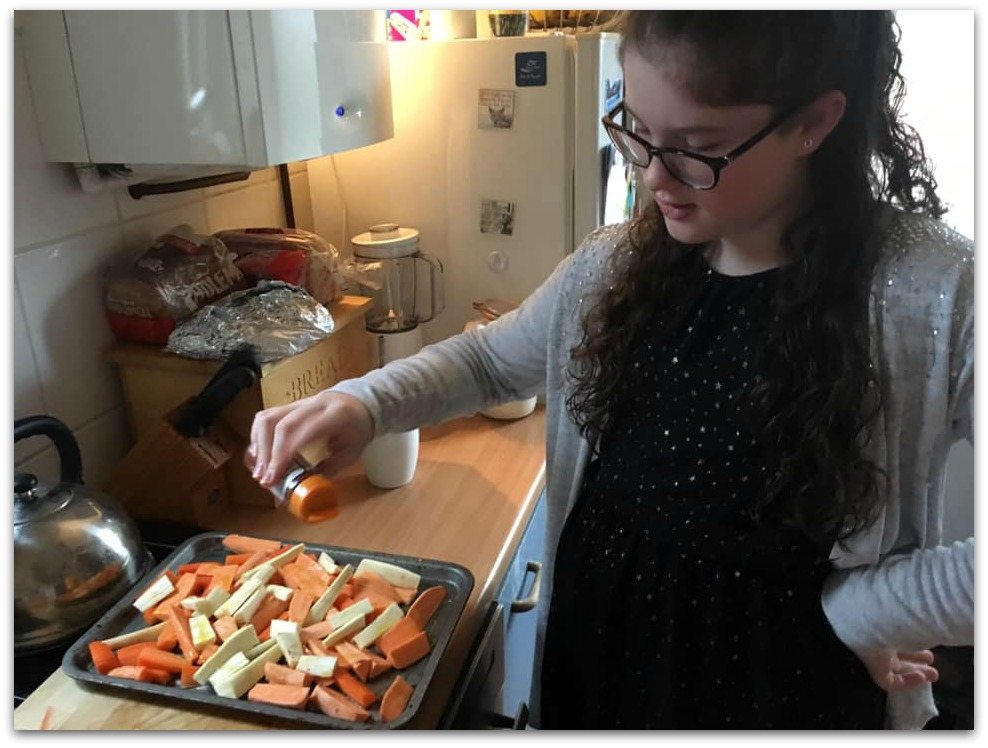 Making sure all the veggies are well coated to taste good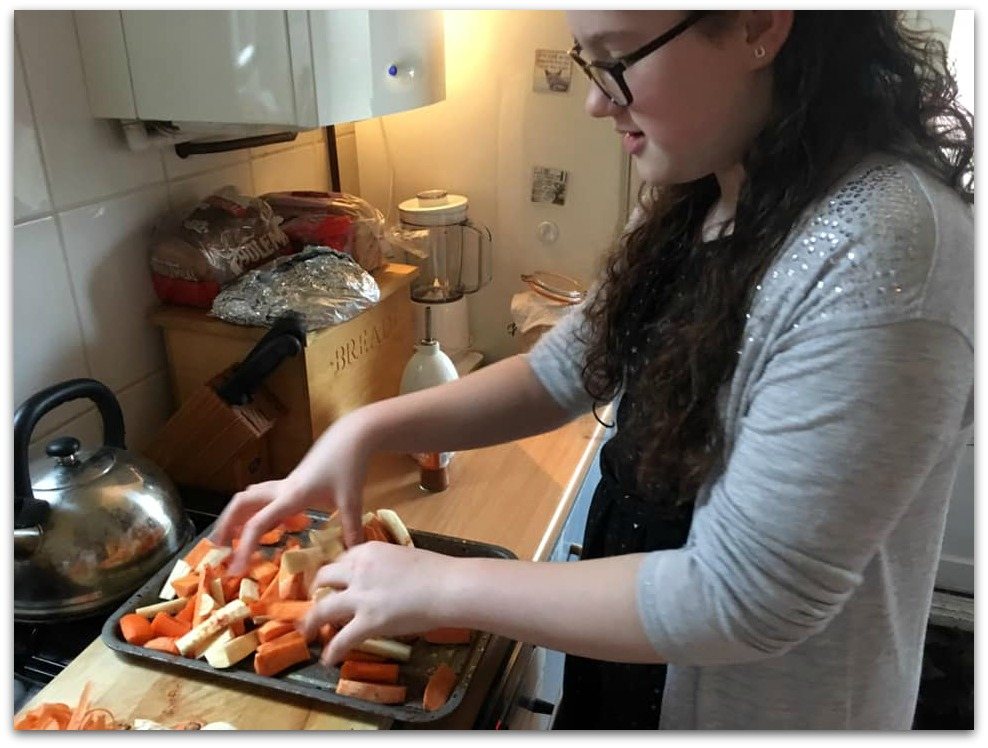 In the oven they go.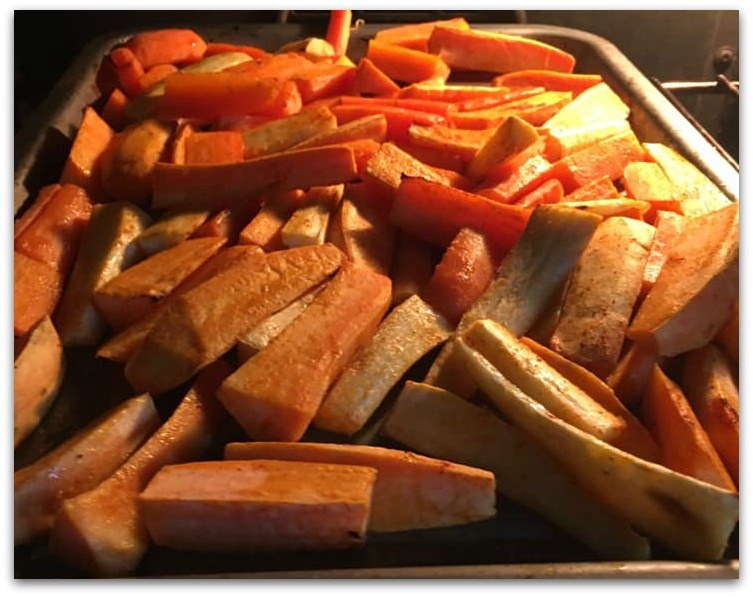 Looking good.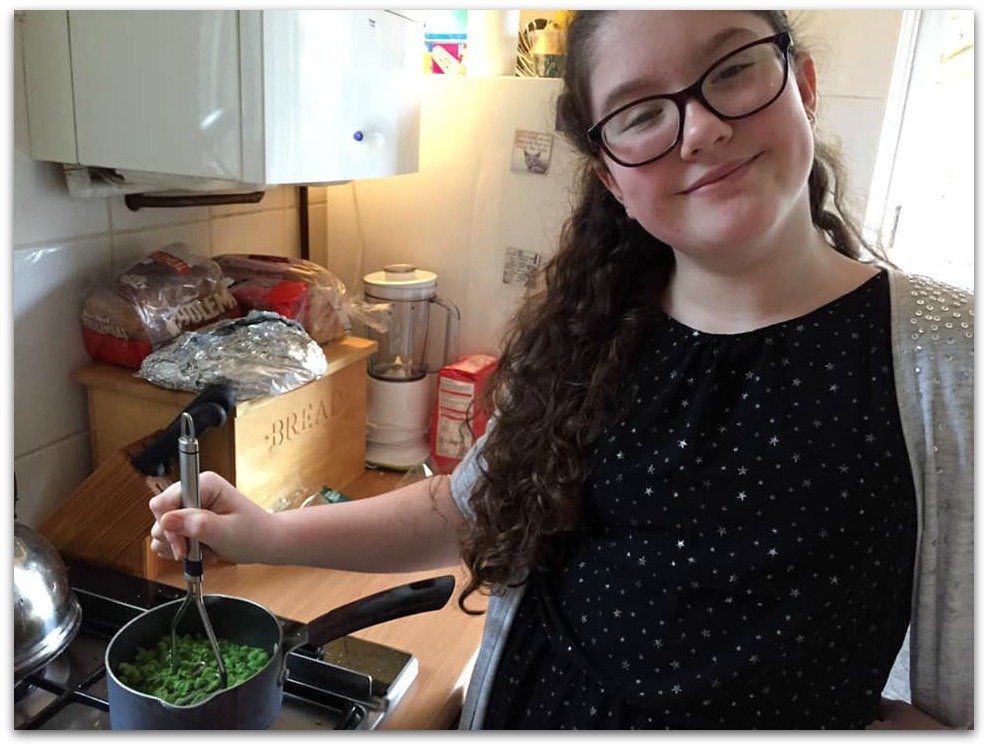 Peas being prepped (and these minty crushed peas are DELICIOUS)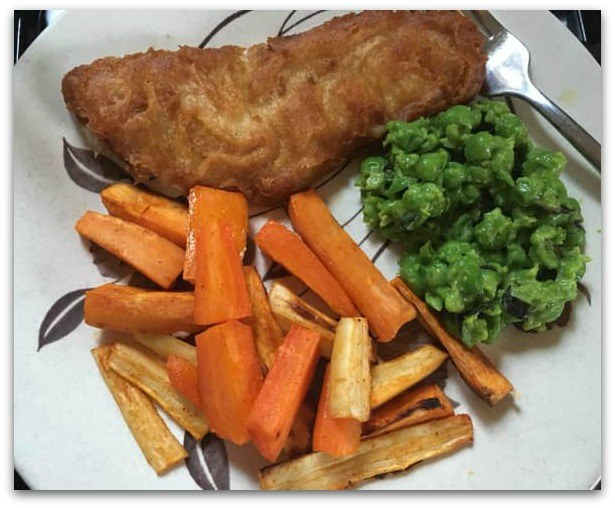 Plated up.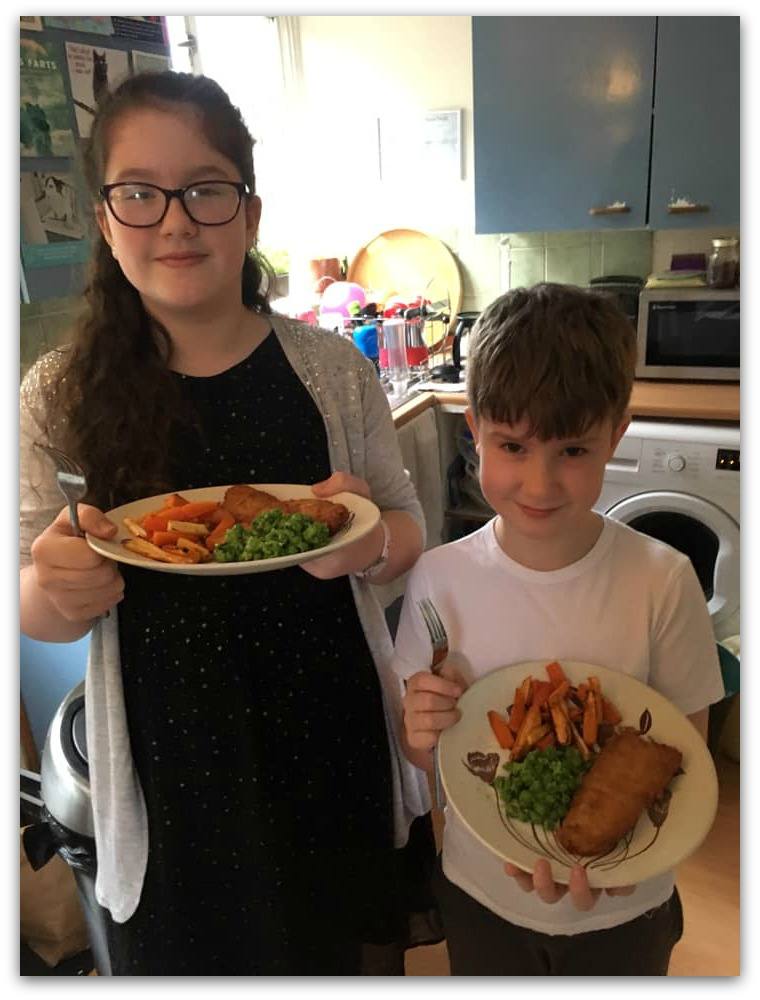 Can we eat now mum, how many photos do you need?
And the verdict?
She who is on a vegetable strike, aka the tween declared the roasted veggies delicious and ate the whole lot and was disappointed that there were none left over. The small boy approved and both declared "we would eat that again!"
It's given me another meal option to add to our menu and it's a healthy and fun option that I know the kids will eat. That's I think I can say that's a win!