*This is a review post. We were kindly sent some products to try, but all opinions are our own*
If like me, you are a chocolate lover, but have been doing Veganuary, or are venturing into the world of vegan eating, then you may have been exploring the options available to you in terms of chocolate.
Vegan chocolate is free of any animal products, so that means no milk, no egg etc.
I have had some pretty good vegan chocolate and some not so good chocolate.
Even when I am eating healthily, I refuse to give up two things. Coffee being one of those, and chocolate. I might cut back on sweet treats, but a little bit of chocolate is sometimes just what gets me through a day. Or it can be a bit of a treat, or to give me a boost when I need something sweet.
Because the husband is allergic to cows milk, we tend to look for chocolate that is dairy free anyway, but we are a bit picky.
The concept of chocolate that might be better for you is one that definitely appeals to us. So when Benefit Chocolate asked us us to try some of their chocolate bars, we were not going to say no.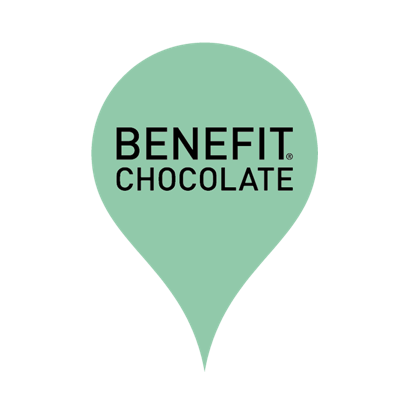 Chocolate with good intentions? We like the sound of that!
They have a range of chocolate bars, each enriched with either vitamins, extra protein or caffeine. They come in larger 80g bars or smaller snack size bars and are made with dark chocolate are entirely vegan friendly.
Vitamins
Enriched to give you 50% of your daily vitamin intake*.
This bar of rich dark chocolate is blended with 12 key vitamins. *Each 40g portion gives you 50% of your recommended daily intake of the following vitamins: vitamin A, D, B12, B6, B1, B2, E & C 50%, niacin 50%, biotin 50%, pantothenic acids 50%, folic acid anhydrous 50%, maltodextrin 50%, which all contribute to the normal function of the immune system.
A source of fibre. Suitable for vegans.
Energy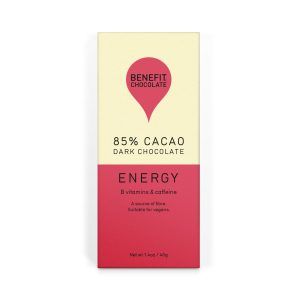 This bar of rich dark chocolate is blended with 3 key B vitamins. Each 40g portion gives you the following % of your daily recommended intake of: Vitamin B12* 40%, B6* 71%, B5* 16%, niacin 25%.
A source of fibre. Suitable for vegans.
Protein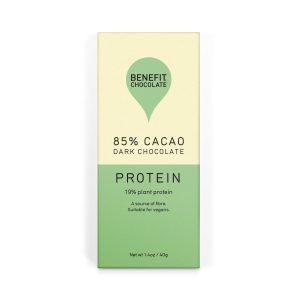 With almond and coconut 19% protein content.
This bar of dark chocolate is enriched with almond butter, coconut and pea protein, delivering 19% natural protein per 40g portion. Protein contributes to the maintenance of normal bones and muscle mass.
A source of fibre and protein. Suitable for vegans.
But what do we think?
They are just right when you need a hit of chocolate. Not sickly sweet, and not loaded with flavourings, and their snack size bars are perfect for on the go, keeping in your bag or lunch box. The bigger bars are great for sharing (or not, if you are the husband, he isn't very good at sharing chocolate) and they are great if you want something that is that bit better for you but still tastes good. These are something we would buy again, and they are great to add to our dairy free vegan chocolate stash. My favourite is the protein chocolate, for a hit of chocolate and some protein, the husband would go for the caffeine bar.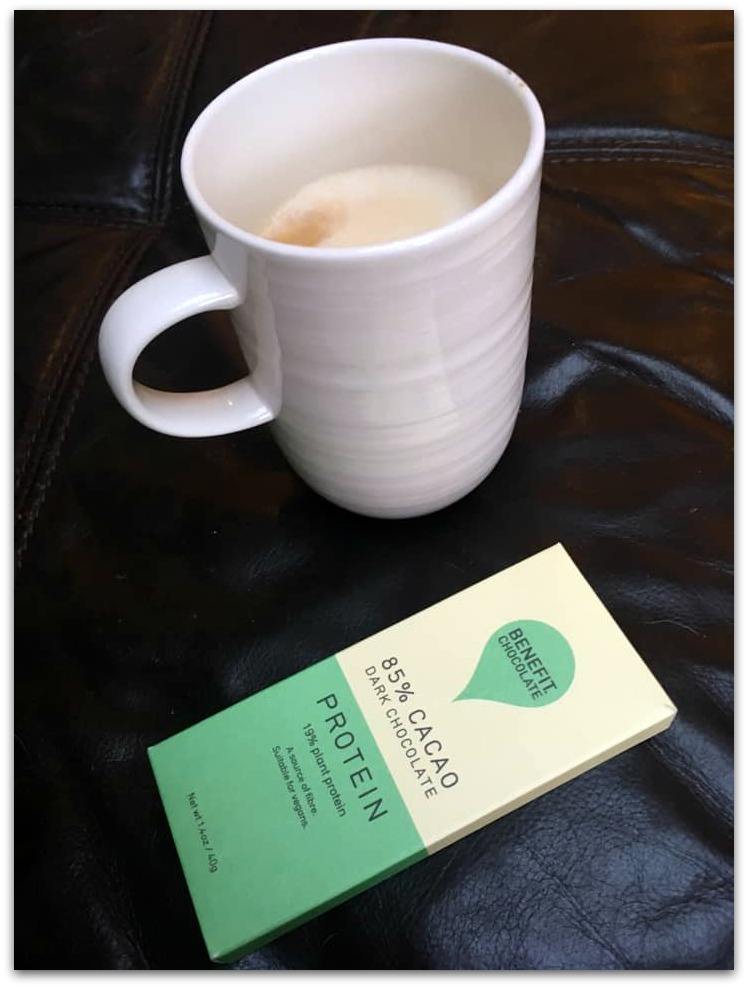 Chocolate that is a bit better for you. We approve of that! 😉