*This is a review post, I have been kindly sent some Tan Cream to share about and to giveaway. All personal opinions are mine*
As we get older, we get wiser about our health and what is good for our body and what isn't, mostly, I think.
As a teenager and into my twenties, I was obsessed with having a tan. I think everyone of my generation was. I am pretty sure most of us lay in the sun. Who remembers slathering on awful smelling fake tanner when there was no sun to be had. I got sunburned badly more often than I would like to remember. Now I use sun protection religiously to protect my skin.
Sadly for many people, the effects of trying to tan, be it in the sun, or on sunbeds is skin cancer.
A few years ago, before the children were born, I had two moles on my skin that were just starting to niggle at me. One on my scalp and one on my back. I didn't think they looked right, so I took myself to my GP who referred me to see a dermatologist straight away. I have a lot of moles and freckles, and very pale skin.
The doctor I saw decided to biopsy the moles, and removed them. The results came back that they weren't currently cancerous (phew) but they did contain cells that were potentially pre-cancerous so he then removed extra skin around both sites and now each year I go along to be checked all over and if I spot any moles or skin issues that I am worried about, I go to have them checked. I now have a three-inch scar on my back and a small patch of skin on my scalp where hair doesn't grow.
I am now passionate about looking after my skin and making sure my children don't get sunburned and I am very aware of the risks of overexposure to the sun. Up to 2000 people a year die of skin cancer, and that's pretty scary when you think that we can do more to prevent it and protect our skin.
So now, I don't try to tan and I make sure where at all possible that I don't get sunburned. I cover-up in the sun, I don't sit out and sunbathe and I wear a good SPF cream when I am out and about. I am very fair-skinned and pale, naturally.
Sometimes though, I do like to try and get a bit of colour in my skin, and using a self-tanning lotion is a good option. Tanning lotions mean you aren't exposing yourself to the sun and harmful UV light.
More and more people are becoming aware than sunbathing and too much sun exposure is harmful to skin and there are many brands of self-tanning lotion out there and I have tried a few in my time too. Some have worked well but are really expensive and some have, let's just say, made me go orange.
So for me, finding a good self-tanner that gives me a nice glow but that doesn't make me go tangerine is vital. Going from pale to orange is not an option. I also don't like tanning creams with strong smells, that are messy and hard to use.
Tan Cream self-tanning lotion is a bit different…

The founder of Tan Cream suffered from skin cancer and worked to create the cream when she found that there wasn't a self-tanning cream that does everything. Tan Cream is anti-aging, has high sun protection, of SPF 50 which, gives you an instant glow, and also helps build up a gradual and gentle tan. The cream has been created with the help of a team of experts in skin care, skin cancer, and technology to protect skin.
So far I have been incredibly impressed whilst using it. It's easy to use, doesn't smell unpleasant, and works really well to give my skin a boost and glow and NO ORANGE! I think the fact that it gives good UV protection and helps with some aging signs. (and I need all the help I can get)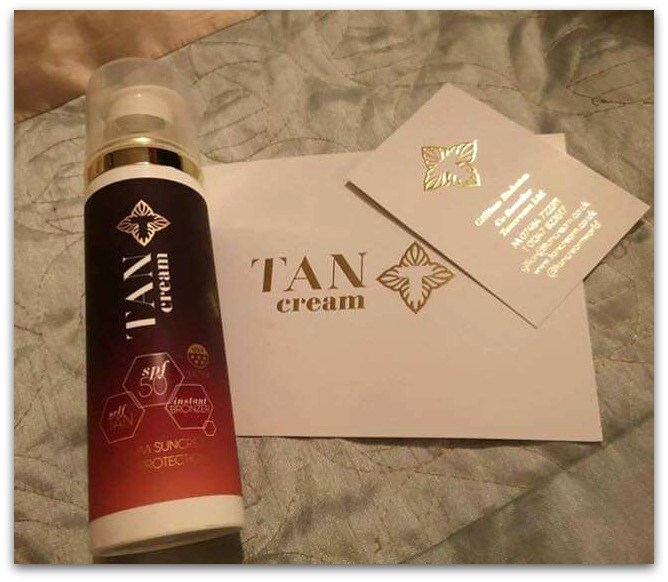 It is very easy to apply and I find a little goes a long way, but I do have pale skin, so application may depend on your skin tone.
This is definitely a product I would recommend if you are looking to get a lovely, gentle glow but also want to protect your skin.
You don't need to be letting the sun give you a tan, and put your skin at risk of skin cancer, when you can safely self-tan, using a great product that does what it says on the bottle.