*this is a review post. We were kindly sent an item to review. All opinions are our own*
Valentine's Day is on it's way.
We tend not to get too mushy or romantic. We are mostly practical, well at least I am, the husband is a bit more romantic than me.
We have been together for nearly 20 years, so we know each other well, and we tend to err towards practical and things we know we would like from each other.
But I am always on the look out for fun gift ideas for Valentine's Day and these lovely bowls from Vie Gourmet are something that little bit different.
Beautifully handcrafted from reclaimed Thai coconut shells, these exquisite gourmet coconut bowls are 100% natural and 100% unique to you, as no two bowls are exactly the same.
Their individual dimpling, pattern variation and subtle differences in colour, simply add to their exotic charm.
Sustainable, lightweight and durable, the bowls and spoons are cut, cleaned and sanded, and then polished with coconut oil, all the while maintaining the original shape of a real coconut bowl.
They are perfect for serving food hot or cold and an ideal accompaniment to any meal whatever the occasion, or you can simply use for decoration.
100% natural and naturally long-lasting, these coconut bowls are made from real coconuts and handcrafted to withstand many uses. They are also eco-friendly as reclaimed from discarded coconuts, and easy to clean.
Vie Gourmet viawww.amazon.co.uk. A set of two is also available.
These bowls are just lovely. They are one of a kind each and are perfect for enjoying eating out of. They are not just for decorative purposes.
The husband recently has made some changes to his diet, and is now eating fresh fruit, yoghurt, nuts and honey for his breakfast instead of cereal, so these bowls are perfect for him to enjoy his new breakfast regime with, and of course, they look fabulous too. Each bowl comes with a spoon, and they would make a perfect setting for serving a meal, to friends too.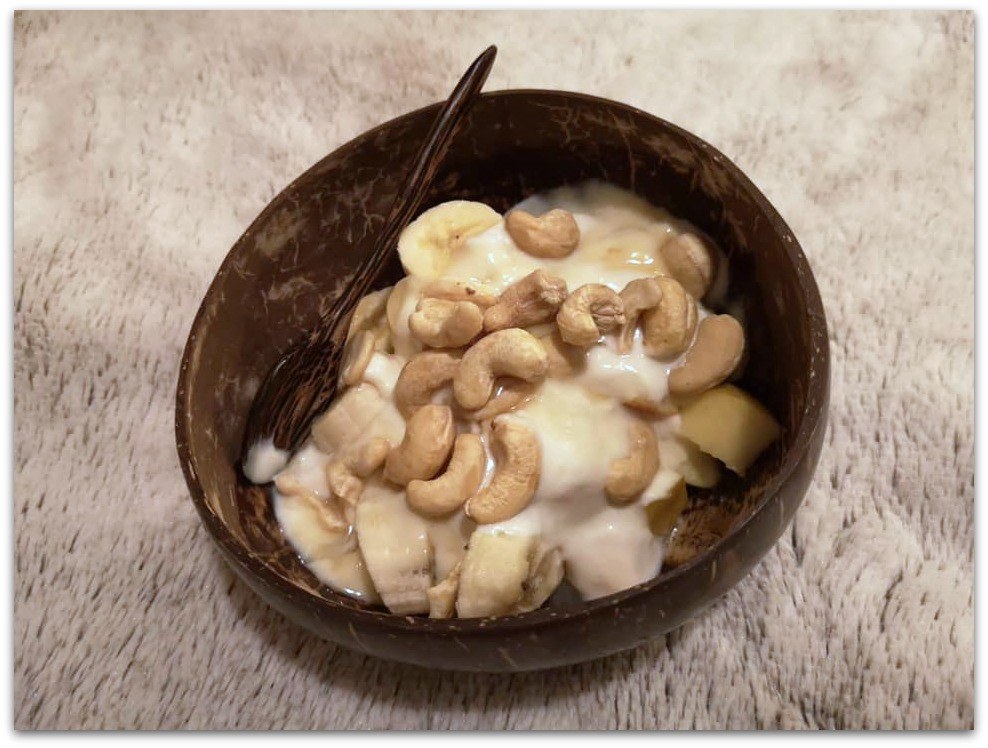 A pretty breakfast, that's healthy, deserves a worthy bowl to eat it from.
These would make a really unique and fun Valentine's Day gift for a foodie, or someone who likes interesting and unique items. The husband approves, and says he feels very hipster eating his breakfast out of them. He even let me take a photo, too. He's a very tolerant blog husband!
What fun and unique gifts are you looking at for this Valentine's Day?