*This is a review post. We were kindly sent items to try and share with our readers*
I don't know about anyone else, but I find a lot of my parenting life revolves around laundry. I have school uniform to wash, sports kit, dance kit, swimming kit, and ordinary clothes to wash. Some of it, shall we say, often needs what my mum would have called "elbow grease" to get some of the stains off.
However, I don't have the time, energy or inclination for scrubbing, and I am all about making jobs like laundry, that have to be done, easier and more convenient.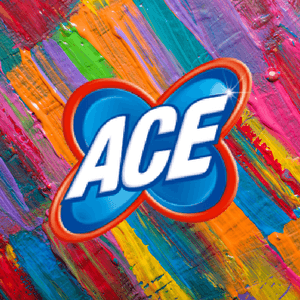 So, for me, Ace Laundry products are part of my arsenal to get the job done.
Clothes can get stained, grubby, smelly and start to look less than white and fresh. Items like my tweenager's school shirts need a bit of magic to get them looking fresh and clean. Sports kit needs to smell fresh and be stain free.
Mysterious stains and marks need to basically be gone. My husband will come home with pen marks on his shirts that need dealing with, and my small son likes to get very muddy and dirty.
ACE has an option for these things, and their products work well and hard, and I find them very reliable.
ACE for Whites

Specifically formulated to work better on lighter fabrics; ACE for Whites helps brighten dull whites while still being gentle on delicate clothes.
ACE for Colours 

The original ACE fabric stain remover that makes all fabric colours shine. ACE for Colours has been specially formulated to remove the toughest of stains and yet be gentle on even the most delicate clothes. It is great for everyday use and removes typical "dingy" dirt caused by soil and mud. It also helps to prevent fabric colours bleeding or transferring to other fabrics. ACE for Colours can be used on silk, wool and is even safe to use on cashmere!
ACE Multi-Purpose Spray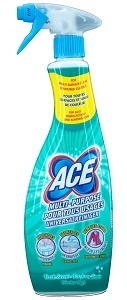 For tackling germs, grease and stubborn stains, ACE Multi-Purpose Spray is suitable for use around the home and on coloured clothes.
Armed with these, I am pretty much able to tackle all the laundry. They are all designed to be safe for clothing and don't remove colour or leave bleach stains, and as housewifely as it sounds, it gives me peace of mind that I am getting my laundry clean, and it's less work for me. I even find they work for work jobs like getting stains and smells out of things like the dressing up clothes we have at work for our toddler groups.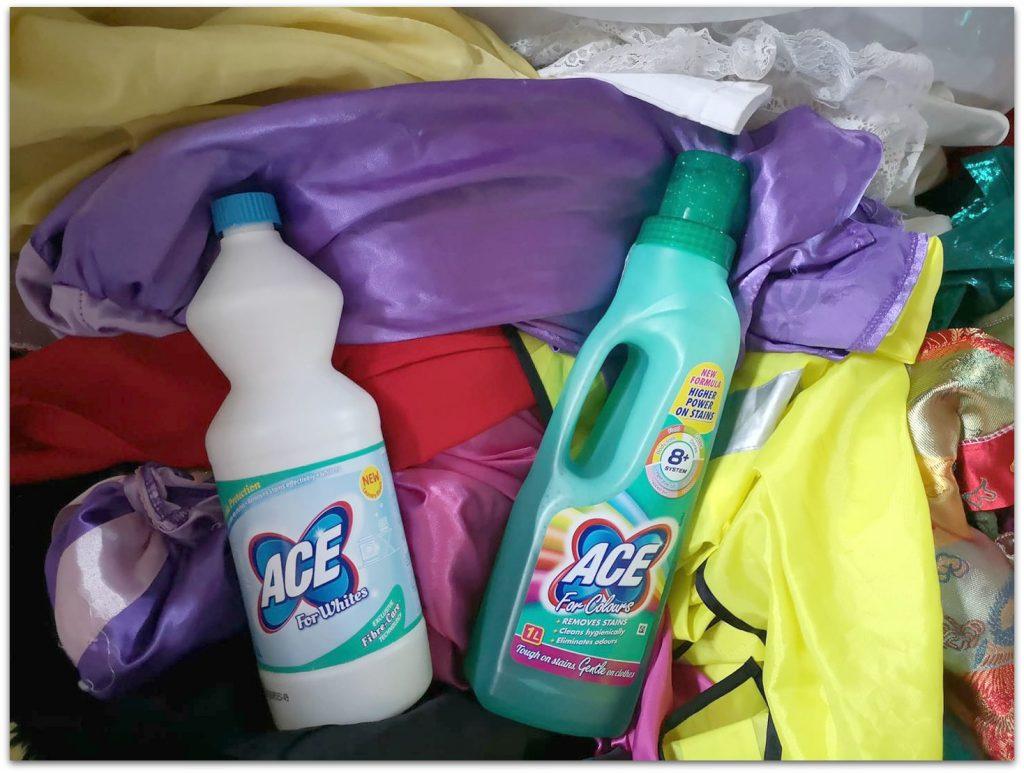 They also do some general household cleaning products that are great for all round the house cleaning and tackling grime.
Basically Ace makes my life easier. As a working mum, I just don't have the time to worry about laundry making my life harder, and using Ace products helps keep laundry less of a hassle.
I am armed and not scared of the laundry or cleaning…
I also have some good news. I am delighted to offer an Ace package to one person, as a giveaway on our blog. You will receive a package with Ace products to help tackle laundry and cleaning and make it less hard work.
In order to enter you simply need to comment on this blog post leaving one cleaning tip or laundry tip that works for you, and then click on the link to complete your entry.
Good luck. We think it's Ace (see what I did there?) and we think you will too!
Winner will be chosen on the 2nd April 2019.
Ace Laundry and Cleaning Giveaway

Terms & Conditions:
One winner will be chosen via Gleam. Winner will be notified via e mail of their win and will be contacted via e-mail. Winner has 28 days to respond then a new winner will be chosen. 
No cash prize or alternative offered. 
All entry requirements must be completed and spam entries will be deleted. 
Winner must be over 18  and a UK resident. 
Ends 2nd April 2019
Please see our GDPR policy for how we use your data and privacy rules.