*This is a review post. We were kindly sent items to review and share*
The tween is the only person in our house without food allergies or dietary restrictions. This can make life a bit challenging for her, because it's often the case that she will have to miss her favourite foods and treats because I am cooking or feeding the whole family. She loves certain things we don't generally have in the house, so I like to be able to treat her, and make a fuss of her with the things she likes, when I can. She is a big fan of milkshakes and Shaken Udder are a firm favourite with her. Their new lower sugar range of milkshakes are perfect for her and easy for me to buy and keep for her to enjoy.
Available in Chocolate and Strawberry flavours and made using British milk, they're a great choice if it's a struggle to get kids to drink milk as they're packed with lots of essential nutrients and vitamins including vitamin B12 and offer a fantastic source of calcium and protein. 
Gluten-free, suitable for vegetarians and with no artificial colours, flavours or preservatives, they're also school approved as a lunchbox-friendly drink and the portable cartons can be stored ambiently. 
As any parent of a tween knows it can be hard to find something that they like that their parents also like,  so these fabulous milkshakes which can be stored in the fridge or pantry, making them handy for travel and lunchboxes are a good find. I like the fact that they are made with no added ingredients and have a lower sugar content. This means I can let her have a treat she loves knowing that it's also good for her (don't tell her that, when mum says something is good for her, this tends to make her roll her eyes and look at things suspiciously)
These make a great after school snack, a treat on the weekend, and are handy for school trips for in her lunch bag. She loves them cold from the fridge, but says they travel well too. Mum has taste tested them and approves but between us we can't decide which one we like best, it's a close tie between chocolate or strawberry.
It's always good to find something that's healthier but seen as a treat to offer my kids, as a mum, I do worry about sugar content, and what ingredients are in the foods and snacks I feed my kids, so these milkshakes from Shaken Udder are definitely a win for me. Knowing they are made with kids in mind, less sugar and quality ingredients makes me feel good about her rummaging in the fridge for one when she gets home from school, and is "hangry" and thirsty and won't talk til me until she has had a drink and a snack.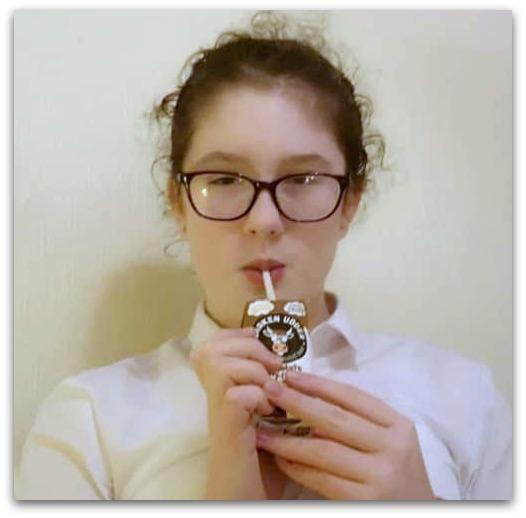 Mum and Tween approved. It's rare these days but it does happen. That's a win from us!