*this is a collaborative post, sharing some helpful tips on home décor, that we hope you will find useful*
Spring for me is not just about the weather starting to warm up and feeling that winter may finally be on it's way out. It's a season for me, when I most want to clean, tidy, declutter, and revamp things around the house. We have done some major DIY projects recently, but we have had to also work within a budget, which has meant that whilst I would like to repaint, refurnish,  redecorate and install blockout curtains all the rooms in our house, I have had to decide on priorities and what needs doing first.
Our bedroom, is on the bottom of our list of priorities, whilst we sort out the children's rooms but that doesn't mean it is going to be entirely neglected. It's a space I want to look and feel nice, whilst not blowing my entire DIY budget. So I have had to have a think about how I freshen our room up, and make it look nicer, and be a bit creative about that.
Sometimes there are simple things that you can do, to give a room a fresh new look, without spending a fortune. I have found that replacing curtains, tidying up your window area and making that look like new, can be a cost effective and easy way to give a room a bit of a new lease of life.
I remember as a child thinking that dealing with curtains and putting up curtains looked like a complicated job, but as an adult, I have learned that actually, putting up new curtains is not an onerous job, and once you have measured your windows, and checked what type of curtains you want, it's actually pretty simple to do.
You can brighten up even the most dull and boring room with some fresh new curtains and tie backs, that make the window a feature, with very little effort. I have been doing some browsing and found  out that you can get curtains along with matching tiebacks at Yorkshire Linen at amazing prices, and there is a wide variety of styles and colours to choose from. You can go for a simple look that works for a room that you want to keep neutral
Or you may be trying to give a bedroom some style, and want something that reflects how you want the room to feel. You can add tie backs to give your curtains a tidy and presentable feel, I always think they make a room look very classy, when you see neatly tied back curtains, walking into a room.
By adding some fresh new curtains, making sure your windows are clean, and adding a few simple décor items to a windowsill as a feature, you can literally make a room look like new, and keep well within your spending limit but feel like you have created a new space.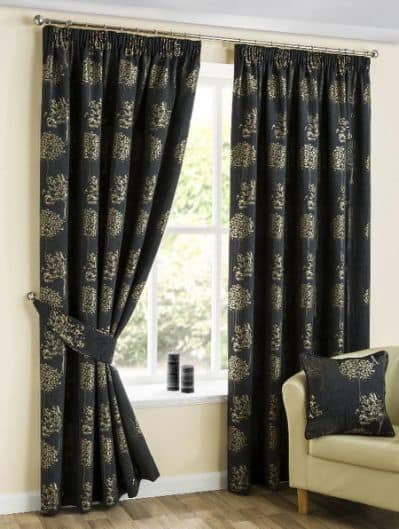 I remember, as a child my mum making a big deal out of getting new curtains, and being pleased with the results when she had got them hung and looking nice. I didn't get that at the time, but now, I do. It's very satisfying to be able to do simple things like buying new curtains. The only problem I ever have now,  is choosing which ones I like!