*I was sent products to try, all words are my own. Information and prices taken from source*
I have to admit, having had oily skin for most of my teenage and then adult life, the idea of putting rich, oil based creams, or even pure oils on my face, was a horrifying one. Oil, onto oily skin? Surely that would make things worse?
But since I've stopped using soap/traditional cleansers on my face, and also stopped wearing make up, other than very occasionally, my skin has started to balance itself out, so when I was sent a tube of Weleda Wild Rose Smoothing Facial cream and some of their Wild Rose facial oil, trying out something rich on my skin didn't seem like such a scary prospect.
Weleda is a very well established company and has been making skin care products for all generations, as well as make up, for nearly x years (reference) using plants and minerals. When you read the ingredients list on their products, it's easy to see why they are popular with people who prefer to use them. I must admit, myself, that when I see long lists of unpronounceable ingredients on a tube of face cream, or a body lotion, I raise an eyebrow, although I am not stupid and do know that some natural ingredients when given their chemical names, can look impressive and unintelligable I am a person who will check what something is, if I don't recognise it.
The Wild Rose products are supposed to be perfect for skin that is a little dry, dull, with fine lines appearing. It also claims to help with scars and helping increase the skins elasticity
"Recent trials have demonstrated the ability of Rosa moschata oil to heal post-operative scars. As a good source of retinol, rose also has the ability to reduce fine lines and wrinkles, while its unsaturated fatty acids nourish dry skin. The oil, which is suitable for sensitive skin, can be used to treat skin scarred from acne, or environmental stresses such as cold winds. It can also be a regular treat for mature skin, increasing the skin's natural resilience and elasticity"
At, ahem, nearly 40, I am starting to notice a few little creases and crinkles that weren't there before, so this seemed like a perfect time to try something out on them. I know we can't halt aging, and I don't intend to spend my life trying to look twenty years younger, but if I can help my skin look good, I am happy to try.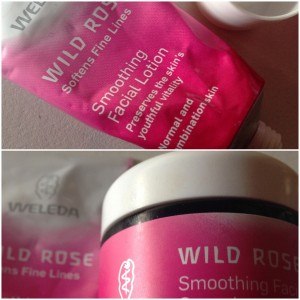 Wild Rose Smoothing Facial Cream:
The first thing you notice when you open the cream, is the smell. I love the smell of rose oil, so this was a good start. The cream is not greasy, although it is quite thick and rich. The instructions say you can use the cream both as a day cream, under make up, and in the evening, alone, or with other serums or lotions. I tended to use it at night time, as I prefer not to put anything on my skin first thing, unless it's an SPF based skin product. It soaks in quite quickly and feels very soothing. I would say that after using it for a week, I felt my skin looked a little less tired and some of the lines I can see seemed a little less prominent. A little goes a long way, and a tube lasted me a month, I even used some on my hands when I forgot to pack hand cream on holiday.
Ingredients: INCI: Water (Aqua), Alcohol, Simmondsia Chinensis (Jojoba) Seed Oil, Prunus Persica (Peach) Kernel Oil, Glycerin, Rosa Moschata Seed Oil, Glyceryl Oleate, Copernicia Cerifera (Carnauba) Wax, Beeswax (Cera Flava), Magnesium Aluminum Silicate, Fragrance (Parfum)*, Sedum Purpureum Extract, Rosa Damascena Flower Wax, Equisetum Arvense Extract, Commiphora Myrrha Extract, Xanthan Gum, Chondrus Crispus (Carrageenan), Glyceryl Stearate SE, Sodium Beeswax, Limonene*, Linalool*, Citronellol*, Benzyl Alcohol*, Geraniol*, Citral*, Eugenol*, Farnesol*. *from natural essential oils.
The Wild Rose Oil:
This oil is designed to be used 2-3 times per week, on damp skin after cleansing, and in areas where concentrated help is desired.
Again, it smells nice, and whilst the capsules are small, the contents go a long way. They are a bit fiddly to open, the only downside, to a capsule form of skin oil. I used the oil around my mouth, and forehead, and neck, and around my eyes but not too close the the actual eye area. It did feel oily, but I noticed that in the morning, after applying the oil the previous evening, that my skin was not greasy and it didn't cause my skin to break out. I definitely think the texture of the skin on my neck and forehead improved with using this oil, over a month.
Wild Rose facial oil ingredients: INCI: Rosa Moschata Seed Oil, Prunus Amygdalus Dulcis (Sweet Almond) Oil, Simmondsia Chinensis (Jojoba) Seed Oil, Oenothera Biennis (Evening Primrose) Oil, Prunus Persica (Peach) Kernel Oil, Fragrance (Parfum)*, Limonene*, Linalool*, Citronellol*, Benzyl Alcohol*, Geraniol*, Citral*, Eugenol*, Farnesol*. * from natural essential oils.
Price wise, these facial products are reasonable, with the Wild Rose Oil costing £19.95 for 30 capsules, and as you only use 2-3 per week, they last a long time, and the tube of Wild Rose Smoothing Lotion is £15.95 for a 30ml tube. This is is very good value for money when compared to expensive facial lotions and potions.
There are other products in the range available, and I will definately be continuing to use this range, as I found it not only agree with my skin, but also did seem to help improve my skins texture. I would recommend this if you want a gentle, more natural alternative to stronger, harsher creams and lotions. If you love the smell of rose, then this facial cream range is for you.