*This post may contain affiliate links that earn me a small amount of revenue if you make a purchase*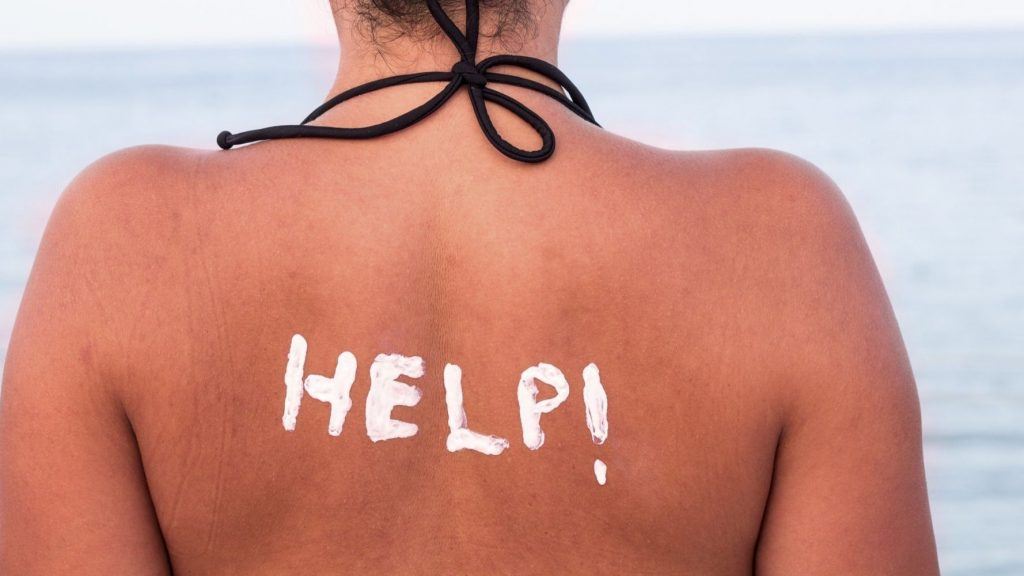 I try very very hard to avoid sunburn, but sometimes it happens, this is a rare incident for me. You can read about what I normally use to protect my skin and my family's skin, here 
 I try to avoid getting sunburned myself, and if at all possible, make sure my kids have sun protection, wear protective clothing in the sun, and we avoid the middle of the day sunshine if we can, when somewhere hot and sunny.
I have been badly sunburned myself as a child and teenager, and I remember it well, and it was my own fault. It hurts and can make you feel miserable.
Common sense parenting and adulting should mean that sunburn doesn't happen but it can. Making sure your kids are wearing loose, light clothes that cover their skin, a high SPF applied at least 20 minutes before swimming, and allowed to soak in and absorb, sun hats, and keeping them in the shade during peak sunshine time, should minimize this,
However, sunburn can and does happen, despite our best efforts, sometimes a spot is missed, or a stubborn tweenager ignores her mother's advice to make sure her neck is protected when swimming in the sun whilst on holiday (ahem, she's just like her mother) and we end up with sore skin that needs a bit of tlc.
There are things you can do to relieve the pain and soreness and help ease the peeling and dry skin that occurs.
I always have a bottle of aftersun, on holiday with us, or at home, in fact, I keep it in the fridge, which makes it very cool and soothing to apply. Aloe vera gel or a basic after sun with minimal perfumes and colours in it is good for applying to sore burned patches.
A cool bath, with a tablespoonful of bicarbonate of soda or oats added and a soak, then gently pat the sore areas and apply aftersun. Or you can put a cool wet compress on a smaller area. 
Paracetamol or ibuprofen taken to help ease the pain.
Lots of fluids. Sunburn means your skin is actually burned and damaged, so even small patches of sunburn for me means extra fluids.
Keep using after sun until the skin isn't sore any more, this usually is a couple of days. Also, make sure sun exposure is minimized and that all skin is protected.
To prevent peeling, use a good overall moisturizer to keep skin from being dry.
Our sunburn incidents have been a patch or two where sun cream has been missed or rubbed off, we have never had a bad sunburn incident. As an ex-nurse, my advice for you if you or your child have severe sunburn you may need to seek medical attention. Severe sunburn in children can make them very unwell, and also can affect adults too.
Sunburn/sunstroke symptoms that you need to seek medical attention  for. If your child is sunburned it is always worth getting checked if you are concerned.
blistering or swelling of the skin (oedema)
chills
a high temperature (fever) of 38C (100.4F) or above, or 37.5C (99.5F) or above in children under five
dizziness, headaches, and feeling sick (symptoms of heat exhaustion)
What are your sunburn healing tips?