They say that the sign of a good holiday is not wanting to come home. I think that is what we just had.
To be honest, in April of this year, I didn't know if we would even get a holiday. The husband was very ill, and it was kind of a thought I clung on to, that he would get well and we would be able to enjoy some time away. Thankfully we were able to get away.
The last twelve months has seen life throw a lot at us. Uncertainty, situations we could not change but that made us worry for what the future held, big changes, small changes, illness, mental health struggles (mainly because of trying to cope with everything going on) and London life being unrelenting. We needed a holiday.
We got one. Two weeks in a spot in France we know and love. Sadly, the owners of Les Hirondelles are retiring, so this was our last visit. It's a lovely spot and if the husband and I were ten years older we would decamp from the UK and buy the place. We have come to regard Geoff and Christine as friends, and they have always been kind to us and the children and we have appreciated their little spot in the Auvergne for more than just the views.
Our holiday wasn't without a slight misadventure. Amongst the days out, time at the lake, eating of much food, and topping up our vitamin D, we had to deal with the husband having a tooth issue. A fair bit of pain, led to him being escorted (by Geoff) to an emergency dentist in the local big town and hospital. All was well, eventually, and he managed the rest of the holiday in less pain with a temporary filling.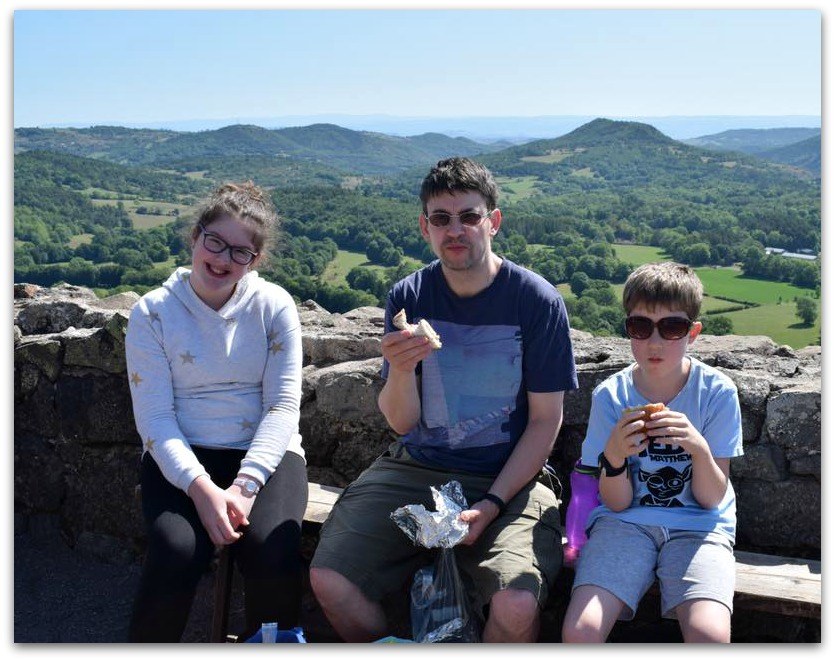 Other than that we caught up on sleep (it's going to be an awful shock for me to not have what the children rather kindly call "a nana nap" every afternoon, and I need to get back into running to burn off all the French bread I have eaten.
We visited Vichy, drank the healing water (my small son loudly announced "it smells like farts") and rode a tour train around the town.
We drove to a still "active" crater lake and a real French castle, and enjoyed eating out a few times too.
In between we played with dogs, chased bugs, and relaxed.
It was good. 
Sadly, all good things come to an end, and we are back to reality today. Most of the unpacking is done, the laundry is looking less intimating, and despite the fact that the tween has managed to tear a ligament in her ankle, and needed a trip to the walk in clinic today, we are, almost, I think ready to face life again.
You can see what we got up to here or you can click on the video below. There is LOTS of food, lots of dogs, and lots of happy and the odd grumpy tween face (because she is, after all, a tween!)
View this post on Instagram
Back to reality.