*This is a review post, we were kindly sent some items to review and share about*
The humans in this house think they are in charge. Of course, they aren't really, but we let them think that because it keeps them happy. We cats are clever and much more sensible than humans though. We sleep more, we are fussy about what we eat, we are picky about the people we love and let love us and we have tails and whiskers. You can't really get more superior than that, I don't think.
If you know cats, you will know we are hard to please and picky about trying new things. so we take some impressing.
Gus & Bella think cats are amazing, and they like to make our humans feel special too, but they also want to make sure us cats get the best things in life, and to try new things.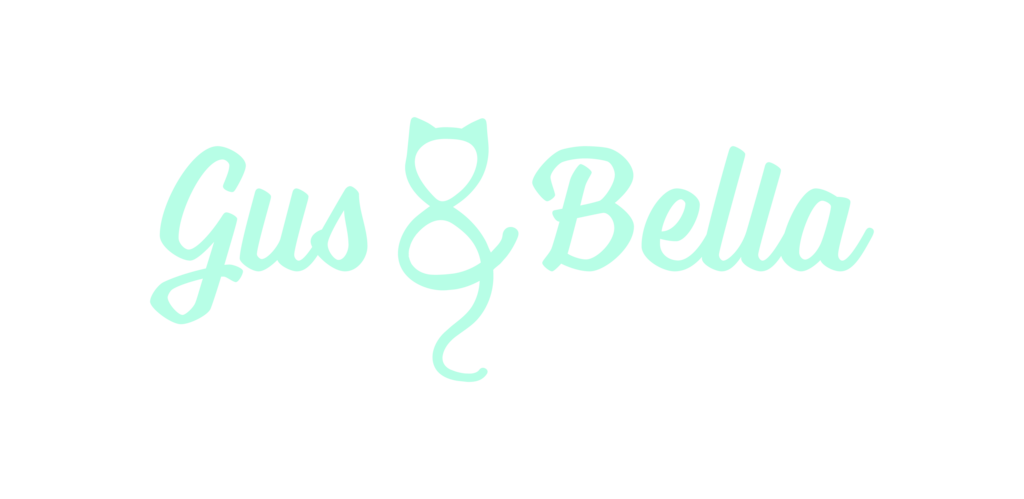 In recent years the UK has seen a surge in demand for innovative pet products (Euromonitor 2018). Gus & Bella offer a surprise box for both cats & humans, catering to a growing demographic who love spending quality time with their feline friends and are well versed with the concept of subscription boxes. Cat owners can choose from a monthly and bi-monthly option, filled with high quality, wellness-inspired items for cats, and cat-themed self-care, beauty and lifestyle products for humans. The box is positioned to be a shared experience for both owner & cat. 
Acknowledging an increased awareness for health products for pets – the box will include a guide for healthier, happier cats, and also include grain-free, natural food samples to help owners make better food choices for their cat. The fun doesn't stop there. Gus & Bella also offers a monthly Golden Ticket opportunity for subscribers, in a similar style to UK beauty boxes, Glossy Box and Birchbox.
We think this is a pawsome idea and we know that fun things coming in the post makes our humans happy, and because cats are naturally curious we love getting involved in box opening.
So when they sent us a box we were delighted to help see what was inside.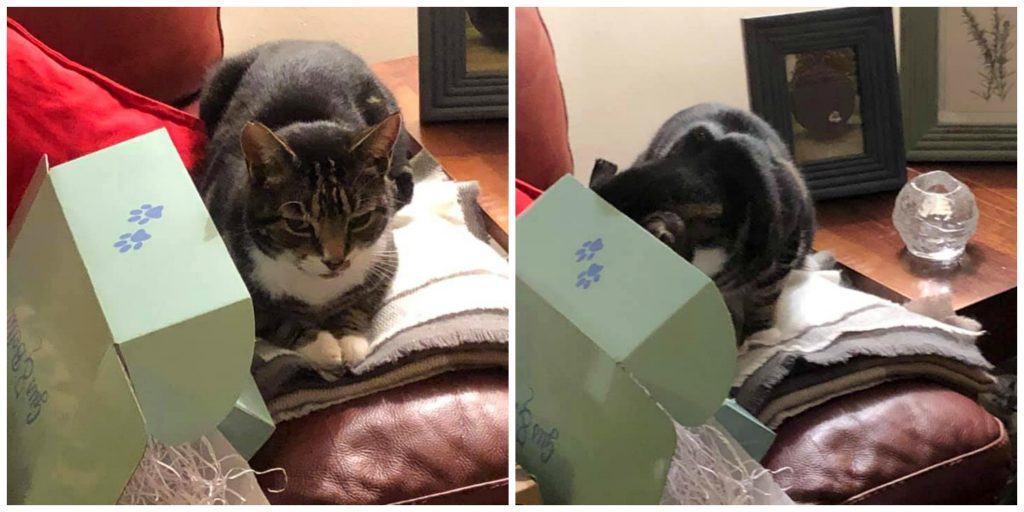 Jasper likes to play it cool, but when he thinks no one is looking, he loves to explore and was VERY interested in what was in the box that came for us.
The box contained some lovely items to pamper us cats and some lovely thoughtful things for the humans too.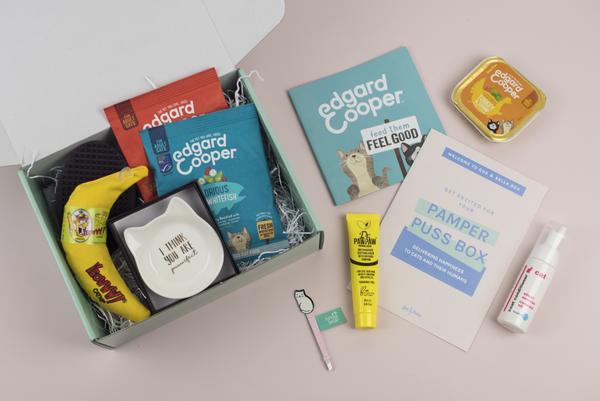 We particularly liked the catnip banana, in fact Layla has claimed that for herself and won't share it. 
We also tried and really liked the Edgard Cooper cat food, and because Layla has a sensitive tummy, it was purrfect for her to try and she thinks it might be something on the menu more often. There was also some rather lovely grooming things in the box, and as cats who like to look good, and who enjoy a bit of pampering this makes us very happy. Just what we need to demand more TLC from our humans.
You can see what Layla thought of the box, opening it, and helping to check the contents out, and also our human has kindly done a video for us, sharing the contents of the box. Sadly, although we cats are very clever, our paws don't work very well with cameras so we had to get her to do that bit for us. She didn't do too bad a job.
View this post on Instagram
You can also see a funny outtake video where Layla is being less than helpful, and overexcited about the box.
We were very impressed, which is saying something, and our human thinks it's a really fun idea for a subscription box. It would make a great treat for a cat and their human, as a gift, or for someone who needs cheering up, and some extra purry love.
Paws up, we think it's a pawsome box. Why not get your own paws on next months box?