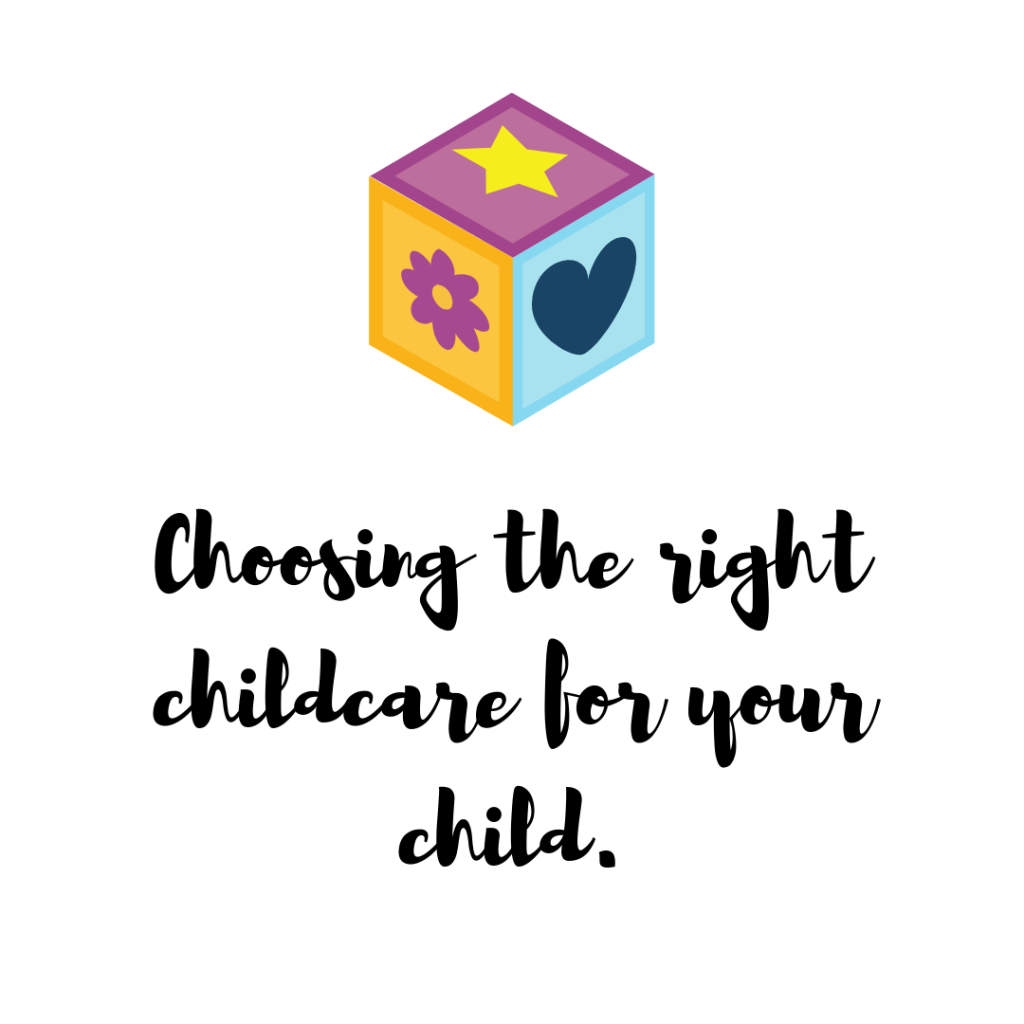 I have chatted recently with mums and friends with kids younger than mine about starting childcare. They are going back to work, or their children are going into childcare for a number of reasons (to give mum a much needed few hours break, for socialization, so mum can work from home, or for input that can be provided at childcare)
It's not an easy decision to hand your little one off to someone to care for them. Going back to work after having a baby or putting your child into childcare is a big decision and you want to get it right.
Deciding when and how to go back to work is a whole topic in itself and I won't go there on that today other than to say "do what works for you and your family and don't let anyone else tell you it's wrong, or make you feel bad. Motherhood is tough enough, don't listen to anyone who wants to tell you how to do it but isn't prepared to back you up with support".
Moving on.
Childcare is a big decision and there are things you need to think about. As someone who has gone back to work three times, and used childcare (and still does) here are some of my "words of advice" which I have tried to keep real, but also not patronizing. (if you have felt patronized by this post, do let me know and I will reword it, I want to help, not make people feel worse)
Childcare has to work for you. 
A childminder – may be what your sister-in-law raves is the best thing for her and her family, but you may feel a nursery, with more structure or a nanny, or au pair is better. Sit down with your partner or someone who has some ideas of what might work, and look at all the options, costs, flexibility, how much you need, and the age of your child and their needs and character. It's about what will work for you and your child, and what works for someone else may not work for you.
Childminders charge less than nurseries but are a one-person team, so if they get sick or go on holiday you need to have a backup plan. They are more flexible and can work around your routine a bit more, and can do school runs or nursery runs for older kids too. (to be fair, my childminder has taken 1 day of sick leave since I have known her, in almost 11 years and most are pretty dedicated to their jobs and work around what their families need)
Nursery – is more structured and less likely to leave you in the lurch if someone is off sick. However, they may tend to stick to their own routines and expect your child to fit in with that rather than being more flexible and child-led.
Nannies – are in your own home and can be live in or live out. They are there to look after your child, and stick to how you want your child to be cared for. You are their employer and set the routine. You will have to pay their tax and also be happy that you are leaving your child in your home with someone.
Shared care with a friend –  this is not paid and isn't childcare but can work if you have a child and a friend has a child and you want to swap work days and support each other. It can be tricky though and isn't a long term method of childcare that may work but maybe good for short-term childcare.
Grandparents or family – ah, wouldn't it be nice if we could all have family to support us? Sadly that's not the case for many of us but if you can have family help with childcare you can save on costs, check references and be happy you have found someone who will love your child as much as you do. You can make financial arrangements for this, but you do also have to be entirely happy that your relationship will work if they are your childcare provider. Are they fit and well enough to run around after a toddler or baby? Do you want them in your home or at theirs? Will they respect your routine and parenting rules? Also, if they are ill or can't be there to help, do you have a backup plan?
Which ever of these routes you choose you need to make sure that you have checked some basics. Do not skip these. You are not being neurotic or paranoid, this is your child, who needs you to make sure that the care you choose is safe and right for them.
Do you feel comfortable that your child will be happy with what you have chosen? If it's a childminder, is their house clean, tidy, friendly, welcoming? What do they do with the kids? How do other children seem when you are there? The same applies to a nursery or childcare venue. With a potential nanny you would want to thoroughly check references and speak to previous employers and find out about them, if they are leaving their current job, why? Make sure they are ok with rules like no smoking around your child, punctuality, behaviors, etc. Will they work with you to make sure that within reason your child's needs and care are their priority? If you are having someone in your home will they respect your home, and behave in a way that is appropriate (ie if the nanny is drinking all your wine you have a problem!!)
Qualifications? Are they current and up to date? If they are a nursery or childminder they will have Ofsted ratings and reviews that you can check.
References? Check them, make sure you are fully happy the person or place that has care of your child really is recommended by others. Ask around, about the nursery you may be choosing, speak to other parents. Spend time with and in the places you are looking at. If you even have a tiny nagging doubt, then don't go with them.
Training? Are they first aid trained, do they have safeguarding training? Are they able to prove this?
DBS checks and criminal record checks? Always make sure you see a current and official certificate of this, and you can check it's legitimate via the goverrnment portal.
Special needs? If your child has health needs or special educational needs, you need to find a childcare provider that can accommodate those whilst also making sure your child thrives around their peers. Making sure your childcare can cope safely and well with these needs is essential. Don't assume, always check. ]
It seems like a lot, but you need to think about it, and plan carefully. Look at all the options, what you can afford, and then look at what you think is best for your child and your needs. Visit childminders at their homes when they have other children to see how it feels. Visit nurseries to see how they work and how the children are. Talk to other parents who use them. Do a trial period to make sure what you have chosen is a good fit.
There will be things that come up that may need tweaking but communication is always key. For example if your carer is letting your child sleep late in the afternoon which means they don't go to bed until very late at night, you need to make sure you are discussing that with them, and be clear on what is working or not. If your child is clingy or needy, for the first few weeks of childcare, don't panic, that is very normal as they adjust, but if they are unhappy a few months in then you may need to rethink and look at other options.
It can be a bit of a minefield and seem scary but if you use common sense, and plan, and research and also go with your gut as to what feels right, childcare doesn't have to be a nightmare. Learn more about childcare options that might work for you.
*I went back to work when the tween was a baby of 10 months old, we chose a childminder who is now someone we regard as a friend who has supported us through our parenting and our kids feel safe and happy there. It felt like a huge thing to hand my baby off to someone else, and rely on them to cherish her and love her whilst I wasn't with her but doing the right research and knowing what we needed and what would work for us and her helped us to choose. 
If you have any top tips for choosing the right childcare or advice, please do share in the comments.