These gluten-free, dairy-free pumpkin cookies with chocolate chips are a great way to use up the inside of any pumpkins you have carved for Halloween, or if you love pumpkin and it's that time of year to cook with them.
You can use pureed pumpkin if that is what you have to hand, and you don't want to chop up a pumpkin, or you can take the flesh of a pumpkin, steam it gently until it's tender, then blend it with the spices listed below and use it.
This makes 30 cookies, and uses gluten-free flour and dairy-free spread instead of butter.
You will need
450g of gluten-free plain flour
125g of dairy-free spread
300g soft brown sugar
250g pumpkin puree (see above)
1 tsp baking soda
1 tsp bicarbonate of soda
1/2 tsp of nutmeg
1 tsp cinnamon
1 tsp of vanilla extract
1 egg
250g  dark, dairy-free chocolate chips
Two lined with baking paper trays, and oven set to 190 degrees.
How to:
Cream the sugar and butter together, with a beater until light and fluffy. Add the egg and beat again.
Then slowly add the flour. If you are using canned pumpkin then add your spices, vanilla now, if you have made your own puree you will have already added them to that so you don't need to add again) and mix well. It will become quite stiff and dry feeling but don't worry.
Add the pumpkin puree which will loosen up the mixture. It will be "dollopable", a technical term my kids coined.
Stir in the chocolate chips and leave to sit for ten minutes (this allows the mixture to firm up slightly)
Dollop approximately a tablespoon full per cookie, of mix onto lined baking trays, You should be able to get 15 or so on each tray.
Bake for 10-12 minutes depending on if you have a fan oven or not, they should be golden and firm outside and slightly soft in the middle.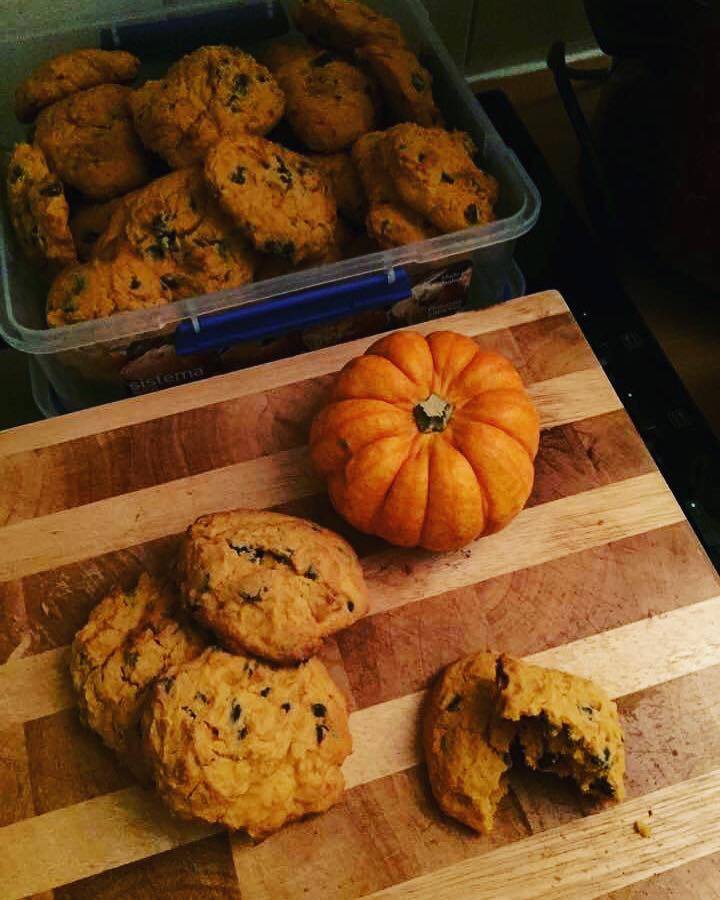 Fight over who gets to taste test them first when they are cool enough to eat. They keep for about 48 hours in an airtight container but never last that long here.