*We were kindly asked to review Ricky Zoom, and have thoroughly enjoyed meeting him and his friends. All opinions are our own*
Have you seen Ricky Zoom? He's a funny, adventurous little red bike, in a fantastic TV series on Nick Jr, every weekend.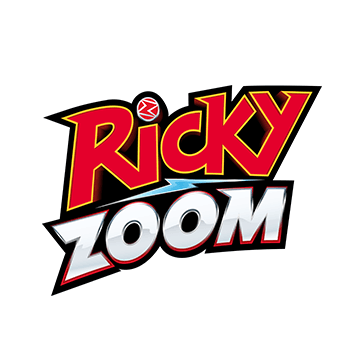 We are always on the lookout for new things to watch, and stuff that is fun, and keeps the kids amused and this is a tv series that the boy enjoys and I feel happy knowing he's watching something mum approved. Ricky is a funny little character that likes to help and enjoys his adventures as a speedy little red bike.
"Ricky is a little red rescue bike who loves to go fast! A loyal friend and natural leader, Ricky is the confident head of the Bike Buddies and together they love to race around the sports race and try new stunts at the Adventure Park. However, Ricky is still a little bike learning to stand on his own two wheels and he often dives headlong into rescue situations, overestimating his abilities. Despite having cool rescue resources such as his Visor and Grappling hook, he realises he still has a lot to learn"
With a catchy theme tune (I found myself humming it a few times this week) and lots of adventures and mishaps to learn from this is a fun and gentle tv program that gets kids into the fun. It's educational and there's a new story every time.
With lots of fun characters including Loop, Scootio, and DJ, it's well written, and the animation is fun, colourful and appealing. It's got a good underlying theme of gently teaching kids about life lessons and learning to stand on their own two feet, which as a parent I really like.

When we are not catching up with the series we like to sport our rather fab Ricky Zoom Bag. Handy for popping bits to go out in.
Matthew is thoroughly enjoying watching and keeping up with the episodes and says "I like Ricky Zoom, because he's funny and gets into all sorts of things but also likes to help people and have fun".
There are also some fun activities on their site to carry on the theme of Ricky Zoom and an App to keep up the life with Ricky, which is great for preschoolers too.
You can catch Zoom into the adventure with Ricky and the Bike Buddies! Saturdays and Sundays on NickJr. Perfect for weekend watching.