It's that time of year when all things pumpkin abound and if you are carving your pumpkins you may be wondering what to do with the flesh. This is my version of roasted pumpkin risotto that helps you to use up the flesh, or simply if you fancy something comforting, tasty and also vegetarian. You can make this with pumpkin or any squash you want. I mixed this with some lovely pumpkin and baby squashes I found at our local market.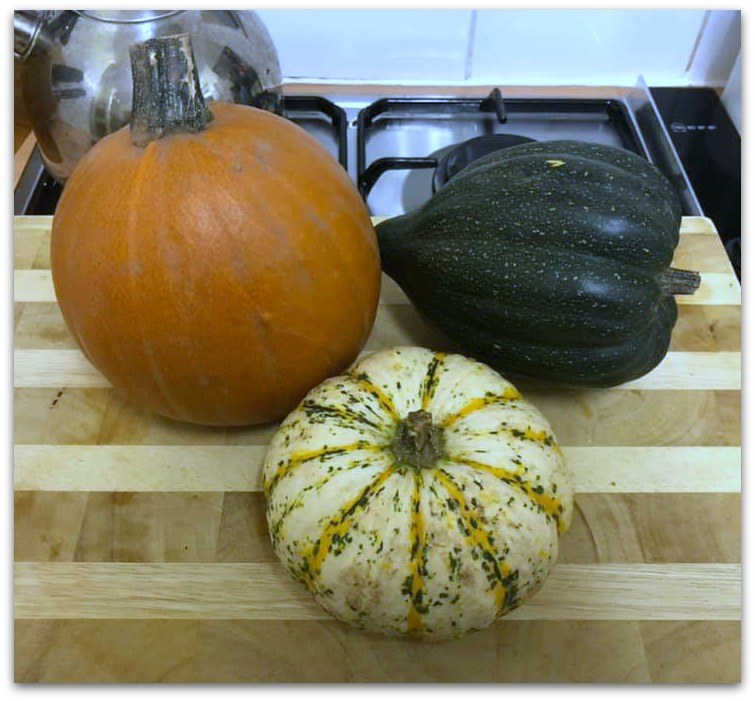 I have to say that my risotto may not be "proper" Italian made. I do try and stick to the principals of making risotto but this is how I make it so please don't shout at me for not being "authentic". You do need to stand over your risotto and keep stirring it, but I find it cathartic and calming to do, and it's a nice way to take half an hour out, and make something delicious in the process.
These feeds four people and you can use vegan cheese if you prefer to make it entirely vegan. If you are rice snob you can choose the brand and type you use, but I tend to just pick up arborio risotto rice from the supermarket.
Cooking time 40 mins to make the risotto and 45 minutes to roast the pumpkin (you can pre-roast it and put it aside to use later if needed) 
You need
460g of risotto rice.
800mls of vegetable stock (use a cube dissolved in water, or your own made, or bought, any works really)
A white onion chopped up finely.
Three cloves of garlic chopped up finely
200mls of white wine
A tablespoon of chopped fresh thyme
1 medium pumpkin cut up, seeds scooped out. Cut it into large chunks. Or if you are using mixed squashes use three smaller varieties or two medium sized ones.
1 tsp of turmeric powder
Olive oil
150g of crumbled feta or vegan "greek" cheese, or you can use parmesan if you prefer. Feta works with the pumpkin though I find.
Put your pumpkin in a roasting tray, drizzle with a tablespoon of olive oil and sprinkle the turmeric powder over. Use your hands to make sure the pumpkin is well coated and then roast it uncovered in a hot (200 degree) oven for 45 minutes. The pumpkin will be soft with slightly singed bits and will absorb the turmeric.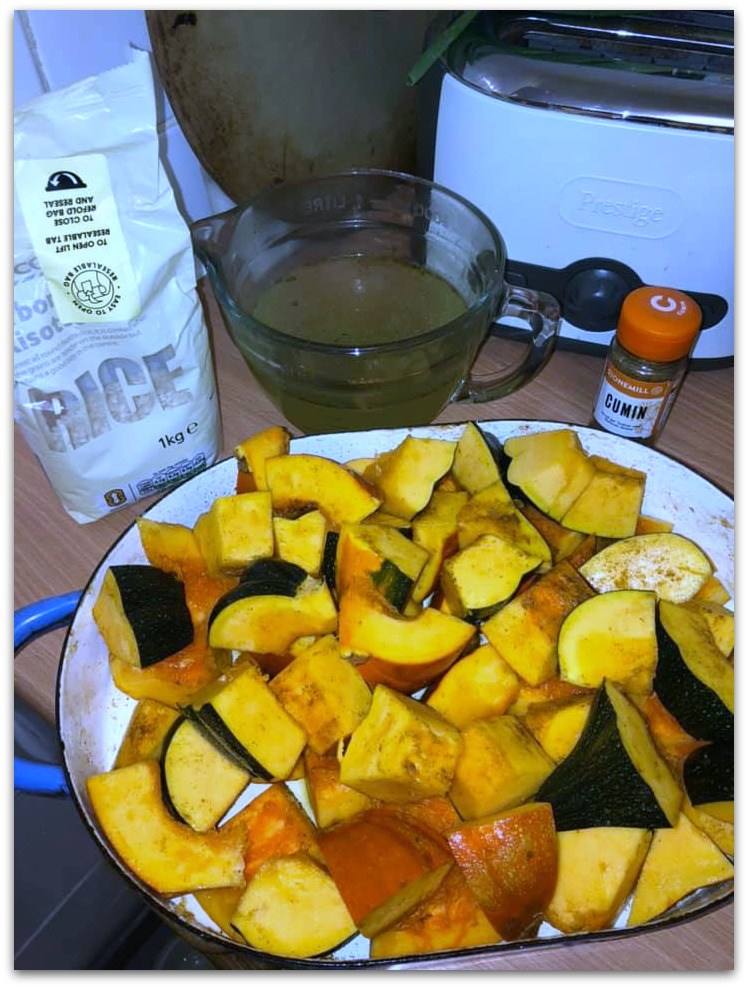 Allow it to cool and then scoop the flesh away from the rind. Take four or five chunks that you will use to top the risotto when served, and the rest will go into the risotto
Meanwhile, heat your olive oil in a pan or pot on the stove and gently cook the chopped onion and garlic for a few minutes until soft but not brown. Add the thyme, and then add your risotto rice. Make sure you stir it in well and that all the rice is coated in the oil, garlic, and onion.
Pour the wine into the rice and stir. Then make sure the heat is low, under you pan or pot and let the rice gently absorb the wine, stirring to stop it burning or sticking.
You can see the liquid is absorbed when you drag your spoon through the rice and there is no liquid either on the bottom of the pan or pooling in the rice.
Then slowly add your stock. I tend to do about 200ml at a time, and let it bubble away, not too fast and absorb slowly into the rice. You need to keep stirring and watch it. Keep adding your liquid until it is all absorbed and the rice is fat, shiny and fluffy.
I then drizzle some olive oil over, give it a stir and leave it to sit for ten minutes. Not everyone agrees on this, but I find it works for how we like our risotto texture to be. 
Add your roasted pieces of pumpkin to the risotto and stir it through. It will break up and blend in and will make it creamy and smooth.
Add another dash of olive oil and half your crumbled cheese.
Plate up, and put a few pieces of the roast pumpkin you put aside on top, with the rest of the cheese. Serve immediately and don't skimp on the second helpings.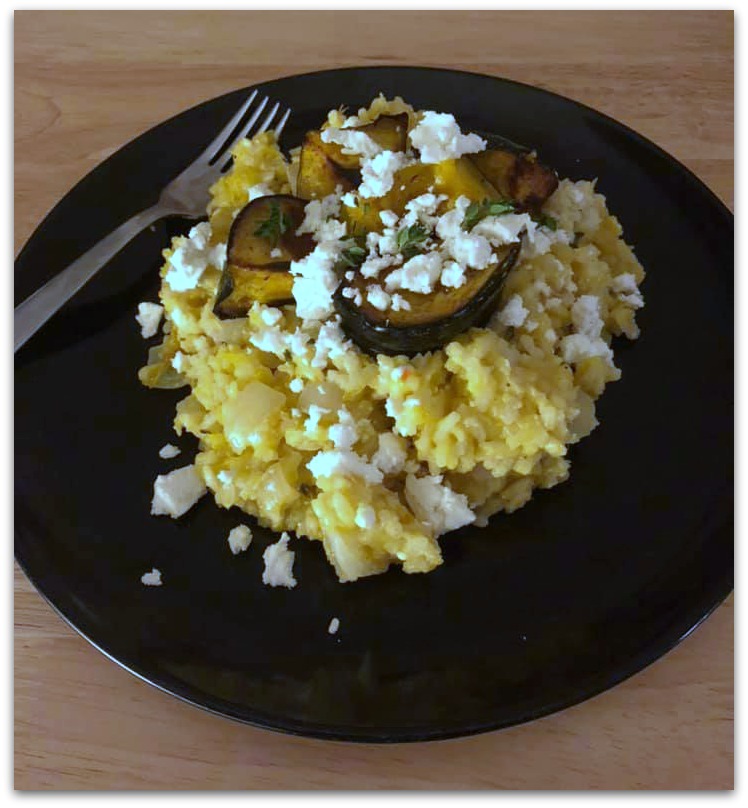 Roasted pumpkin risotto. This went down well with the husband and is on my list of vegetarian to vegan meals for guests.
(It works well as leftovers reheated too, for lunch the next day, if you have any left, not always something that happens in our house)