*This is a review post. We were kindly asked to try out a 3Doodler Start Essentials Pen Set and share about it*
We are all about art and craft here, although I am not creative or crafty, myself, my kids love making, creating, and expressing themselves through painting, drawing, making things to their heart's content. I am always on the lookout for tools and resources to help them enjoy their creativity, and 3Doodler Start Essentials Pen Set looked like something we might enjoy using.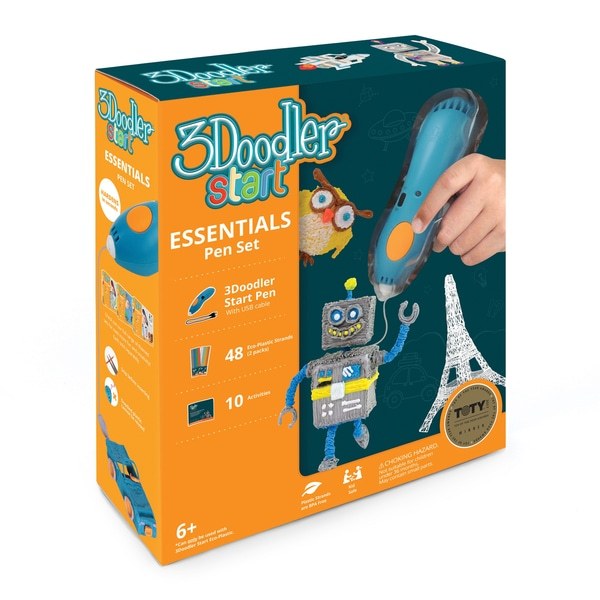 The award-winning product allows kids to bring any, and all, ideas to life in 3D!
With the new 3Doodler Start Essentials Pen Set your creative kids can finally bring all of their wonderful and imaginative ideas to life in 3D. This kid-safe 3D printing pen melts plastic that cools and hardens rapidly, allowing kids to literally draw in the air!
Everything you need to start doodling in 3D, including the 3Doodler Start 3D Printing Pen, 2 mixed-colour packs of 3Doodler Start Plastic (48 strands), micro-USB charging cable and 3Doodler start activity guide.
A tactile learning toy, the 3Doodler Start inspires creativity, design, planning, building and spatial understanding – perfect for STEM learning!
Even though I don't claim to be creative, this is something I enjoyed playing with too. 3Doodler Start is easy to grip in little and big hands.
It is a little fiddly to start with, but once you know what you are doing and you have had a little practice, you can literally create anything in 3D. The strands melt and stick together, and the pen is safe and although it doesn't heat up, it doesn't overheat or get too hot to handle, like a glue gun might (it kind of works on a similar principle)

You can use to create the designs that come with the kit, or go wild and make 3D creations from your imagination. The plastic heats up fast and cools and hardens fast, so it is great for kids, because there isn't too much faffing around waiting for things to cool and dry.
You can make anything from a coaster to put your drink on, to a shape of a character you love, or create buildings or something abstract.
We are currently working on the Eiffel Tower, which is a more complex project that is keeping him busy, but you can make it as simple or complicated as you like.
You can buy replacement refill packs and they are BPA free too, so it's a kit you can use again and again.
It's a great rainy day activity, and would make a great gift for someone as well as being educational too.
Now, the only question is, what do we make next?